Recipe
Bruschetta
4 servings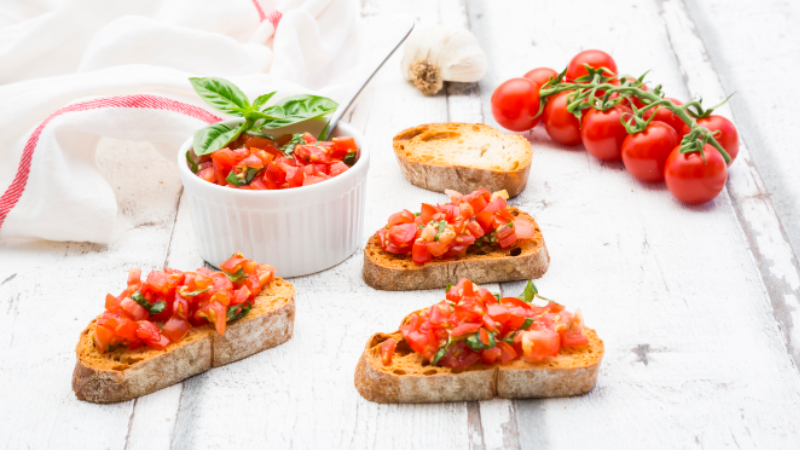 Serve this bruschetta on your favorite type of bread! A full baguette or half of a larger artisanal loaf of bread work well.
Ingredients
Makes 4 Servings
chopped seeded tomatoes or sliced grape/cherry tomatoes (1 1/2 cups)

chopped kalamata olives (1/4 cup)

sliced green onions, mostly green portion (1/4 cup)

balsamic vinegar (1 1/2 tsp.)

dried oregano (1/2 tsp.)

garlic, grated (1 small clove)

sea salt (1/4 tsp., scant)

fresh basil (to taste)
Directions
Preheat the oven to 400 F. Line a baking sheet with parchment paper.





Place the bread slices onto the parchment paper. Bake for 8 to 9 minutes, until golden. Let cool slightly.





Meanwhile, in a bowl, combine the remaining ingredients, other than the basil, and stir thoroughly.





Place spoonfuls of the tomato mixture on each slice of bread.





Return to the oven and bake for 10 to 12 minutes, until edges of bread are crispy and golden and toppings are lightly heated through. Top with fresh basil.




Nutrition Facts
Per serving (1/4 of recipe, topping only)
Calories: 27
Protein: 1 g
Carbohydrate: 4 g
Sugar: 2 g
Total Fat: 1 g
     Calories from Fat: 33%
Fiber: 1 g
Sodium: 184 mg