Resource
Tell Brown University: Stop Using Animals for Medical Training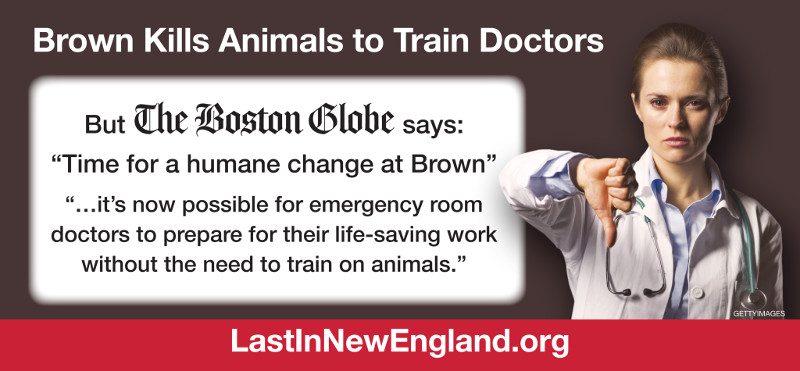 At Rhode Island Hospital in Providence, emergency medicine residents from Brown University are taught skills using live animals.
Trainees are instructed to cut into a live pig's throat in order to insert a breathing tube. At the end of each session, the animals are killed.
Today, 97 percent of surveyed emergency medicine residency programs (261 of 270) in the United States and Canada use only nonanimal methods, such as human-based medical simulators and cadavers. In fact, every other emergency medicine residency in New England exclusively uses human-relevant training methods, including Boston University, Yale-New Haven Medical Center, Dartmouth-Hitchcock Medical Center, and Massachusetts General Hospital.
Recently, the editors of the The Boston Globe declared: "Time for a humane change at Brown." They wrote: "Thanks to technological advances, it's now possible for emergency room doctors to prepare for their life-saving work without the need to train on animals."
Rhode Island Hospital's state-of-the-art facility—the Lifespan Medical Simulation Center—could replace the use of animals in the emergency medicine residency.
Take Action
Media Contact:
Reina Pohl, MPH
Communications Specialist
Physicians Committee for Responsible Medicine
202-527-7326
rpohl [at] pcrm.org (rpohl[at]pcrm[dot]org)
Campaign Contact:
Christine Kauffman
Research and Education Programs Specialist
Physicians Committee for Responsible Medicine
ckauffman [at] pcrm.org (ckauffman[at]pcrm[dot]org)