News Release

Nov 11, 2020
Veterans, Billboards Urge Naval Medical Center Portsmouth to End Animal Use for Medical Training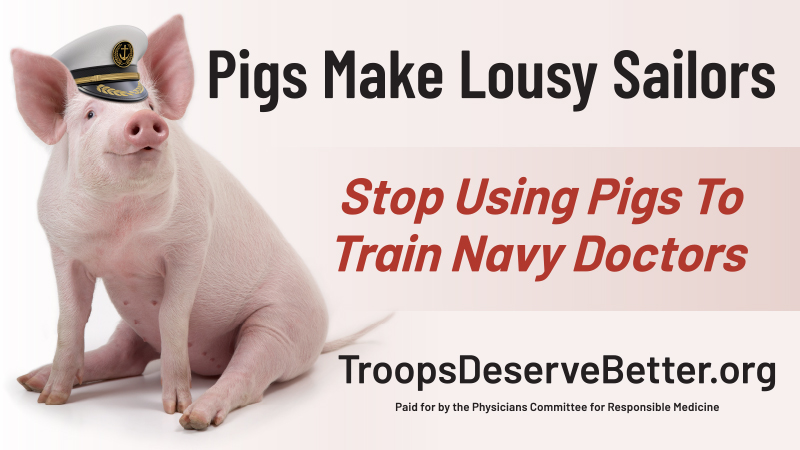 PORTSMOUTH, Va.—This Veterans Day, a group of 19 current and former military doctors and nurses are asking Naval Medical Center Portsmouth (NMCP) to stop using live animals in a physician-training program. The Navy, Army, and Air Force veterans sent a letter today to Capt. Lisa Mulligan, MD, Commanding Officer of NMCP, asking that the military hospital use only human-relevant training methods in its emergency medicine residency program. The letter highlights the growing body of evidence in support of replacing animals and summarizes findings from several military-conducted research studies. 
In conjunction with the veterans' letter, the Physicians Committee for Responsible Medicine—a national nonprofit with more than 12,000 doctor members—has installed two billboards in the city of Portsmouth. The ads read "Pigs Make Lousy Sailors. TroopsDeserveBetter.org" and feature a pig wearing a sailor cap. One of the billboards is located on the south side of High Street, east of Elm Avenue (facing west), and the other is on the south side of London Boulevard, west of Alpine Street (facing west). 
Currently, NMCP uses live pigs to train emergency medicine residents, while 97% of surveyed emergency medicine residencies in the U.S. and Canada do not. That equates to 277 programs, including Naval Medical Center San Diego, that do not use live animals. Compared to the human body, pigs have smaller torsos, lighter limbs, and thicker skin. There are also important differences in the anatomy of the head and neck, internal organs, rib cage, blood vessels, and the airway. Instead of animals, human-based medical simulators and human cadavers are widely used. The simulators accurately replicate human anatomy and physiology and can include layers of lifelike skin, fat, and muscle. 
"We are asking Naval Medical Center Portsmouth to honor the sacrifices and patriotism of military veterans by providing its doctors with 21st century training," said retired Army Lt. Col. Robert J. Newsom, MD, MPH, who served 16 years of active duty. "Today, using animals to teach battlefield medicine is like sending soldiers to Iraq and Afghanistan armed with weapons and equipment their great-grandfathers used in World War II".
For a copy of the letter or the billboard artwork, please contact Reina Pohl at 202-527-7326 or rpohl [at] pcrm.org. 
Media Contact
Reina Pohl, MPH
202-527-7326
rpohl[at]pcrm.org
Founded in 1985, the Physicians Committee for Responsible Medicine is a nonprofit organization that promotes preventive medicine, conducts clinical research, and encourages higher standards for ethics and effectiveness in education and research.