News Release

Nov 1, 2022
University of Toledo Replaces Animals in Medical Training After Nearly Decade of Pressure from Physicians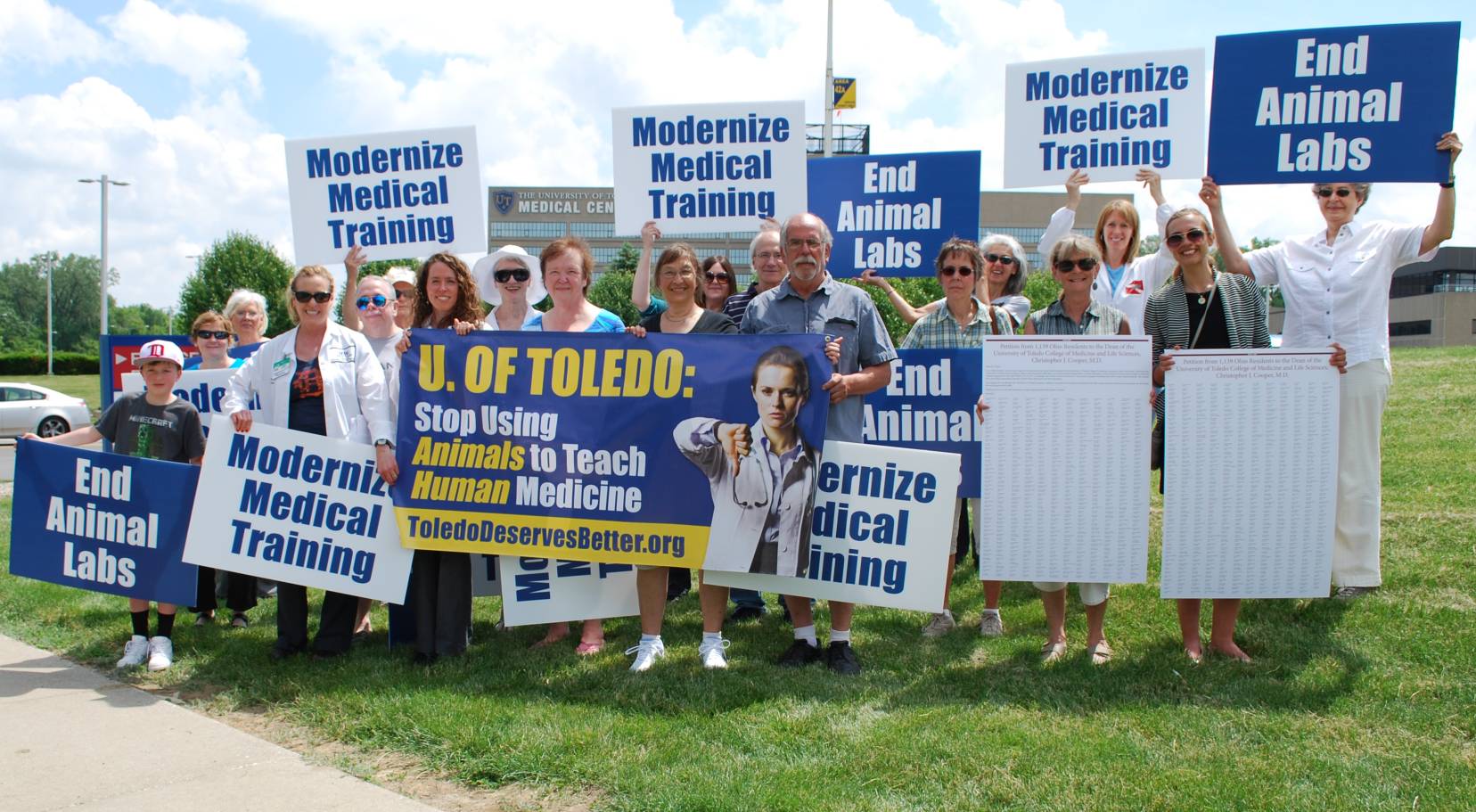 TOLEDO, Ohio—The University of Toledo College of Medicine and Life Sciences (U Toledo) confirmed that it has ended the use of live animals for training emergency medicine residents. The change follows a nine-year campaign led by the Physicians Committee for Responsible Medicine, a national nonprofit of more than 17,000 doctors. The chair of U Toledo's emergency medicine department noted that the animal use had become "redundant" due to the availability of advanced medical training resources at the school's simulation center. 
Over the years, the Physicians Committee has filed complaints with the federal government and the Toledo police department, held on-site demonstrations to raise awareness of the issue, and purchased billboards and newspaper ads. In 2015, doctors delivered a petition signed by 1,139 Ohio residents to Christopher J. Cooper, MD, the medical school dean, urging him to replace animals. 
Previously, emergency medicine residents, paramedics, and other trainees at U Toledo practiced invasive emergency medical procedures on live pigs. This involved cutting into the animals' throats, inserting needles into their chests and bones, and splitting open their breastbones. At the end of each training session, the animals were killed. At one point, the university was approved to use up to 125 pigs per year for this practice. 
Since the Physicians Committee began reaching out to U Toledo in 2013 to share information on nonanimal training methods and their efficacy, 27 emergency medicine residencies have stopped using live animals for training. Now, 98 percent (278 out of 285) of surveyed programs in the United States and Canada do not use animals. 
"The University of Toledo has done the right thing," said John Pippin, MD, FACC, director of academic affairs with the Physicians Committee. "This sends a clear message that human-relevant methods provide the best training experience and appropriately prepare doctors to treat human patients."
Human-based medical simulators and human cadavers are widely used to teach emergency procedures. The simulators accurately replicate human anatomy and physiology and can include layers of lifelike skin, fat, and muscle. U Toledo is home to a $36 million state-of-the-art simulation center—the Interprofessional Immersive Simulation Center—that now provide the resources to replace animals.
To interview Dr. Pippin, please contact Reina Pohl at 202-527-7326 or rpohl [at] pcrm.org (rpohl[at]pcrm[dot]org).
Founded in 1985, the Physicians Committee for Responsible Medicine is a nonprofit organization that promotes preventive medicine, conducts clinical research, and encourages higher standards for ethics and effectiveness in education and research.