News Release

May 13, 2022
Three Billboards Urge Montana Governor to Reduce Wildfire Risk by Conserving Water and Addressing Climate Change
The Physicians Committee Also Filed a Complaint Against Industrial Livestock Operations in Montana that Use Huge Amounts of Water and Produce Heat-Trapping Methane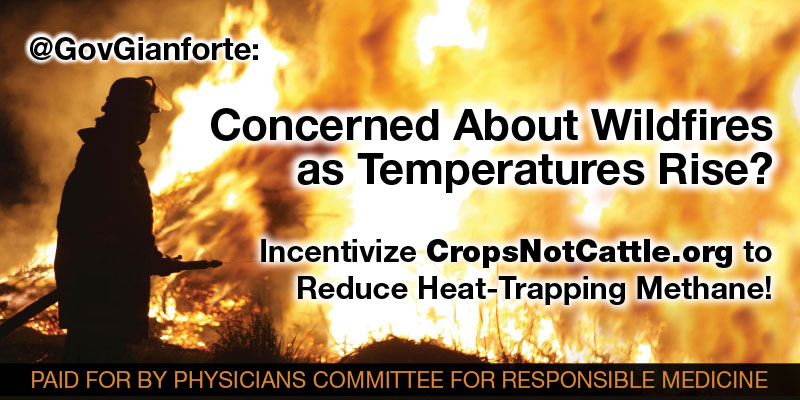 HELENA, Mont.— As fire season gets underway, three billboards in Helena are targeting Montana Governor Greg Gianforte with an urgent message about reducing wildfire risk by conserving water and addressing climate change. The billboards are currently installed in Helena and they will remain posted until June 5. The billboards are sponsored by the Physicians Committee, a nonprofit with 17,000 doctor members including 34 in Montana. 
Gov. Gianforte should phase out large-scale livestock operations which use huge amounts of water while producing methane, a potent, planet-warming gas. In a recent study, one cattle feedlot produced large enough plumes of methane to be detected by satellites. Tax breaks and other incentives should be given to farmers who would like to transition from animal agriculture to growing drought-resistant, climate-friendly food crops.
All three billboards are close to the governor's office at the Montana state capitol. One billboard is on Euclid Avenue near Lincoln Street. Another is on Montana Avenue west of Chestnut Street, and the third billboard is on Highway 15 near Missoula Avenue.
The three billboards directly address the governor: "@GovGianforte: Concerned About Wildfires as Temperatures Rise? Incentivize: CropsNotCattle.org to Reduce Heat-Trapping Methane!" The billboards show an eye-catching image of a firefighter and a wildfire.
The Physicians Committee also filed a complaint with Christy Clark, director of the Montana Department of Agriculture. According to the U.S. Environmental Protection Agency, there are about 124 large-scale livestock operations in Montana, and they contribute to abnormally warm, dry conditions that can lead to a more active wildfire season. Factory farms contribute to drought through excessive water consumption, which includes irrigation of the grains and grasses for feed, plus water for drinking and processing. It's much more efficient in terms of water use to grow crops for people to eat directly. According to the Guardian, growing vegetables uses about 322 liters of water per kilogram while it takes about 15,415 liters of water to produce one kilogram of beef.
Montana's factory farms should be phased out by offering voluntary buyouts and other incentives. Montana farmer Paul Kanning told Modern Farmer that lentils and other pulse crops are powerhouses of conservation farming because they require very little water, and they improve soil structure and water retention. 
"As drought continues to grip the western U.S., and wildfires burn thousands of acres, the governors of these states need to take a hard look at the huge amounts of water consumed by animal agriculture," says Anna Herby, DHSc, RD, a registered dietitian who holds a doctorate in health sciences. "Lentils and other crops that do well in Montana can more efficiently provide people with protein, fiber, iron, and other valuable nutrients. Also, consumer demand for plant-based protein is skyrocketing and these crops are moneymakers for farmers." 
According to Modern Farmer, sales of plant-based food products grew 27% in 2020—twice as fast as overall food sales. The subcategory of plant-based meat grew 45%, and the top makers of plant-based meat use pea protein grown by U.S. farmers. 
In Nebraska, a major beef-producing state, farmers are now growing peas for the production of plant-based meat, according to the Independent. Eric Thalken, for example, supplies his crop to Puris, which produces pea protein and is a subcontractor of Beyond Meat, a leader in plant-based foods. Puris told the Independent it has increased production of peas in Nebraska by 81% since 2019 and expects to see more growth in the state. 
Due to strong consumer demand for plant protein, many farmers are voluntarily phasing out animal agriculture. For example, Carl Taber of Trumansburg, N.Y., phased out his dairy operation and now grows high-demand crops like chickpeas. Gov. Gianforte and other government officials should look to the future and support the shift, currently underway, towards sustainable agriculture.
Media Contact
Jeanne Stuart McVey
202-527-7316
jmcvey[at]pcrm.org
Founded in 1985, the Physicians Committee for Responsible Medicine is a nonprofit organization that promotes preventive medicine, conducts clinical research, and encourages higher standards for ethics and effectiveness in education and research.