News Release

Dec 14, 2021
Scientists Urge Biden to Appoint New NIH Director Who Recognizes Futility of Animal Experiments
Gathering Outside White House Presents Petition Signed By 10,000+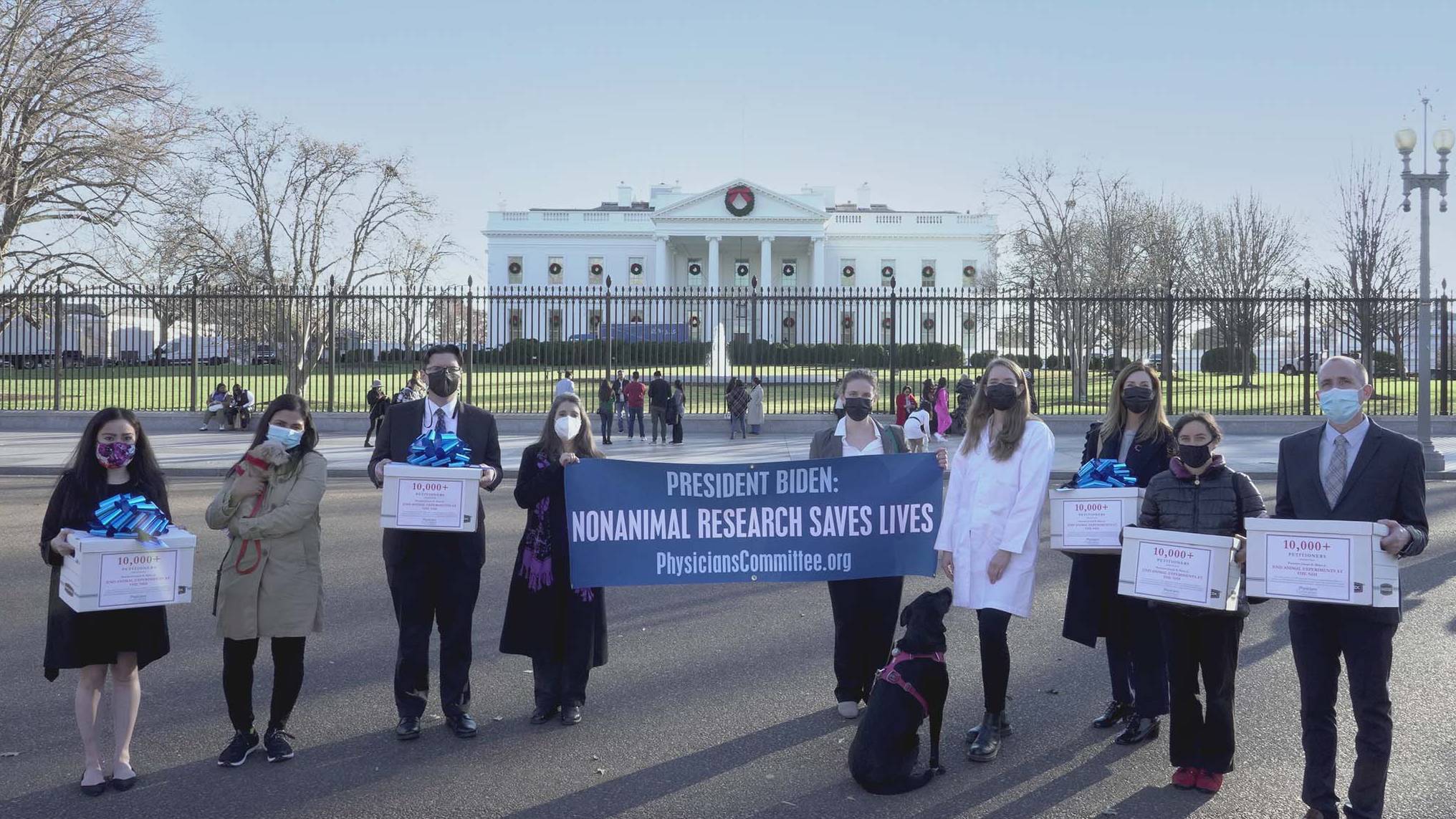 WASHINGTON, D.C.–Members of the public and scientists from the Physicians Committee for Responsible Medicine—a national nonprofit with more than 17,000 doctor members—joined together for a demonstration today outside the White House, urging President Joe Biden to appoint a new National Institutes of Health director who prioritizes human-relevant, nonanimal experimentation. 
Sporting white coats, the group displayed a banner that read, "President Biden: Nonanimal research saves lives." Those gathered presented a petition that asks Pres. Biden to choose a nominee for the next NIH director who will prioritize human-specific, nonanimal research. The petition has 10,000+ signatures so far. With current NIH director Francis Collins, MD, PhD, stepping down from his position this month, the president's appointment will be hugely influential over the future of public health in the United States. 
"In appointing the next director of the NIH, President Biden has a momentous opportunity to positively transform health research," says Catharine E. Krebs, PhD, medical research specialist with the Physicians Committee. "The importance of this decision cannot be overstated; the lives of all Americans, and many, many animals, will be impacted."
The petition notes increasing recognition among scientists that animal experiments do not produce the health solutions needed to prevent and protect against disease, the dismal success rate of preclinical animal experiments in predicting disease treatments' success in clinical trials, and the institutional inertia that keeps the NIH stuck in a heavy reliance on animal experiments. According to the petition, approximately half of the NIH's annual budget goes to experiments that use up to 100 million dogs, cats, monkeys, and other animals each year. The petition concludes that to continue to invest in animal experiments will put patient safety at risk, waste precious time and money, and lead to more animal lives lost, all without resulting in key scientific breakthroughs. 
For a copy of the petition, please contact Reina Pohl at 202-527-7326 or rpohl [at] pcrm.org (rpohl[at]pcrm[dot]org). 
Media Contact
Reina Pohl, MPH
202-527-7326
rpohl[at]pcrm.org
Founded in 1985, the Physicians Committee for Responsible Medicine is a nonprofit organization that promotes preventive medicine, conducts clinical research, and encourages higher standards for ethics and effectiveness in education and research.