News Release

Oct 10, 2019
Michigan Bill To Stop Painful Dog Experiments at Public Institutions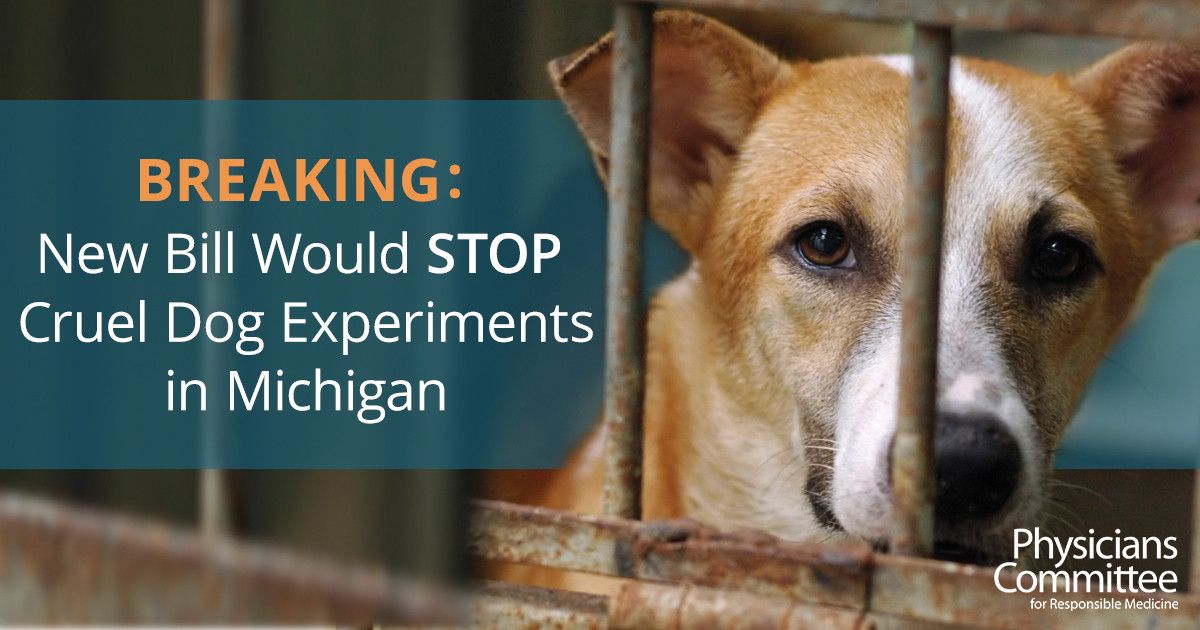 LANSING, Mich.–On Tuesday, Representative Sara Cambensy (D-Marquette) introduced House Bill [HB 5090], which would prohibit public institutions from conducting painful experiments on dogs. Supported by the Physicians Committee for Responsible Medicine—a nonprofit with more than 12,000 doctor members—the legislation seeks to bar the use of taxpayer funds for experiments like those at Wayne State University.
Since 1991, faculty and staff at Wayne State University have conducted heart failure and hypertension experiments on live dogs. According to public records, the dogs endure multiple surgeries, during which devices, cables, and wires are implanted into their bodies. Records show that the dogs often experience pain and distress, and up to one-quarter of the dogs die before data are collected. No new treatments or devices have been developed as a result of these experiments despite nearly three decades of research.
A recent survey of Michigan voters found that 70 percent oppose the use of dogs in potentially painful experiments and 66 percent oppose the use of taxpayer money for such experiments. Wayne State's lethal dog experiments have cost taxpayers more than $11.6 million so far.
"Michiganders do not want their tax dollars to go to useless and cruel experiments," says Rep. Cambensy. "We need to put an end to this inhumane practice so that we can focus on research that benefits human health."
"We're eager to help educate Michigan lawmakers about the human-relevant methods that the public clearly want used," says John Pippin, MD, FACC, director of academic affairs for the Physicians Committee and a former dog experimenter. "It's simply irresponsible to continue using dogs in painful experiments that lead nowhere and fail to benefit patients."
In contrast to the experiments at Wayne State University, human tissue and stem cell studies, clinical trials, and population studies are human-relevant and have yielded benefits for patients, including those suffering from heart disease, Michigan's biggest killer.
To speak with Dr. Pippin, please contact Reina Pohl at 202-527-7326 or rpohl [at] pcrm.org.
Media Contact
Reina Pohl, MPH
202-527-7326
rpohl[at]pcrm.org
Founded in 1985, the Physicians Committee for Responsible Medicine is a nonprofit organization that promotes preventive medicine, conducts clinical research, and encourages higher standards for ethics and effectiveness in education and research.