News Release

Oct 30, 2023
'Gov. Polis: Tax Climate-Warming Meat Industry Emissions,' Urge Colorado Billboards Near U.S. Headquarters of Global Meat Company JBS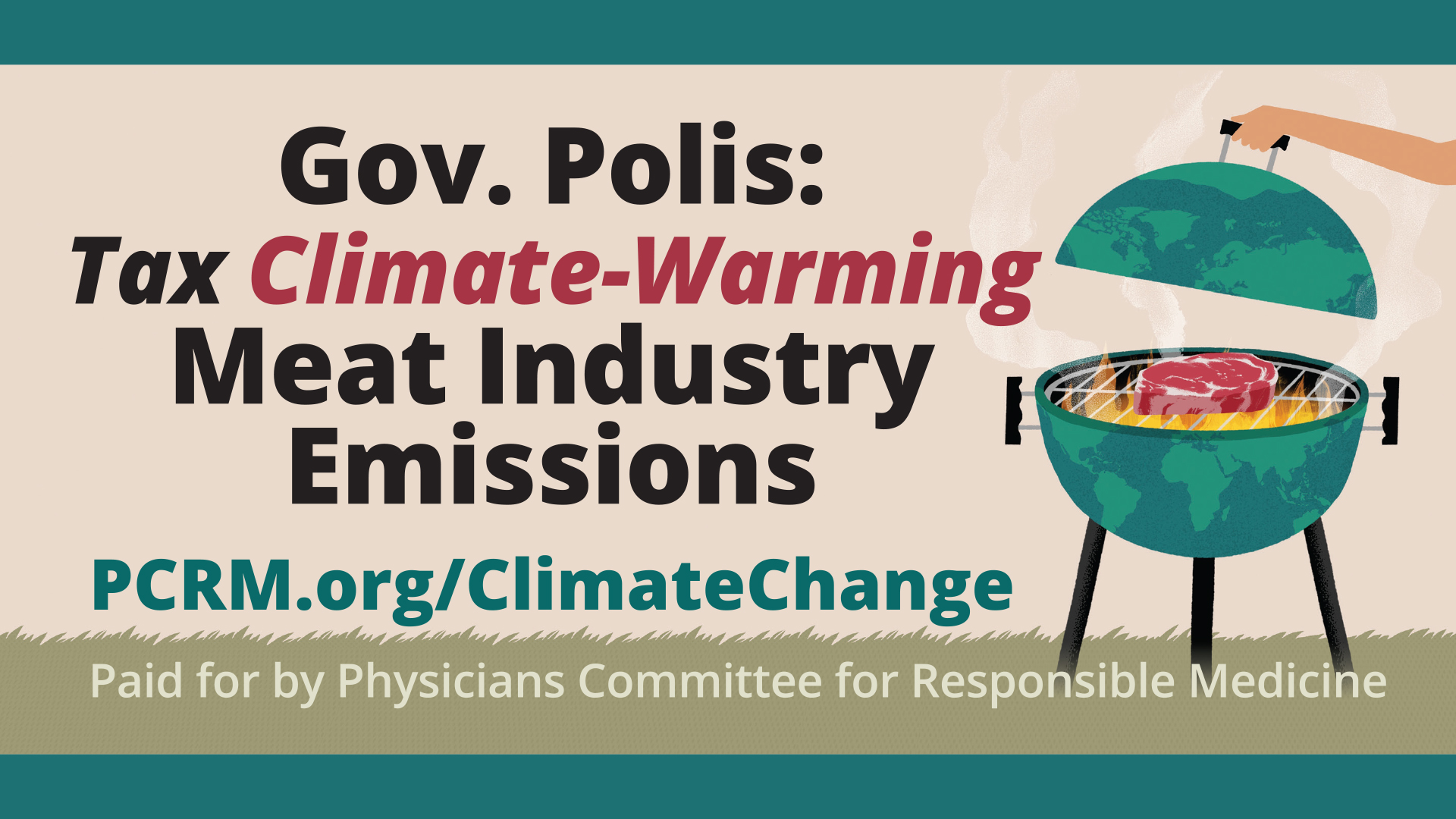 GREELEY, Colo.—As governments across the globe discuss taxing the meat industry to fight climate change, billboards urging, "Gov. Polis: Tax Climate-Warming Meat Industry Emissions," are scheduled to go up Oct. 30 in Greeley, Colo., home to the U.S. headquarters of the international meat company JBS, which, globally, has methane emissions that "far outpace" all other meat corporations, according to one report. The Physicians Committee for Responsible Medicine, which is sponsoring the billboards, also wrote to Gov. Polis to ask him to use the tax revenue to support crops that can help fight the climate crisis and are also beneficial for human health.
The billboards direct motorists to PCRM.org/ClimateChange and are scheduled to go up Oct. 30 in the following locations:
Methane emissions from the meat industry contribute to warming temperatures that are being felt across the globe, including Colorado. Denver broke a 73-year-old high temperature record just a few weeks ago on Oct. 20. By the end of this past summer, more than 350 daily maximum temperature records had been broken across Colorado. Nearly 50% of Denver's daily record-high temps have been set since 2000, one-third have been set since 2010, and more than 12% have been set since 2020, according to an analysis by the Colorado Sun.
"As a dietitian, I recommend that patients stay healthy by eating a plant-based diet and avoiding meat, which research shows is good for the climate, too. But Colorado hosts the U.S. headquarters for the international meat corporation JBS, which, globally, has methane emissions that "far outpace" all other meat corporations, according to Institute for Agriculture and Trade Policy. Phasing out meat industry operations is the best way to stem this crisis and keep people healthy," wrote Anna Herby, DHSc, RD, CDCES, nutrition education specialist for the Physicians Committee for Responsible Medicine, in a letter to Gov. Polis. "Until that happens, I urge Colorado to implement a plan for monitoring greenhouse gas emissions from meat corporations doing business in the state, tax them on their emissions, and use that money to support climate-friendly crops that can help offset climate change and are also beneficial for human health."
New Zealand recently proposed a tax on cow emissions, which they estimate could reduce the amount of methane New Zealand's livestock release into the atmosphere by as much as 47% by 2050. Earlier this year, the Danish Climate Council, which advises the Danish government, recommended imposing a tax of 33% on beef to help the country meet its climate goals. It also recommended that Danes replace two-thirds of their meat intake with vegetables and other plants to fight climate change.
Cattle produce methane as part of their normal digestive process, called enteric fermentation. When cows burp the methane is released into the atmosphere. Methane is also produced when animal manure is stored or managed in lagoons or holding tanks, according to the Environmental Protection Agency.
Experts say that cutting emissions from methane, which is relatively short-lived but has around 80 times more warming potential than carbon dioxide, is critical in preventing catastrophic climate change.
Cattle production is Colorado's number one agricultural commodity with 2.7 million head of cattle, according to the Colorado Cattlemen's Association. Research shows that beef contributes the most global greenhouse gas emissions from food production.
Shifting diets from meat and other animal products to plant-based diets has a high potential for reducing carbon footprints and mitigating climate change, as well as improving human health, according to Climate Change 2022: Mitigation of Climate Change, a report from the United Nations' Intergovernmental Panel on Climate Change.
Swapping beef for beans could help the United States reach targeted greenhouse gas emission reductions. Researchers compared simulated net emissions of legume production, subtracted those from average beef production rates, and used U.S. reduction goals for 2020 as a reference. Based on the results, legume substitution could account for 46-74% of the required reductions.
"Colorado is one of the top bean growing states," according to the Colorado Department of Agriculture, and offers a wide bean selection, including the pinto beans, light red kidney beans, black beans, great northern beans, small red beans, garbanzo beans, and black-eyed peas.
Swapping beef for beans—and other plant foods—also benefits human health. Replacing red meat with plant sources of protein, such as beans, reduces risk for heart disease and early death. Studies show that beans are also beneficial for cardiovascular disease, type 2 diabetes, and weight management, and satisfy hunger more than meat.
Media Contact
Michael Keevican
202-527-7367
mkeevican[at]pcrm.org
Founded in 1985, the Physicians Committee for Responsible Medicine is a nonprofit organization that promotes preventive medicine, conducts clinical research, and encourages higher standards for ethics and effectiveness in education and research.