News Release

Nov 19, 2020
Doctors Urge South Dakota Governor to Promote Plant Protein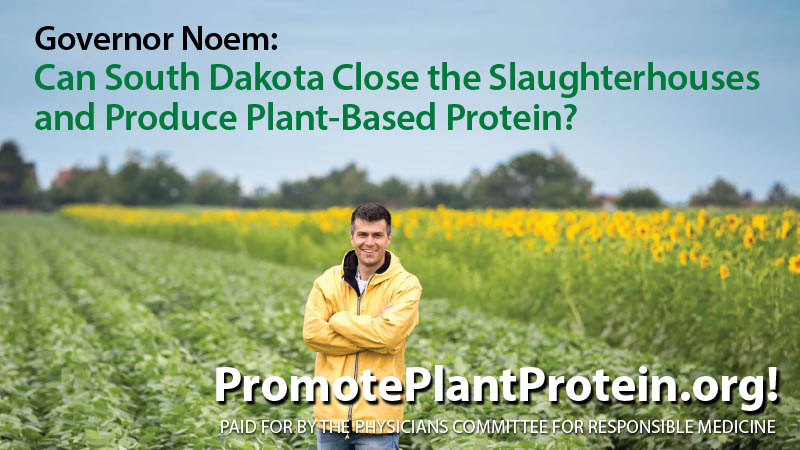 PIERRE, South Dakota—Three billboards that directly address Governor Kristi Noem have been installed in or near Pierre, where the governor's residence is located, and they will remain posted until Nov. 23. One billboard is for drivers approaching Pierre at 29300 Karrie Place and a second billboard is at 620 South Roosevelt Ave. The third billboard is in Fort Pierre near the junction of highways 14 and 83. Two billboards are about 10 feet tall and 28 feet wide, and they were installed Oct. 20. The third billboard, installed Oct. 26, is 10 feet tall and 22 feet wide. The billboards show a farmer in a field of soybeans and sunflowers—two South Dakota crops that provide plant-based protein. 
The billboards are sponsored by the Physicians Committee—a national nonprofit of 12,000 doctors, including 23 physicians in South Dakota. The billboards confront the governor with the message "Governor Noem: Can South Dakota Close the Slaughterhouses and Produce Plant-Based Protein? PromotePlantProtein.org!" Smithfield Foods, whose Sioux Falls facility became a coronavirus hot spot in the Spring, is now offering a plant-based sausage in addition to its other plant-based protein products. With support from the state, Smithfield's Sioux Falls facility, and other slaughterhouses, could be repurposed to produce plant-based protein. 
The doctors group also filed a complaint Oct. 23 with the head of the South Dakota Department of Health, Kim Malsam-Rysdon. Any slaughterhouses that continue to see new coronavirus cases should be shut down immediately. The complaint argues that meatpacking facilities should be replaced with cleaner, safer facilities that produce plant-based protein. The current public health emergency highlights the need to transition the food production system away from animal agriculture. This is especially urgent since meat products increase the risk of chronic diseases, including those that have helped make covid-19 so deadly. For example, patients with high blood pressure have twice the risk of dying from the novel coronavirus, according to a study published in the European Heart Journal. Studies show that affordable, plant-based options can help people prevent and even reverse diabetes, heart disease, and high blood pressure, among other conditions. 
"The transition to plant-based protein is already underway, driven by consumer demand, but this health-promoting trend needs the support and assistance of government," says Susan Levin, MS, RD, director of nutrition education for Physicians committee.  "With incentives from the state, farmers could increase acreage of sunflowers, beans, and other high-protein crops while decreasing livestock production." Ms. Levin has written directly to Governor Noem with her proposal.
Consumers in South Dakota and elsewhere are increasingly embracing plant-based protein products like veggie dogs and veggie deli slices. These products are money-makers for the companies that manufacture them. As consumer demand rises, food companies are ramping up production of plant-based protein products. According to the Indianapolis Star, Greenleaf Foods is building a $310 million facility in Indiana to produce plant-based protein including veggie sausage. The facility is expected to hire about 460 workers in Indiana, and the state announced that it would support the project through grants and tax credits.
In response to the popularity of plant-based protein products, Smithfield, Tyson Foods and other large meat processors are launching plant-based sausage and other products. Meanwhile, facilities that produce traditional meat products have been hotspots for coronavirus infections. In September, the Argus Leader reported "The Smithfield Foods plant in Sioux Falls, which was the epicenter of one of the nation's largest coronavirus hotspots in April, has been fined by the U.S. Department of Labor."
New cases continue to occur in South Dakota, including new infections in counties where slaughterhouses are located. According to Food and Environment Reporting Network (FERN), at least 2,088 meatpacking workers in South Dakota have become infected and five have died since the beginning of the pandemic. Nationally, at least 44,633 meatpacking workers have tested positive for covid-19 and at least 213 meatpacking workers have died, according to FERN.
By contrast, one of the most profitable manufacturers of plant-based protein, Impossible Foods, reports zero coronavirus cases at its facility in Oakland, Calif.   
Media Contact
Jeanne Stuart McVey
202-527-7316
jmcvey[at]pcrm.org
Founded in 1985, the Physicians Committee for Responsible Medicine is a nonprofit organization that promotes preventive medicine, conducts clinical research, and encourages higher standards for ethics and effectiveness in education and research.