News Release

Feb 2, 2021
Doctors Urge Arkansas Governor to Promote Plant Protein and Repurpose Slaughterhouses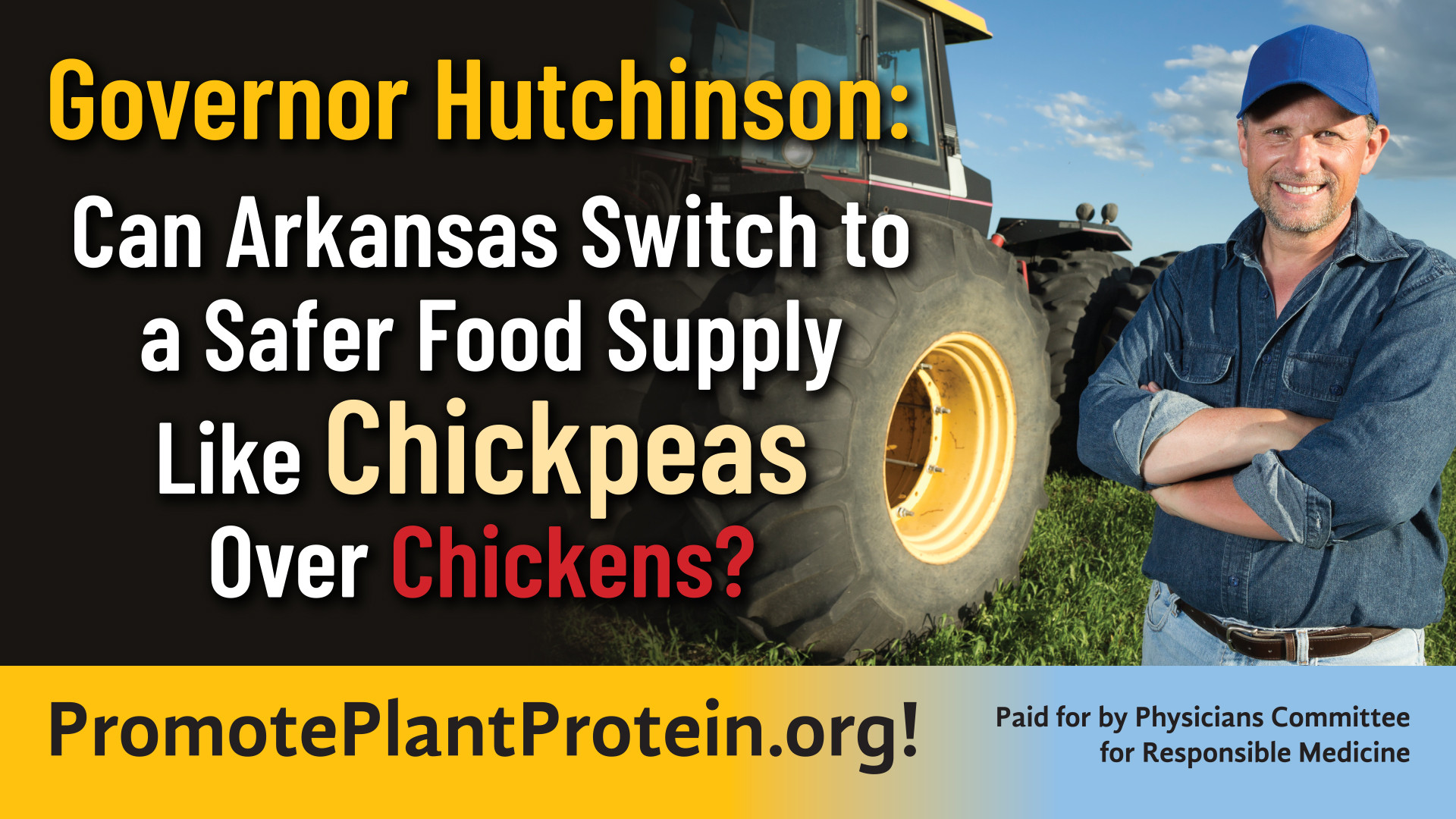 LITTLE ROCK—Two billboards that directly address Governor Hutchinson are installed in Little Rock close to the governor's residence, and they will remain posted until Feb. 7. One billboard is located at 2419 Main St. and it is 0.381 miles from the governor's mansion. The second billboard, which is illuminated, is at 522 West Third St. near Broadway, and it is 1.06 miles from the residence.  
The billboards confront the governor with the message "Governor Hutchinson: Can Arkansas Switch to a Safer Food Supply Like Chickpeas Over Chickens? PromotePlantProtein.org!" The billboards are sponsored by the Physicians Committee—a national nonprofit of 12,000 doctors, including 52 physicians in Arkansas with Christie Mitchell Cobb, MD, the Little Rock spokesperson. Featuring an image of a farmer, the billboards are about 10 feet tall and 22 feet wide.
Dr. Cobb of Little Rock and the nonprofit Physicians Committee filed a complaint Jan. 15 alerting the Arkansas Department of Health to recent data showing that coronavirus cases among Arkansas meat and poultry workers are continuing to rise. According to the Food and Environment Reporting Network, (FERN), 6,757 Arkansas slaughterhouse workers have tested positive for covid-19, with 1,136 of those cases occurring recently—since Nov. 12, 2020. Nationally, at least 56,308 meatpacking workers have become infected with the novel coronavirus, as of Feb. 1, 2021.
"Many meat companies have taken steps to reduce the number of new infections, but any slaughterhouses that continue to see new cases of covid-19 should be shut down until all workers are vaccinated," says Dr Cobb in the complaint, cosigned with Susan Levin, MS, RD, director of nutrition education for Physicians Committee. "While retaining the same workers, Arkansas companies should transition to cleaner, safer food production that avoids the hazards of large-scale meat and poultry processing. Arkansas-based Tyson Foods and other meat companies are also producing plant-based protein items in response to consumer demand, and these companies should continue to move in that direction." The complaint will be filed with Jose Romero, MD, Secretary of Health for the Arkansas Department of Health.
Recent articles published by the Washington Post and the Arkansas Democrat Gazette report that Arkansas poultry processing workers are concerned that increased line speeds make it difficult for workers to avoid contact with colleagues who may be infected. An analysis finds that covid-19 cases are more likely to occur at poultry plants where the U.S. Department of Agriculture allows line-speed increases.
"In Arkansas, health-conscious consumers are increasingly reaching for plant-based protein products, a trend accelerated by our current health emergency," says Susan Levin, MS, RD, director of nutrition education for Physicians Committee. "America's biggest food companies, including Arkansas-based Tyson Foods, are producing products made with chickpeas and other healthful plant-based protein sources. This transition to plant protein also benefits farmers who grow black-eyed peas, soybeans, peanuts, pecans, chickpeas, and other crops—it's a win-win trend that should be encouraged and assisted by state government." Ms Levin has written directly to Governor Hutchinson with her proposal.
The current public health emergency highlights the need to transition the food production system away from animal agriculture. This is especially urgent since meat  products increase the risk of chronic diseases, including those that have helped make covid-19 so deadly. For example, patients with high blood pressure have twice the risk of dying from the novel coronavirus, according to a study published in the European Heart Journal.
Chicken, like beef, contains harmful saturated fat and cholesterol while studies show that affordable, plant-based options can help people prevent and even reverse diabetes, heart disease, and high blood pressure, among other conditions. Consumers can find further information at www.PromotePlantProtein.org.
Over the course of the pandemic, numerous disease outbreaks have occurred at slaughterhouses owned by Tyson Foods involving thousands of workers, according to the Arkansas Democrat Gazette and other news outlets. By contrast, one of the most profitable manufacturers of plant-based protein, Impossible Foods, reports zero coronavirus cases at its facility in Oakland, Calif.  
As consumer demand for plant-based products continues to rise, state governments are welcoming new production facilities because they hire local workers. Greenleaf Foods, for example, is building a $310 million facility in Indiana to produce plant-based protein products, according to the Indianapolis Star. The facility is expected to hire about 460 workers in Indiana, and the state announced that it would support the project through grants and tax credits. According to Inside Indiana Business, local farmers will benefit as they will raise crops for Greenleaf's plant-based protein facility.
Media Contact
Jeanne Stuart McVey
202-527-7316
jmcvey[at]pcrm.org
Founded in 1985, the Physicians Committee for Responsible Medicine is a nonprofit organization that promotes preventive medicine, conducts clinical research, and encourages higher standards for ethics and effectiveness in education and research.