News Release

Feb 22, 2019
Doctors Urge 2020-2025 Dietary Guidelines Advisory Committee To Ditch Dairy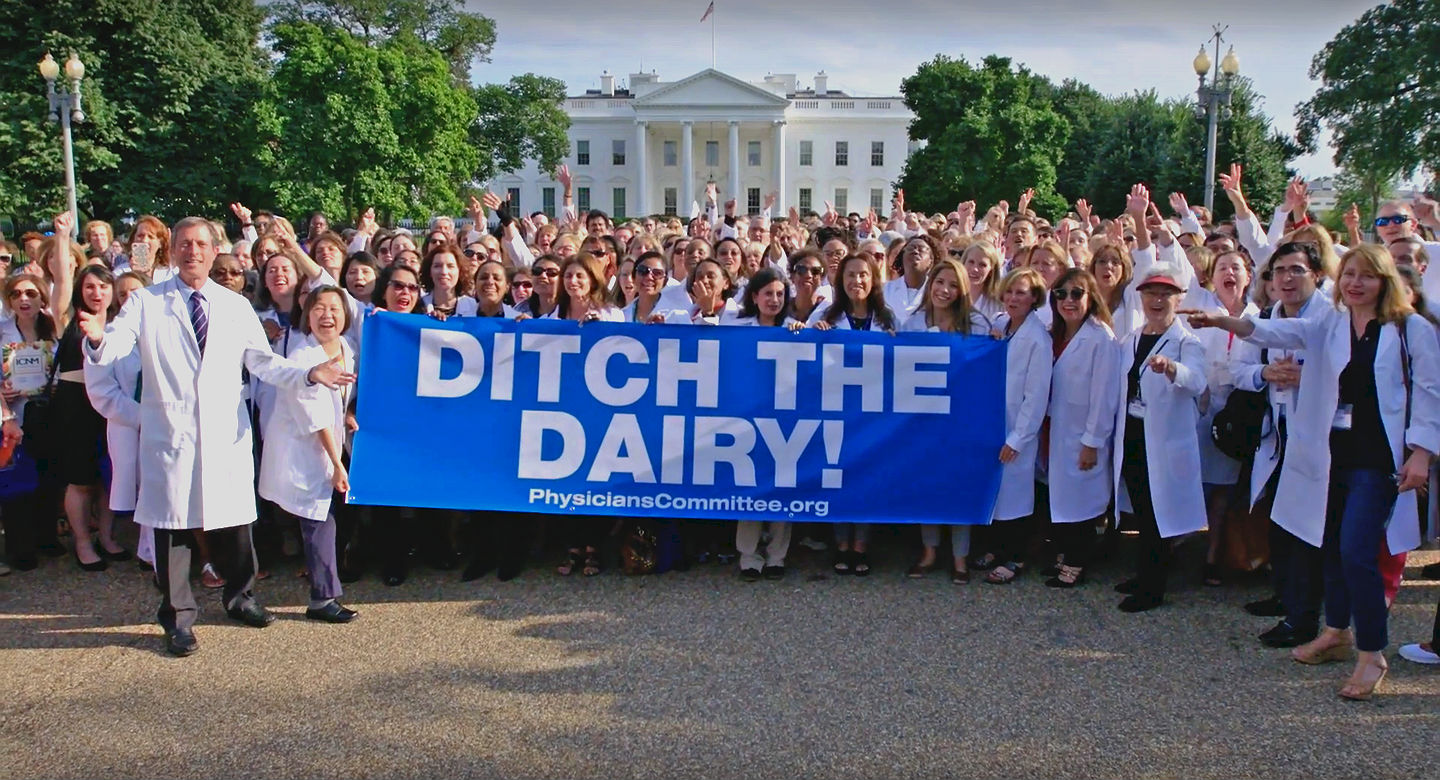 WASHINGTON—The Physicians Committee for Responsible Medicine—a nonprofit with 12,000 doctor members—is calling on the 2020-2025 Dietary Guidelines Advisory Committee, which was announced on Feb. 21, to recommend to the U.S. Department of Agriculture and the Department of Health and Human Services that the upcoming guidelines clearly warn Americans about the health dangers of dairy products, including heart disease, cancer, and lactose intolerance.
"It's time for the Dietary Guidelines to finally make it clear to Americans that dairy products are dangerous," says Susan Levin, M.S., R.D., director of nutrition education for the Physicians Committee for Responsible Medicine. "The Dietary Guidelines Advisory Committee can't ignore the scientific evidence against dairy when it makes its recommendations to the USDA and HHS."
The current Dietary Guidelines recommend that "most individuals in the United States would benefit by increasing dairy intake," while acknowledging that "major sources of calories from beverages are milk and milk drinks." Dairy products are also the No. 1 source of saturated fat in the American diet. The current guidelines recommend people avoid saturated fat because of its link to heart disease.
Scientific evidence also shows that milk and other dairy products increase the risk of breast, ovarian, and prostate cancers, cardiovascular disease, cognitive decline, and early death, and offer little if any protection for bone health.
Dairy products also cause bloating, diarrhea, and gas in the tens of millions of Americans who are forced to suffer from lactose intolerance, the natural progression of not breaking down sugar in milk. The National Institutes of Health estimates that 30 million to 50 million American adults are lactose intolerant, including 95 percent of Asians Americans, 60-80 percent of African Americans and Ashkenazi Jews, 80-100 percent of Native Americans, and 50-80 percent of Hispanics. The Guidelines have never taken into consideration these populations' natural progression toward not breaking down a major sugar found in milk.
In July, the American Medical Association passed a resolution calling on the USDA and HHS to recognize that lactose intolerance is common among many Americans, especially African Americans, Asian Americans, and Native Americans, and to clearly indicate in the Dietary Guidelines and other federal nutrition guidelines that dairy products are optional.
Calcium is plentiful in beans, leafy green vegetables, tofu, breads, and cereals. Oranges, bananas, potatoes, and other fruits, vegetables, and beans are rich sources of potassium. Legumes and green leafy vegetables are excellent sources of magnesium. The natural source of vitamin D is sunlight, and fortified cereals, grains, bread, orange juice, and plant milks are dietary options.
In January, Canada's new food guide recommended that Canadians make water their "drink of choice."
Founded in 1985, the Physicians Committee for Responsible Medicine is a nonprofit organization that promotes preventive medicine, conducts clinical research, and encourages higher standards for ethics and effectiveness in education and research.