News Release

Aug 3, 2022
Doctors, Scientists Call Out Elon Musk's Cruel Animal Experiments With Protest, Giant Bus Ads
Billionaire's Brain-Chip Company Operating New, Secretive Facility in Del Valle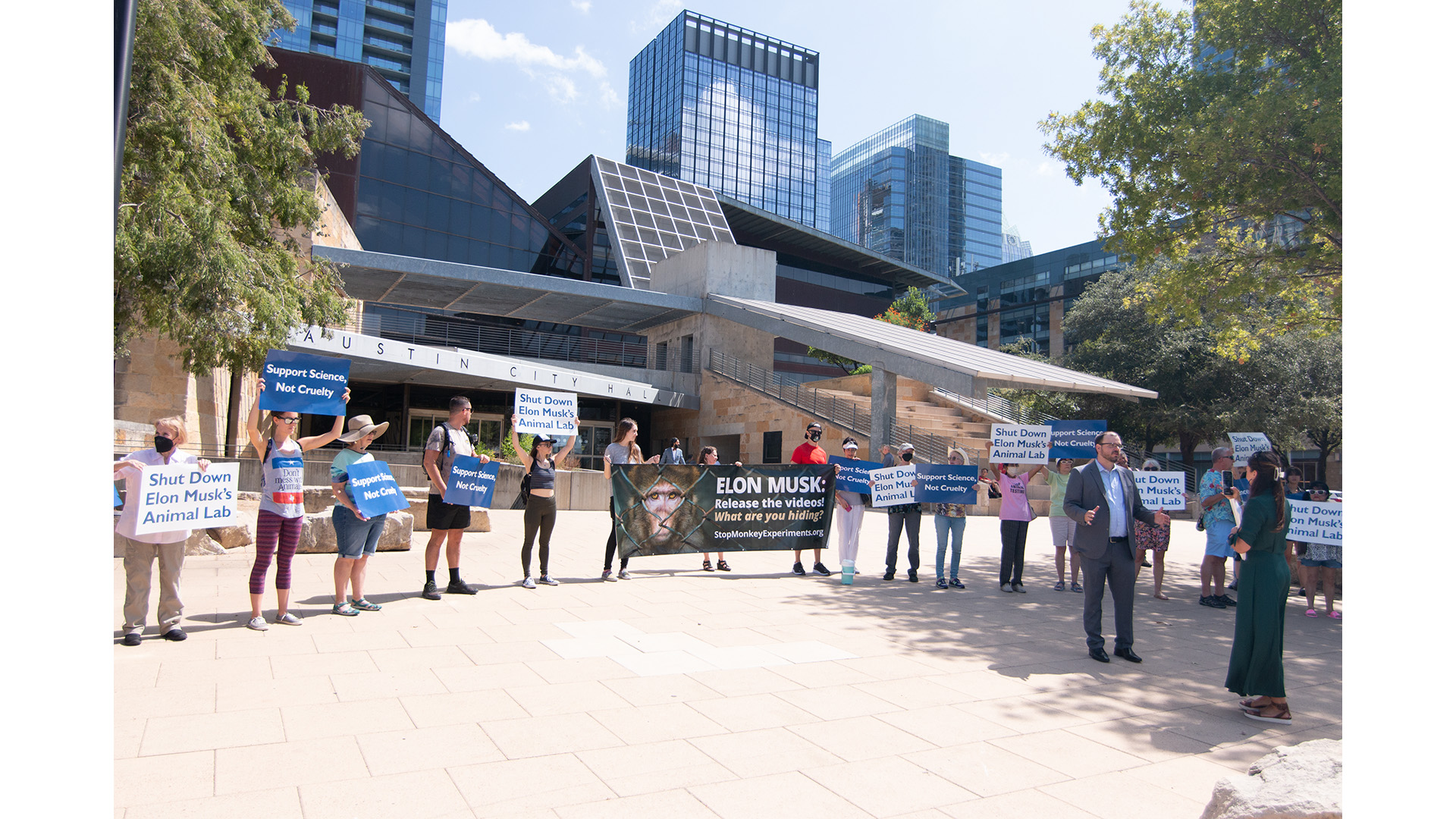 AUSTIN, Texas—A national doctors group is calling on Elon Musk and his company Neuralink to stop using animals in deadly brain experiments and urging Austin Mayor Steve Adler to investigate the matter. Outside City Hall Wednesday morning, locals and representatives from the Physicians Committee for Responsible Medicine held signs reading "Shut Down Elon Musk's Animal Lab" and "Support Science, Not Cruelty." In addition, a pair of extra-long CapMetro buses are moving through the city wrapped in ads featuring a caged monkey with the text "Elon Musk: Release the Videos! What Are You Hiding?" Inside all 400 CapMetro buses, ads carry the same message.
The group also sent a letter to Adler, asking him to investigate Neuralink, to end any incentives that the city of Austin may provide to the company, and to urge the closure of its animal experimentation facility in Del Valle, which is currently under expansion. The letter to the mayor noted that Neuralink appears to have used a shell corporation to purchase the Del Valle land. Google Earth images of the property show significant new construction between March 2021 and January 2022, including a large structure that could potentially house animals. 
Neuralink came under scrutiny earlier this year when documents, obtained by the Physicians Committee following a public records lawsuit, revealed the company used macaque monkeys in highly invasive, often fatal experiments in its development of a "brain-machine interface." Hundreds of pages of veterinary and surgical records showed that the monkeys suffered from infections, seizures, and loss of motor function after Neuralink employees removed portions of the animals' skulls, screwed "pill boxes" to their heads, and implanted devices into their brains. 
In the case of one monkey known only as "Animal 15," staff observed signs of neurological impairment and head pain two days after Neuralink implanted a device in her skull. Staff wrote that she "appears ataxic," meaning she had lost coordination and balance, and that she may have had "swelling" in her brain. Just four days after the surgery, she was shivering, scratching, and picking and pulling at the implant in her head. When they eventually euthanized Animal 15, a necropsy revealed that parts of her brain were "focally tattered," that "remnant electrode threads" were found in her brain, and there were indications of hemorrhaging.
 The Physicians Committee continues to pursue its public records lawsuit against the University of California, Davis, a public university, due to its failure to release video footage recorded by Neuralink while conducting experiments at the university. Neuralink now uses animals at its facilities in California and Texas.
"There is no excuse for Neuralink's cruel, scientifically questionable experiments," says Ryan Merkley, director of research advocacy for the Physicians Committee. "Human-relevant, noninvasive methods already exist that allow patients to interact with computers using only their brains."
To speak with Mr. Merkley or to see a copy of the letter or the artwork for the bus ads, please contact Reina Pohl at 202-527-7326 or rpohl [at] pcrm.org (rpohl[at]pcrm[dot]org). 
Media Contact
Reina Pohl, MPH
202-527-7326
rpohl[at]pcrm.org
Founded in 1985, the Physicians Committee for Responsible Medicine is a nonprofit organization that promotes preventive medicine, conducts clinical research, and encourages higher standards for ethics and effectiveness in education and research.