News Release

May 14, 2020
Doctors Protest Continued Operation of Smithfield Foods Slaughterhouses In Virginia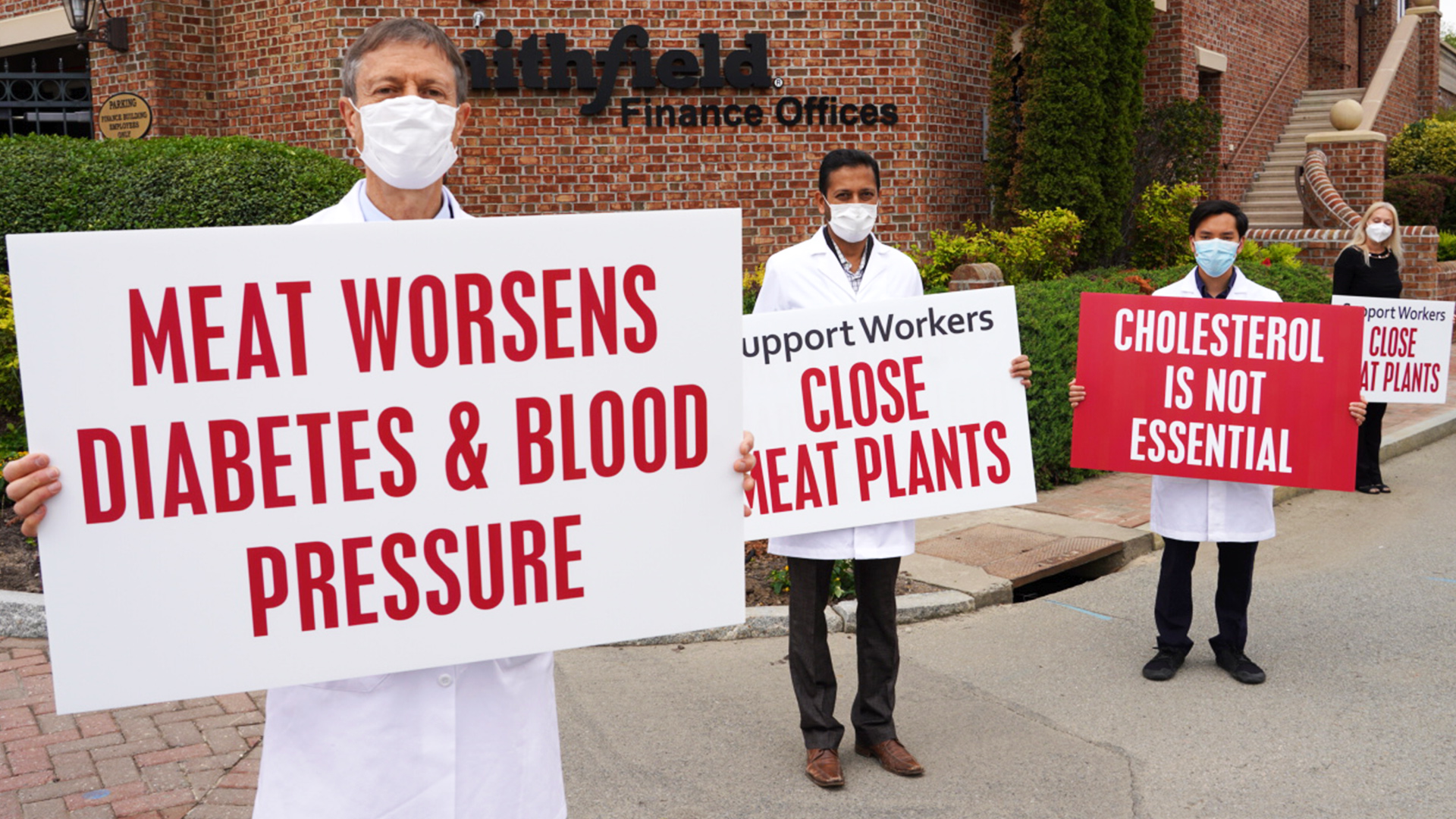 SMITHFIELD, Va.—Doctors with the Physicians Committee for Responsible Medicine called for the closure of meatpacking plants during a demonstration on May 14. The doctors held signs reading "Support Workers, Close Meat Plants," "Meat Worsens Diabetes & Blood Pressure," and "Cholesterol Is Not Essential." They maintained social distance while protesting outside of Smithfield Foods Headquarters, 200 Commerce St., Smithfield, VA 23430, at the corner of Commerce Street and Luter Drive.
"Keeping Smithfield plants open harms the health of workers, the surrounding community, and consumers—all to line the pockets of the meat industry," says Neal Barnard, MD, FACC, president and co-founder of the Physicians Committee for Responsible Medicine.
More than 15,500 meat plant workers are infected with COVID-19, and at least 60 have died. With workers lined up in close proximity, viruses are easily spread within the slaughterhouse environment. Although studies show that infectious viruses easily survive during refrigeration and freezing, meat companies do not routinely test the extent to which meat products are contaminated with the virus.
Meat consumption raises the risk for many of the underlying medical conditions—diabetes, hypertension, obesity, and chronic obstructive pulmonary disease—that can make COVID-19 infections more deadly. A recent study found that regular consumption of processed meat, red meat, or poultry increases the risk for cardiovascular disease. Research also links red meat, poultry, and fish to an increased risk for diabetes.
Media Contact
Donna Steele
202-527-7342
dsteele[at]pcrm.org
Founded in 1985, the Physicians Committee for Responsible Medicine is a nonprofit organization that promotes preventive medicine, conducts clinical research, and encourages higher standards for ethics and effectiveness in education and research.