News Release

May 24, 2023
Doctors Group Praises New York Assembly for Passing Legislation to Create Nutrition Education Resource Library for Physicians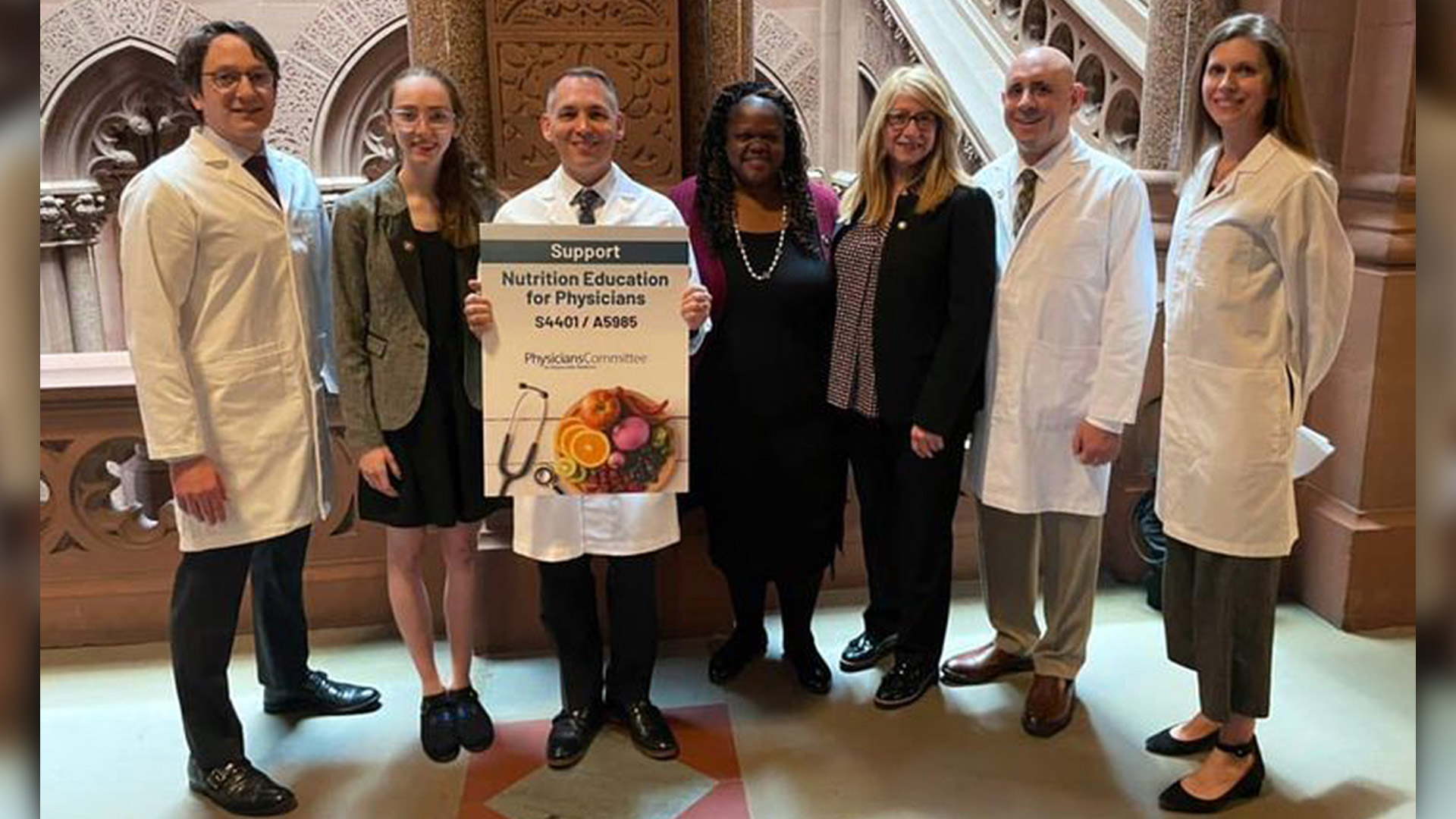 The Physicians Committee for Responsible Medicine, a national nonprofit with more than 17,000 doctor members, applauds the New York Assembly for passing legislation today to ensure physicians are kept informed about the latest continuing medical education opportunities in nutrition. The bill, A5985-A, sponsored by Assemblymember Linda B. Rosenthal (D-Manhattan), would help doctors in the state improve patient health outcomes and reduce racial disparities for the millions of New Yorkers struggling with diet-related diseases like type 2 diabetes and heart disease.
"Nutrition is powerful for health, and, with this legislation, doctors will take that power in hand. Healthy diets, especially plant-based diets, can reverse heart disease, trim waistlines, and reverse diabetes," said Neal Barnard, MD, FACC, President of the Physicians Committee for Responsible Medicine. "I appreciate Assemblymember Linda B. Rosenthal and Senator Lea Webb for their leadership on this legislation and ask the New York Senate to quickly pass the bill and send it to the Governor's desk."
A5985-A would require the New York State Department of Health to maintain and regularly share with physicians an online resource library with information about the availability of continuing medical education (CME) coursework and training in nutrition, including resources regarding racial disparities in outcomes for diet-related diseases.
Despite alarming trends in diet-related diseases, 75% of medical school curricula do not include the minimum number of hours in nutrition coursework recommended by the National Research Council. However, a poll of New York State physicians found that 90% of respondents think nutritional guidance should be a routine part of patient visits and 82% would discuss nutrition if they had more training. A5985-A will close this gap and help ensure physicians in New York have access to up-to-date information about available continuing medical education coursework in nutrition. 
The bill still needs to be passed by the Senate.
Media Contact
Michael Keevican
202-527-7367
mkeevican[at]pcrm.org
Founded in 1985, the Physicians Committee for Responsible Medicine is a nonprofit organization that promotes preventive medicine, conducts clinical research, and encourages higher standards for ethics and effectiveness in education and research.