News Release

Oct 18, 2022
Doctors Coordinate Demonstration and Billboards to Urge Brown University Board of Trustees to Replace Animals in Deadly Medical Training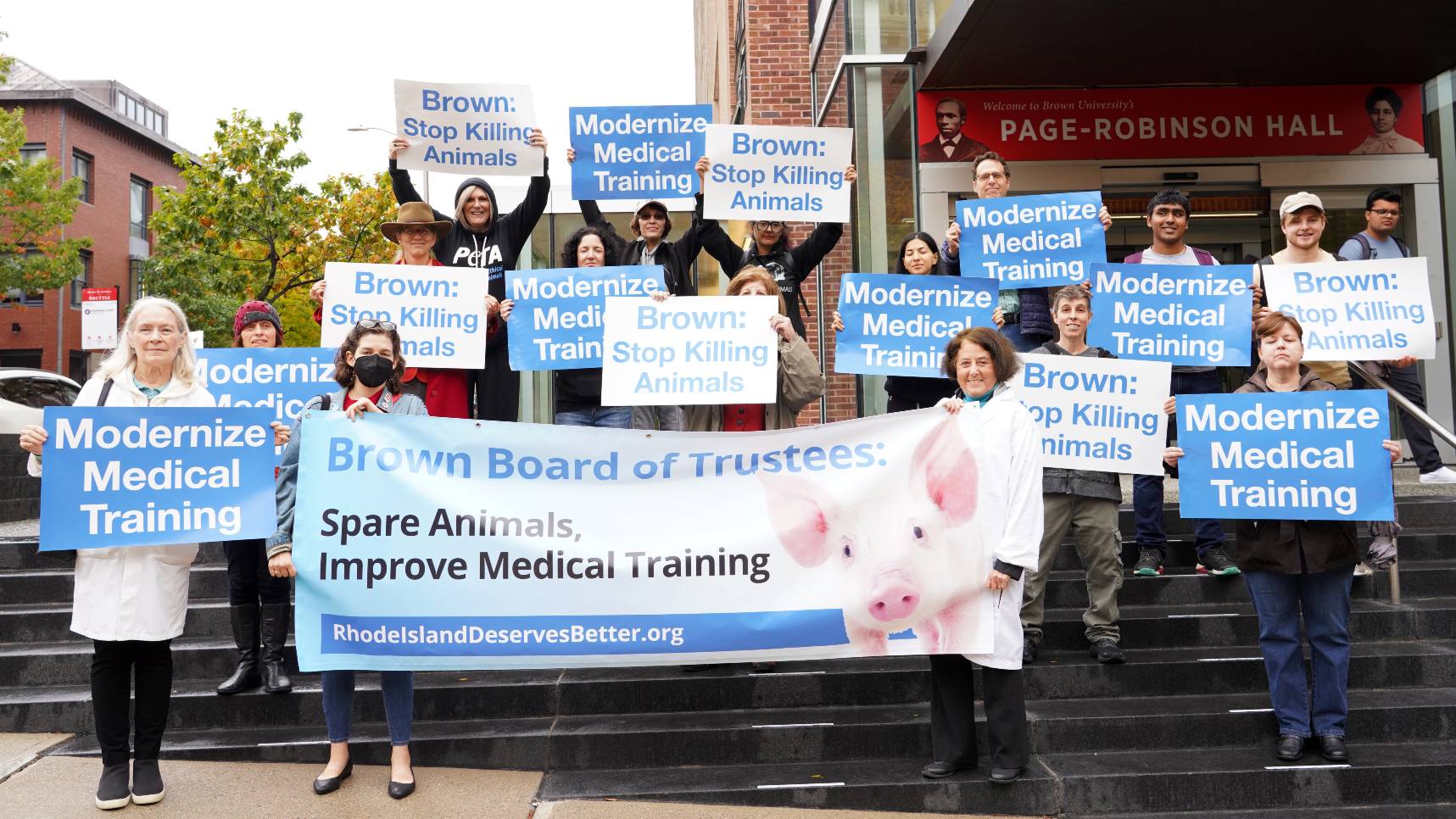 PROVIDENCE, R.I.—The Physicians Committee for Responsible Medicine, a nonprofit of more than 17,000 doctor members, is appealing to Brown University's governing body, the Corporation, for improvements to medical training in the joint Brown University and Rhode Island Hospital emergency medicine residency program. Synchronizing an in-person protest, five area billboards, and a letter directly to the board of trustees, the organization employed multiple tactics to get their message—that the use of live pigs should be replaced with human-relevant training—to leadership at Brown. 
As the Corporation held its October meetings, dozens of protesters joined three doctors outside its main offices in Page-Robinson Hall on Brown Street to urge an end to the use of live animals in emergency medicine training. Holding banners and signs and speaking to the media and passersby, members of the group noted that 97% of emergency medicine programs do not use animals. Meanwhile, five nearby billboards feature a patient's perspective of a doctor in an operating room and read: "Do They Think You're a Pig? Stop Killing Animals to Train Doctors. RhodeIslandDeservesBetter.org." 
At Rhode Island Hospital, emergency medicine residents cut into and kill pigs to teach a single procedure called a "surgical airway." In contrast, hundreds of medical centers teach the procedure using devices that simulate human anatomy. These simulators recreate skin, muscle, and blood vessels. They can bleed, and some of them provide lifelike physiological responses.
In 2019, the editors of The Boston Globe wrote that it's "time for a humane change at Brown," continuing: "…it's now possible for emergency room doctors to prepare for their life-saving work without the need to train on animals." State legislators have also voiced their opposition, introducing multiple bills in the General Assembly to outlaw the practice. In 2021, the University of Washington developed a new medical simulator to teach the surgical airway procedure to its paramedic students and subsequently ended animal use.
"By continuing to use animals, Brown is out of step with Harvard, Yale, Johns Hopkins and nearly every other medical institution in the country," says Frank Faltus, MD, a retired physician of more than 40 years and a resident of Providence. Dr. Faltus is a Clinical Assistant Professor Emeritus of Psychiatry and Human Behavior at Brown University.
For a copy of the letter or to see the billboard artwork or locations, please contact Reina Pohl at 202-527-7326 or rpohl [at] pcrm.org (rpohl[at]pcrm[dot]org).
Media Contact
Reina Pohl, MPH
202-527-7326
rpohl[at]pcrm.org
Founded in 1985, the Physicians Committee for Responsible Medicine is a nonprofit organization that promotes preventive medicine, conducts clinical research, and encourages higher standards for ethics and effectiveness in education and research.