News Release

Aug 9, 2019
Doctors Ask DoD To Investigate Naval Medical Center Portsmouth's Live Animal Use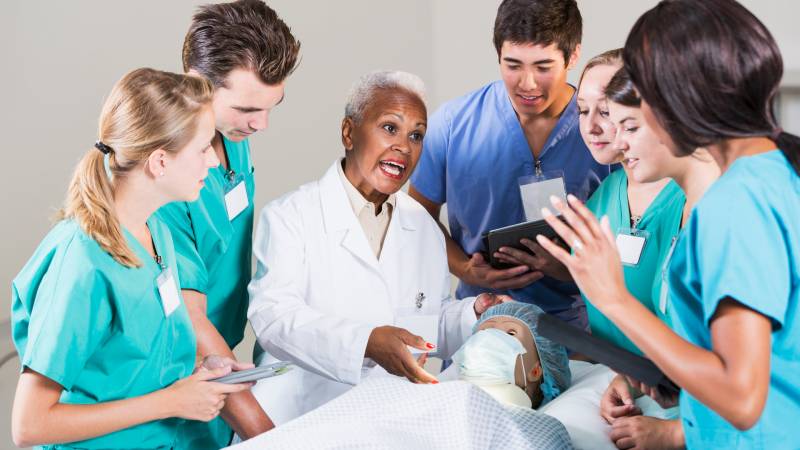 PORTSMOUTH, Va.—The Physicians Committee for Responsible Medicine, a nonprofit with more than 12,000 doctor members, has filed a petition for enforcement with the Department of Defense (DoD), requesting that the DoD immediately investigate the use of live animals in medical training occurring at Naval Medical Center Portsmouth (NMCP).
Emergency medicine residents and other rotating physicians at NMCP practice invasive procedures on live pigs, including making incisions in the animal's throat and chest in order to insert a chest tube, breathing tube, or rib spreader, or to insert needles and drain fluid from the eye or heart.
The doctors' petition points out that 96 percent of surveyed emergency medicine residences (260 of 270) in the United States and Canada do not use animals for training. Included in this figure are Naval Medical Center San Diego, which ended animal use for this purpose in 2014, and military-affiliated programs at Wright State University (affiliated with Wright Patterson Medical Center) and the Medical College of Georgia at Augusta University. There are four other emergency medicine residencies in Virginia, all of which exclusively use human-based training methods.
All emergency medicine procedures can be taught using modern, human-relevant training methods, such as patient simulators, skills trainers, and human cadavers. Human-patient simulators and skills trainers feature layers of lifelike skin, fat, and muscle, accurately replicating human anatomy and allowing for repeated practice.
"Studies and individuals from the Navy, Army, and Air Force have all concluded that simulator-based training is equivalent to or even superior to live tissue training ," said John Pippin, MD, FACC, Physicians Committee director of academic affairs. "Naval Medical Center Portsmouth's continued use of live animals for emergency medicine training demonstrates a blatant resistance to progress."
To speak with Dr. Pippin, please contact Reina Pohl at 202-527-7326 or rpohl@pcrm.org.
Media Contact
Reina Pohl, MPH
202-527-7326
Founded in 1985, the Physicians Committee for Responsible Medicine is a nonprofit organization that promotes preventive medicine, conducts clinical research, and encourages higher standards for ethics and effectiveness in education and research.