News Release

Oct 8, 2020
D.C. Billboards Warn Dairy Products Raise Breast Cancer Risk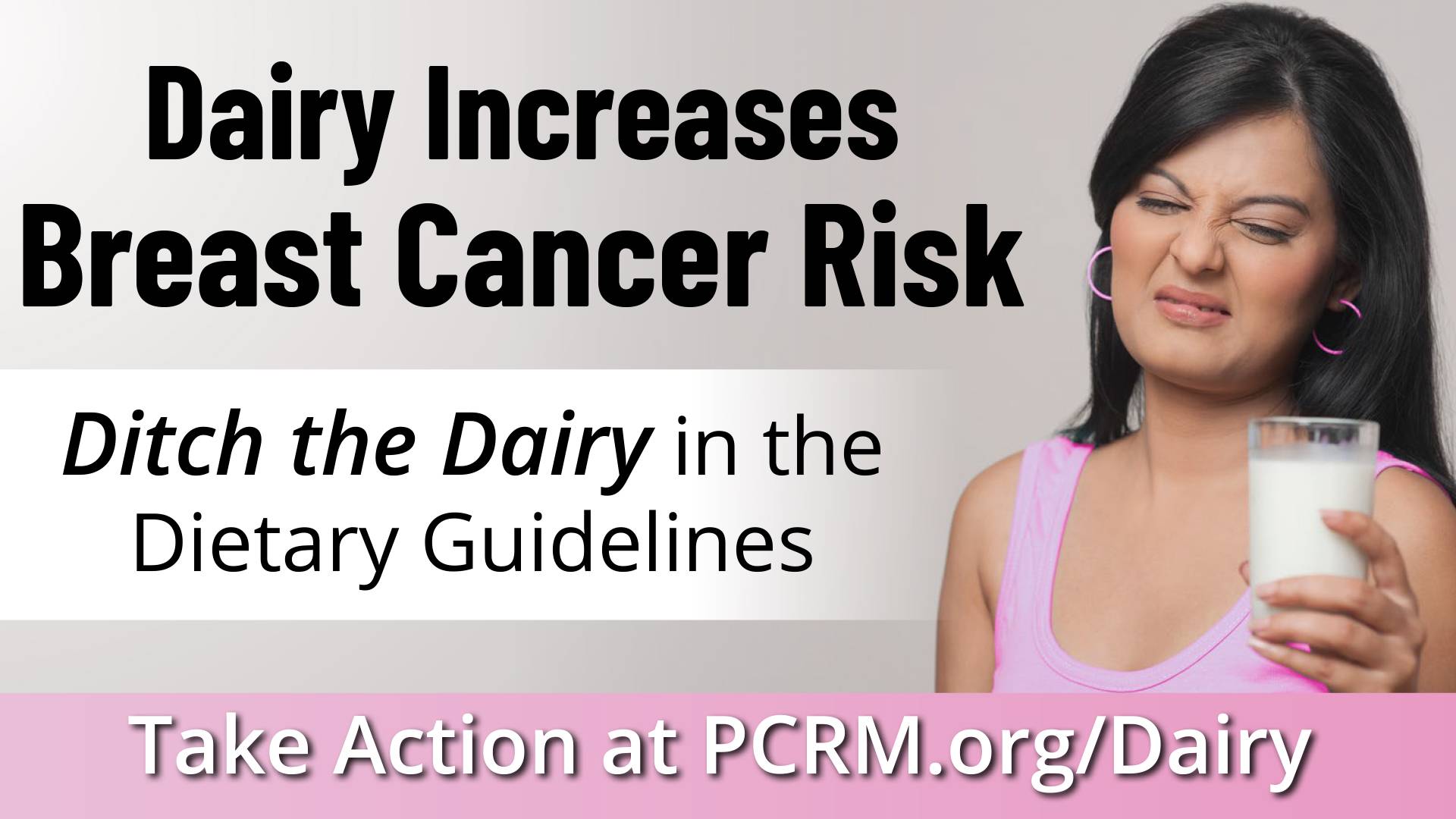 WASHINGTON—Controversial mobile billboards featuring a woman frowning at a glass of milk will travel through Washington, D.C., on Oct. 12 to alert the public that the Dietary Guidelines for Americans' recommendation for three servings of dairy daily increases breast cancer risk. 
The nonprofit Physicians Committee for Responsible Medicine, which is sponsoring the billboards, is urging the U.S. Department of Agriculture (USDA) and the Department of Health and Human Services (HHS) to indicate that dairy is unnecessary in the 2020-2025 Dietary Guidelines for Americans, which are expected to be released by the end of this year.
"The current Dietary Guidelines for Americans recommend 3 cups of dairy daily and that clearly puts Americans at risk for breast cancer," says Susan Levin, MS, RD, director of nutrition education for the Physicians Committee. "But the USDA and HHS still have time to help protect Americans from breast cancer by indicating that dairy is unnecessary in the 2020-2025 Dietary Guidelines that will be released later this year."
A 2017 study funded by the National Cancer Institute that compared the diets of women diagnosed with breast cancer to those without breast cancer found that those who consumed the most American, cheddar, and cream cheeses had a 53% higher risk for breast cancer. 
The Life After Cancer Epidemiology study found that, among women previously diagnosed with breast cancer, those consuming one or more servings of high-fat dairy products (e.g., cheese, ice cream, whole milk) daily had a 49% higher breast cancer mortality, compared with those consuming less than one-half serving daily.
Research funded by the National Cancer Institute, the National Institutes of Health, and the World Cancer Research Fund, found that women who consumed 1/4 to 1/3 cup of cow's milk per day had a 30% increased chance for breast cancer. One cup per day increased the risk by 50%, and 2-3 cups were associated with an 80% increased chance of breast cancer. When asked about the milk recommendations in the Dietary Guidelines, the lead author of the study said that "people should view that recommendation with caution."
The American Medical Association recently reiterated its call for the Dietary Guidelines to indicate that "dairy products are optional."
Plant-based diets rich in fruits, vegetables, grains, and beans provide plentiful calcium, potassium, and magnesium. The natural source of vitamin D is sunlight, and fortified cereals, grains, bread, orange juice, and plant milks are dietary options.
The Physicians Committee's Let's Beat Breast Cancer campaign offers a simple four-pronged approach to fighting breast cancer: Choose plant-based foods, exercise regularly, limit alcohol, and maintain a healthy weight. LetsBeatBreastCancer.org, includes the science behind the four steps, resources, and a pledge that visitors can take to follow the four steps—and get a free e-cookbook.
Media Contact
Michael Keevican
202-527-7367
mkeevican[at]pcrm.org
Founded in 1985, the Physicians Committee for Responsible Medicine is a nonprofit organization that promotes preventive medicine, conducts clinical research, and encourages higher standards for ethics and effectiveness in education and research.