News Release

Mar 7, 2023
Dairy Consumption Linked to Prostate, Ovarian, Breast Cancers, Finds New Narrative Review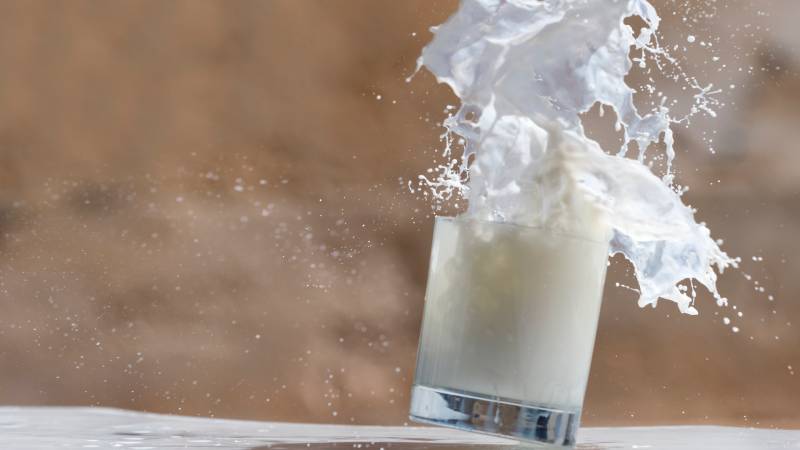 WASHINGTON, D.C.—Naturally occurring hormones and compounds in dairy products may play a role in increasing the risk of breast, ovarian, and prostate cancers, according to a new narrative review by the Physicians Committee for Responsible Medicine published in the International Journal for Disease Reversal and Prevention.
"Ditch the dairy to avoid the naturally occurring hormones and compounds in cow's milk that can increase the risk of breast, ovarian, and prostate cancers," says Anna Herby, DHSc, RD, CDCES, a co-author of the review and the nutrition education program manager for the Physicians Committee for Responsible Medicine. "Calcium, protein, and other nutrients can be obtained through healthful plant sources containing antioxidants that actually reduce your cancer risk."
Dairy products contain estrogens and insulin-like growth factor-1 (IGF-1), hormones that naturally occur in cow's milk. Consuming dairy products can lead to excess levels of these hormones in the body, which are linked to breast and prostate cancers. Estrogens are present in all cow's milk but are more concentrated in milk from pregnant cows (dairy cows are impregnated annually and are milked during much of their pregnancy). Humans also produce IGF-1 in response to drinking milk, leading to significantly increased concentrations in the body.
The review cites several large studies that show dairy consumption increases prostate cancer risk. In the Physicians' Health Study, which followed 21,660 men for 28 years, those consuming 2.5 servings of dairy daily had a 34% higher risk of developing prostate cancer, compared with men consuming half a serving or less. Whole milk intake was associated with risk of progression to fatal disease after diagnosis. 
Research showing the association between dairy and breast cancer is mixed, which may be in part to study limitations, although recent research shows that dairy increases breast cancer risk. The Adventist Health Study-2 followed 52,795 pre- and postmenopausal women for an average of 7.9 years and found that higher intakes of cow's milk were associated with a 50% increased risk for breast cancer. Full-fat and reduced-fat milks produced similar results.
Lactose in cow's milk may play a role in ovarian cancer risk. Studies suggest that when lactose breaks down into galactose, a sugar in lactose, it may interfere with a hormone that regulates function of the ovaries and eventually lead to ovarian cancer. Estrogen and IGF-1 may also play a role in ovarian cancer risk.
The Swedish Mammography Cohort included 61,084 women aged 38-76 years who were followed for an average 13.5 years. Women who consumed two or more glasses of milk a day had twice the risk of serous ovarian cancer, compared with women who never or seldom drank milk.
There is mixed and inconsistent evidence regarding the relationship between dairy intake and colorectal cancer risk, according to the review.
Media Contact
Michael Keevican
202-527-7367
mkeevican[at]pcrm.org
Founded in 1985, the Physicians Committee for Responsible Medicine is a nonprofit organization that promotes preventive medicine, conducts clinical research, and encourages higher standards for ethics and effectiveness in education and research.