News Release

Sep 29, 2022
CU President Under Pressure to Replace Animals in Deadly Medical Training
Downtown Demonstration, Billboards, and Letter Urge Immediate Change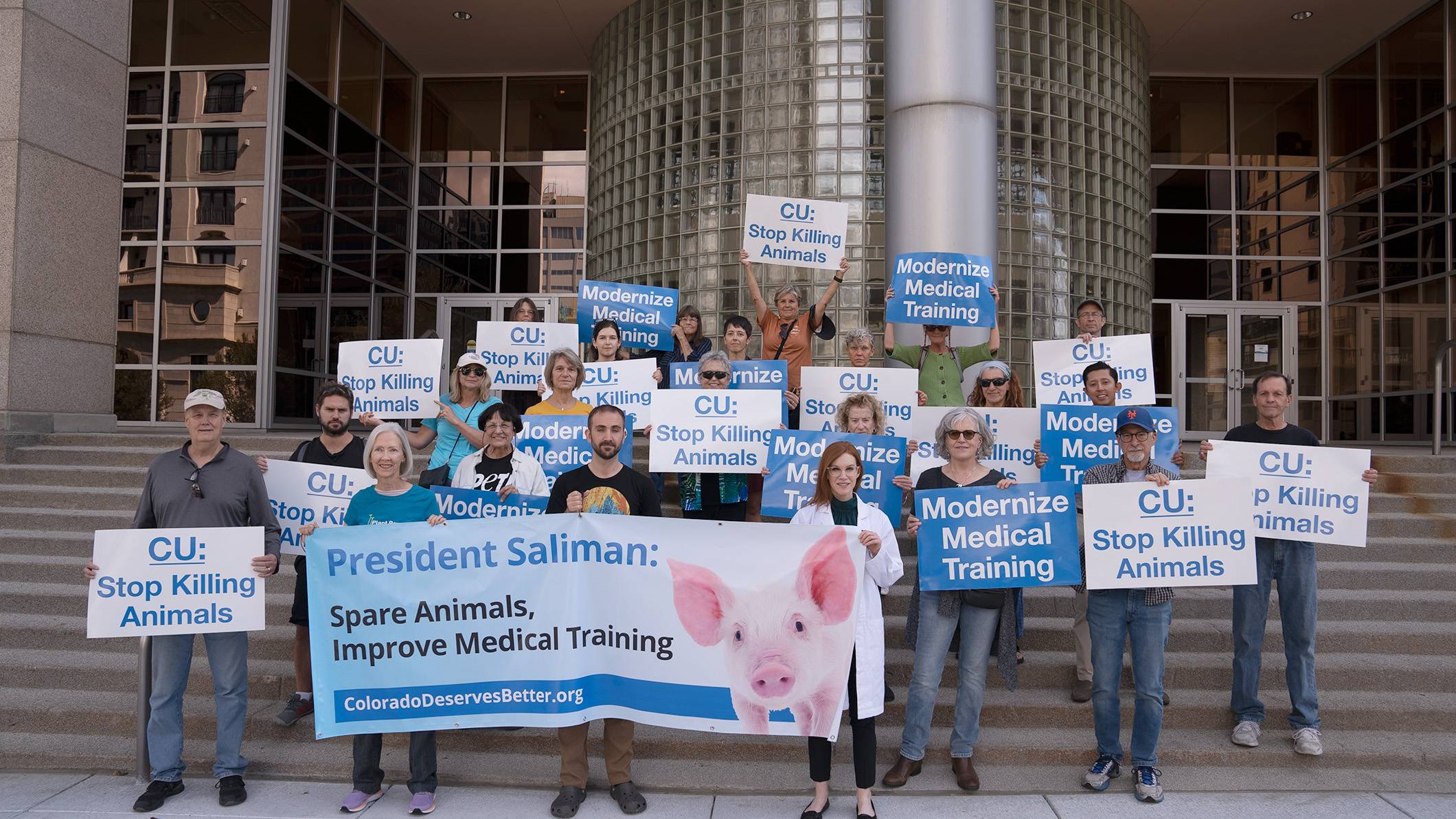 DENVER—The Physicians Committee for Responsible Medicine is sending a message that University of Colorado president Todd Saliman can't ignore. With a doctor-led demonstration outside the president's office, three billboards just steps away, and a letter sent directly to him, President Saliman will have to confront the use of live animals for training surgeons at the University of Colorado Anschutz Medical Campus (CU Anschutz). 
Three billboards, all located within a half mile of the president's office, feature a patient's point of view in an operating room and read "Do They Think You're a Pig? Stop Using Animals to Teach Human Medicine. ColoradoDeservesBetter.org."
Of 262 surveyed general surgery residencies in the U.S., 79% use only nonanimal methods like medical simulators and cadavers, to teach residents how to perform essential surgical procedures. Currently, CU Anschutz uses live pigs in its surgery program. Compared to the human body, pigs have smaller torsos, lighter limbs, and thicker skin. There are also important differences in the anatomy of the head and neck, internal organs, rib cage, blood vessels, and the airway. In contrast, human-based medical simulators accurately replicate human anatomy and physiology and can include virtual renderings of internal organs and lifelike skin, fat, and muscle. 
"There's no excuse for continuing to kill animals to train doctors," said John Pippin, MD, FACC, director of academic affairs with the Physicians Committee. "Across the country, CU's peers have abandoned the practice. We are urging President Saliman to insist that his surgery faculty do the same."
For a copy of the letter or the billboard artwork or locations, please contact Reina Pohl at 202-527-7326 or rpohl [at] pcrm.org (rpohl[at]pcrm[dot]org).
Media Contact
Reina Pohl, MPH
202-527-7326
rpohl[at]pcrm.org
Founded in 1985, the Physicians Committee for Responsible Medicine is a nonprofit organization that promotes preventive medicine, conducts clinical research, and encourages higher standards for ethics and effectiveness in education and research.