News Release

May 5, 2022
Billboard Confronts Senator Niceley Over His Support for Proposed Slaughterhouse in Strawberry Plains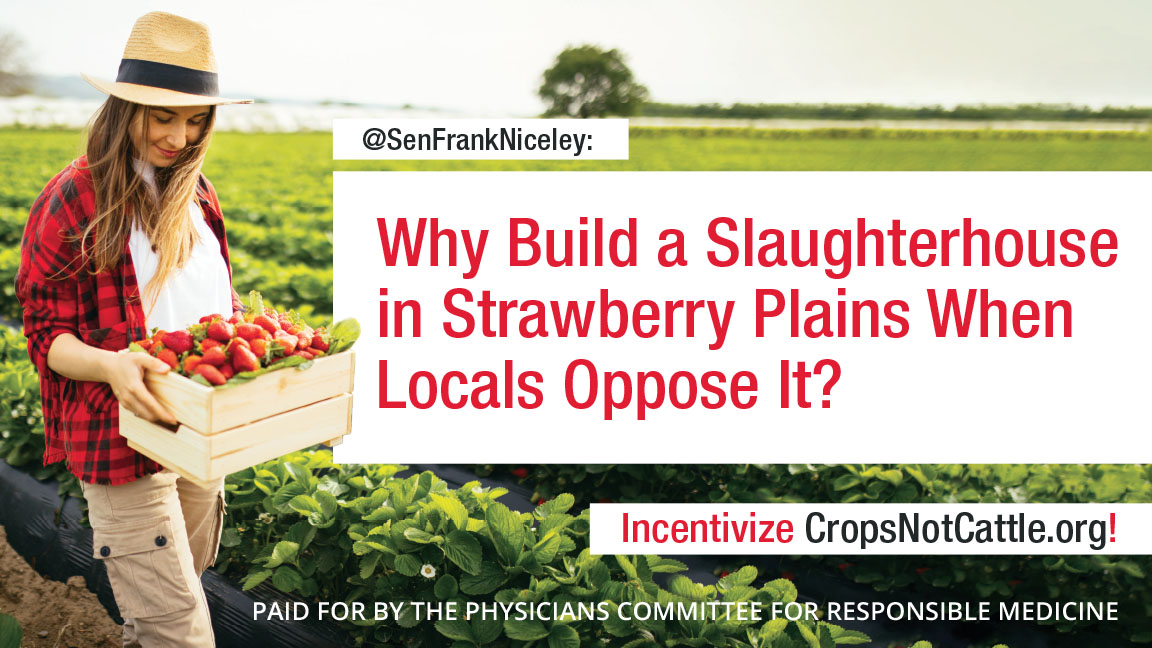 NASHVILLE—A billboard in Nashville is targeting Sen. Frank Niceley with a message about a proposed slaughterhouse in Strawberry Plains, Tenn. The billboard is posted on Charlotte Avenue near 11th Avenue, 0.29 miles from the state capitol. It will remain posted until May 29. 
The billboard is sponsored by the Physicians Committee, a nonprofit of 17,000 doctors including 538 Tennessee physicians, and it directly addresses Sen. Nicely: "@SenFrankNiceley Why Build a Slaughterhouse in Strawberry Plains When Locals Oppose It? Incentivize CropsNotCattle.org!"  The illuminated billboard is 14 feet high and 48 feet wide, and it features a photo of a strawberry farmer.
In July 2021, the Jefferson County commissioners voted against the proposed slaughterhouse and numerous local people spoke out against it. But Sen. Niceley introduced a bill that, if it had passed, would have reversed the county commissioners' ruling. One of the few to speak in favor of the proposed slaughterhouse was the senator's daughter, a cattle rancher. 
The Physicians Committee is asking Sen. Niceley to not reintroduce his bill or otherwise support the proposed slaughterhouse in Strawberry Plains. He should instead assist farmers who are growing food crops that benefit the health of Tennesseans.     
"Plant-based foods grown in Tennessee—like sweet potatoes, pecans, summer squash, and watermelons—can help people prevent, and even reverse, diabetes, heart disease, and other life-threatening conditions," says Susan Levin, MS, RD, director of nutrition education for the Physicians Committee. "Consumer demand for plant-based protein is skyrocketing and these crops are moneymakers for farmers." 
To assist farmers in Tennessee, Sen. Niceley should consider introducing legislation modeled on a bill introduced in the United States Senate by Sen. Cory Booker. If farmers wish to transition from large-scale livestock operations to growing profitable food crops, Sen. Booker's bill, the Farm System Reform Act, would provide assistance. Sen. Booker's bill also provides protections for family farmers. 
There are about 129 large-scale livestock operations in Tennessee, according to the U.S. Environmental Protection Agency which monitors pollution from these facilities.
According to Modern Farmer, sales of plant-based food products grew 27% in 2020—twice as fast as overall food sales. The subcategory of plant-based meat grew 45%, and the top makers of plant-based meat use pea protein grown by U.S. farmers. 
In Nebraska, a major beef-producing state, farmers are now growing peas for the production of plant-based meat, according to the Independent. Eric Thalken, for example, supplies his crop to Puris, which produces pea protein and is a subcontractor of Beyond Meat, a leader in plant-based foods. Puris told the Independent it has increased production of peas in Nebraska by 81% since 2019 and expects to see more growth in the state. 
Due to strong consumer demand for plant protein, many farmers are voluntarily phasing out animal agriculture. For example, Carl Taber of Trumansburg, N.Y., phased out his dairy operation and now grows high-demand crops like chickpeas. Sen. Niceley and other lawmakers should look to the future and support the shift, currently underway, towards sustainable agriculture.
Media Contact
Jeanne Stuart McVey
202-527-7316
jmcvey[at]pcrm.org
Founded in 1985, the Physicians Committee for Responsible Medicine is a nonprofit organization that promotes preventive medicine, conducts clinical research, and encourages higher standards for ethics and effectiveness in education and research.