News Release

Apr 26, 2022
Baltimore Student Wins Billboard Competition Honoring 'Earth Month,' April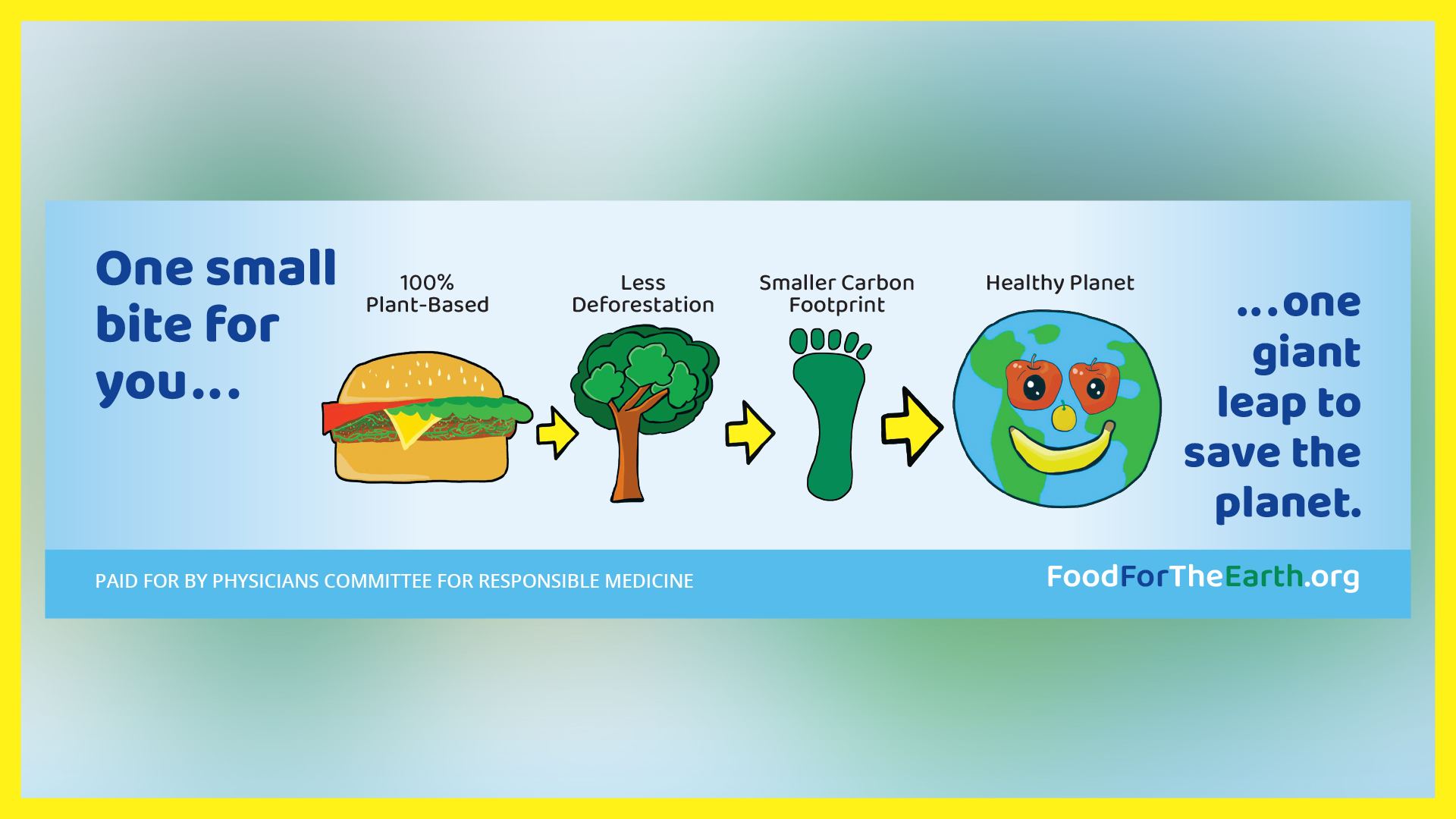 BALTIMORE, Md.— Artwork submitted by McDonogh School junior Sophia Koman is the winning entry in a contest to honor "Earth Month," April. As such, her design is featured on a 14-by-48-foot billboard on I-83 South near downtown Baltimore, spreading a planet-friendly message to thousands of drivers each day.
"I wanted to show the connection between plant-based food and the environment through simple messaging and clear visuals," Koman says. "I modeled my message from Neil Armstrong's moon landing quote to convey how monumental the issue of climate change is to my generation. She says of the inspiration for her design."
The contest idea and funding came from Baltimore physician Dr. Brooke Bussard, also a member of the Physicians Committee for Responsible Medicine, a nonprofit of more than 17,000 physician members. Earlier this year, students from all over Baltimore submitted designs to depict the relationship between food and the environment. The designs were evaluated for their ability to spread a positive message about how the Baltimore community can choose foods that will promote the health of people and the environment. 
"The idea for the billboard started with a desire to educate the community about the impact of food choices on the environment," Dr. Bussard says. "Getting students involved was a fun way of spreading the message among the younger population as well as generating an eye-catching design that reminds viewers about the legacy of their actions."
A global shift to a plant-based diet could reduce mortality and greenhouse gases caused by food production by 10% and 70%, respectively, by 2050. A report from the United Nations Environment Programme says that "animal products, both meat and dairy, in general require more resources and cause higher emissions than plant-based alternatives." The World Health Organization says, "Reducing livestock herds would also reduce emissions of methane, which is the second largest contributor to global warming after carbon dioxide." 
A study published last year shows just how critical cutting meat production is in reducing greenhouse gas emissions. The study found that 57% of global greenhouse gas emissions from food production come from meat and dairy products. Beef contributes the most global greenhouse gas emissions, according to the study. 
"I feel that small changes matter and spreading awareness can lead to bigger and more impactful changes to improve the health of our planet," Koman says. "I hope the billboard inspires someone to try a plant-based food item so they can feel good about helping the environment while eating something tasty."
The Physicians Committee offers a free Plant-Based Climate Cookbook at PCRM.org/Environment. 
Media Contact
Leslie Raabe
202-527-7319
lraabe[at]pcrm.org
Founded in 1985, the Physicians Committee for Responsible Medicine is a nonprofit organization that promotes preventive medicine, conducts clinical research, and encourages higher standards for ethics and effectiveness in education and research.