Health and Nutrition News

Mar 12, 2012
Red Meat Increases Risk of Dying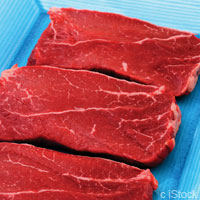 Eating red meat increases the risk of dying prematurely, including from heart disease or cancer, according to a new study from the Harvard School of Public Health.1 Among a group of 121,342 individuals followed for up to 28 years, each daily serving of red meat increased the risk of dying by 12 percent. For processed meats (e.g., hot dogs, ham, or bacon), each daily serving increased the risk of death by 20 percent.
An accompanying editorial by Dean Ornish, M.D., highlighted how the reduction of red and processed meat would not only lead to health benefits, but would help decrease health care costs and the environmental impact of meat-based diets.2
A previous review of 12 studies showed intakes of red meat and processed meat were associated with 21 and 41 percent increased risk for diabetes, respectively.3 Other studies have linked red and processed meat to prostate cancer,4 colon cancer,5 and bladder cancer.6
References
1. Pan A, Sun Q, Bernstein AM, et al. Red meat consumption and mortality: results from 2 prospective cohort studies. Arch Intern Med. Published online March 12, 2012. doi:10.1001/archinternmed.2011.2287.
2. Ornish D.Holy cow! What's good for you is good for our planet. Arch Intern Med. Published online March 12, 2012. doi:10.1001/archinternmed.2012.174.
3. Aune D, Ursin G, Veierod MB. Meat consumption and the risk of type 2 diabetes: a systematic review and meta-analysis of cohort studies. Diabetologia. 2009;52:2277-2287.
4. Sinha R, Park Y, Graubard BI, et al. Meat and meat-related compounds and risk of prostate cancer in a large prospective cohort study in the United States. Am J Epidemiol. 2009;170:1165-1177.
5. World Cancer Research Fund/American Institute for Cancer Research. Food, nutrition, physical activity, and the prevention of cancer: a global perspective. Washington, D.C.: AICR, 2007.
6. Ferrucci LM, Sinha R, Ward MH, et al. Meat and components of meat and the risk of bladder cancer in the NIH-AARP Diet and Health Study. Cancer. 2010;116:4345-4353.