Health and Nutrition News

Feb 27, 2015
Plant-Based Dietary Intervention in the Corporate Setting Improves Productivity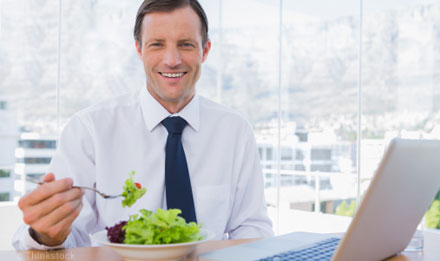 Research published in the March/April issue of the American Journal of Health Promotion finds that a low-fat, plant-based dietary intervention in the corporate setting improves productivity and alleviates symptoms of anxiety and depression. The 18-week study took place in 10 corporate sites of a major U.S. insurance company and included 292 employees, all with a BMI of at least 25 kg/m2 and/or a previous diagnosis of type 2 diabetes. Participants were assigned to either a control or a dietary intervention group, which featured weekly instruction in how to follow a low-fat, high-fiber vegan diet.
Participants in the vegan group experienced significantly less work and nonwork related impairment because of health, with significantly reduced feelings of depression, anxiety, and fatigue. The vegan intervention group also reported significant gains in emotional well-being and in daily functioning because of physical health and general health, compared to the control group.
Previous research shows a plant-based diet can improve overall mood even outside the workplace simply by adding more fruits and vegetables to your diet.
References
Agarwal U, Mishra S, Xu J, Levin S, Gonzales J, Barnard ND. A multicenter randomized controlled trial of a nutrition intervention program in a multiethnic adult population in the corporate setting reduces anxiety and improves quality of life: The GEICO Study. Am J Health Promot. 2015; 4:245-254.
White BA, Horwath CC, Conner TS. Many apples a day keep the blues away – daily experiences of negative and positive affect and food consumption in young adults. Br J Health Psychol. Published ahead of print January 24, 2013.