Health and Nutrition News

Jul 1, 2014
Plant-Based Diet Reverses Heart Disease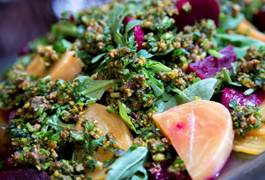 A new research report confirms that heart disease can be dramatically improved—and even reversed—by a plant-based diet.
Researchers from this study counseled 198 patients with cardiovascular disease on a diet free of fish, meat, dairy, and added oils. Of the 89 percent of participants who followed the diet, 81 percent improved their symptoms and experienced fewer complications from heart disease.
In addition, those participants lost an average of 18.7 pounds, while 22 percent saw a complete reversal of their condition. This study employed a nutritional training program that eliminated both added oils and animal products.
References
Esselstyn CB Jr., Gendy G, Doyle J, Golubic M, Roizen MF. A way to reverse CAD? J Fam Pract. 2014;63:356-364b.