Health and Nutrition News

Apr 1, 2014
Fruits and Vegetables May Prevent Early Death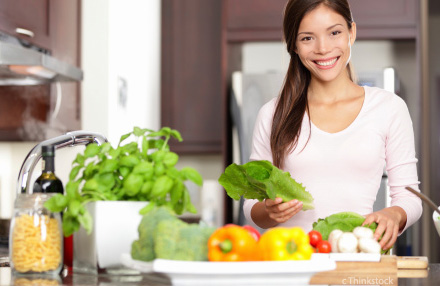 Increased intakes of fruits and vegetables may prevent early death, according to a review published online in the Journal of Epidemiology and Community Health. Researchers followed 65,226 participants from the Health Surveys for England aged 35 and older for seven years.
Those who consumed seven or more servings of fruits and vegetables per day saw a 42 percent decreased risk of death due to any cause, compared with those who consumed the least amount. Fruit and vegetable consumption was specifically associated with a 25 percent and 31 percent decreased risk of death from cancer and heart disease, respectively.
This study recommends governmental bodies take into account this new evidence in order to better promote health and nutrition education and improve policy.
References
Oyebode O, Gordon-Desagu V, Walker A, Mindell JS. Fruit and vegetable consumption and all-cause, cancer and CVD mortality: analysis of Health Survey for England data. J Epidemiol Community Health. Published online March 31, 2014.