Good Science Digest

Feb 11, 2021
Physicians Committee Women in Science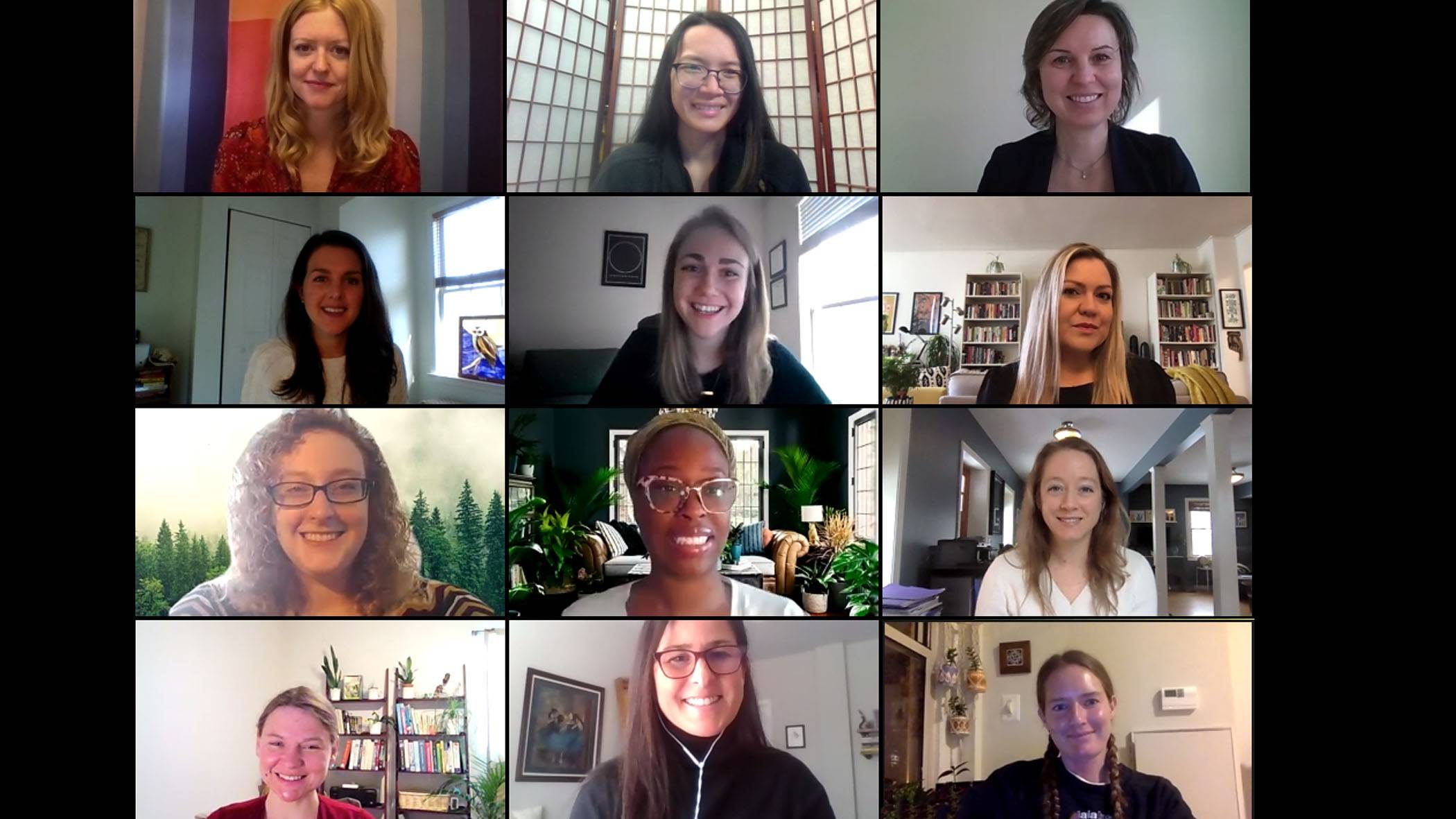 To celebrate International Day of Women and Girls in Science, we interviewed our Physicians Committee women in science on why diversity and inclusion are so important and why they are passionate about their careers.
Kristie Sullivan, MPH, Vice President of Research Policy
I have always had an affinity for animals of all kinds and for science. My childhood hero was Dr. Jane Goodall. By working in science policy at PCRM, I get to use my scientific knowledge to bring about a more ethical and advanced world—what could be better than that?
I am very proud of the work we did to change the Toxic Substances Control Act to require alternatives to animal tests be integrated into EPA's priorities in 2016 and for 10 years before that. And the team that lobbied on that bill was all women!  I am excited to now lead a team of fantastic scientists who are changing the way validation is done so that we can more easily gain acceptance of nonanimal methods by regulatory agencies and who are leading training and policy initiatives to change the way science is being done.
What challenges do you see for women in science and how do you overcome them?
Women, especially young women, are underestimated and overlooked in the larger scientific and regulatory community. Just as at other workplaces, they are ignored or patronized at meetings, and they are less likely to be referred to with their honorifics. These situations are also experienced by anyone working at an NGO and trying to engage senior scientists at companies and regulatory agencies, so you learn quickly that in order to make an impact you have to push past this treatment and make your voice heard. Here at the Physicians Committee, I'm grateful to work with a team of women who are champions for diversity and inclusion.
Bethany Beauregard, Research and Regulatory Affairs Associate
Why are you passionate about this career path?
The need for ensuring the safety and efficacy of drugs will always exist, and I've always had a heart for animals. Working with other women in science to find human-relevant alternatives to the current animal models makes me excited to go to work every day. 
What advice would you give to the next generation of scientists?
It is never too late to start pursuing your STEM dreams. I received my MS at the age of 30 after working for 10 years in another field! 
Catharine Krebs, PhD, Medical Research Specialist
I have always wanted to be a scientist. It was fostered in me as a girl through a great public education and through family members and teachers who empowered me and encouraged me to be curious and creative. There is a lot of privilege that went into me being where I am today, and all women and girls deserve the conditions that led me here.
My main role at the Physicians Committee is to push the National Institutes of Health (NIH), the largest funder of biomedical research in the world, to shift toward more human-relevant research. Over the past couple of years, my team, mainly consisting of myself and Dr. Ann Lam, have developed a project focused on minority health, health disparities, and biomedical research workforce diversity. This project is uniquely related to the Physicians Committee's mission because, while it does not explicitly call for research approaches that replace animals, it does call for a shift in research priorities at the NIH toward topics capable of addressing minority health and health disparities, topics which necessitate human-based approaches. Because these topics are more likely to be investigated by underrepresented researchers, this shift would in turn promote diversity. 
How are diversity and inclusion initiatives important to women in science?
The struggle of women in STEM is the struggle of Black people, queer people, immigrants, first generation students, and those with financial hardships in STEM. These are power struggles, where we all face a status quo that serves the interest of the few. It is in all our interests to stand together in that struggle.
Jessica Ponder, PhD, Regulatory Testing Analyst
Growing up, I was always the kid who asked "too many questions" and always wanted to know more. As I progressed in my education, science became a very natural fit. But I was also that kid who wanted to help every animal who was hurt or sick. So, when I began studying biology and chemistry at the undergraduate and graduate level, those two aspects of who I am really started to conflict. It was a revelation for me when I started working for the Physicians Committee and could take on a career where both of those parts of myself are fully utilized, and it has been so rewarding.
It has been so enlightening seeing how policies are shaped, but certainly challenging to find the right strategies to improve them. Right now, I am especially excited to be a part of the collaboration we have to establish testing methods based on human data in occupational asthma. We have an opportunity to have the right tests adopted first before less accurate tests get embedded into the regulatory structure and become harder to change. If we can succeed, we can change the paradigm of "how things have always been done" and that can have a reverberating impact for so many other efforts.
How are diversity and inclusion initiatives important to women in science?
I think science has such a long history of only having a particular demographic involved, that the field is still blind to so many questions and so many answers because both what questions you ask and what methods you choose to answer them are so dependent on your personal experience. Scientists are trained to be objective, but you can never be truly objective when you can't see the whole problem. And none of us, as individuals, can ever see the whole problem. 
I am encouraged to see progress finally being made to invite people with different voices, backgrounds and experiences to the table and truly listen to those voices and let them shape the process. We are all going to benefit as better science drives better decisions and policies. 
There are so many initiatives that did not exist just a short time ago, and in particular I have enjoyed participating in networking opportunities for Women in Science through professional organizations like the American Association of Pharmaceutical Sciences. I think community building is a critical first step to progress, and seeing these efforts endorsed by professional organizations has a strong impact on the field. 
Women must deal with biased expectations not just in our education and careers but in society, in our cultures, and in our families. Sometimes it feels like the whole world is working against you, and it is so tiring. For me, I was blessed to have strong women in my family who never listened to "women can't do x," or "women shouldn't do y," and that has given me a lot of strength in moments where I felt discouraged. My grandmother used to race hot rods when women had to pass a special test to be allowed to participate. I keep a copy of her "Lady Driver Permit" from the National Hot Rod Association on my desk to remind me that those expectations don't reflect my abilities, and it is fun to break them.
Janine McCarthy, MPH, Research Policy Specialist
This career path has allowed be to embody the things I am passionate about – good science, public health, and animal rights. Before coming to the Physicians Committee, I never envisioned that I would be able to make a career out of merging my day job (science/public health) with my hobbies and passions (veganism/reducing animal testing), but this career path allows me to do that. I have seen firsthand how effective science and persistence can make a big difference in both human and animal lives, and that is what drives my passion. It is a dream to have the opportunity to work with phenomenal researchers around the world and see the development and application of cutting-edge science that is helping us replace animal research and testing with human biology-based approaches. 
We are working on developing two highly reproducible and reliable, completely animal-free research antibodies. We are demonstrating that it is feasible to develop antibodies and conduct common research protocols completely animal-free. We have developed a monoclonal DDK and polyclonal pERK that are currently being assessed for common antibody applications. These antibodies are widely used in a broad spectrum of research areas, including neuroscience, cardiovascular diseases, cancer, and diabetes. We hope that, in the near future, we will be able to share these antibodies with others to show that 1) it is possible to create animal-free antibodies, and 2) that nonanimal-derived antibodies can improve reliability and reproducibility of research and testing, leading to improved scientific outcomes. 
Animal-derived antibodies make up a multibillion-dollar global industry, which every year uses millions of animals including mice, rats, rabbits, llamas, camels, goats, sheep, horses, as well as others in the production of antibodies for research and testing. These animals are used as living incubators. So what we're doing is proving that antibodies can be produced without the use of animals, which comes with numerous benefits and will help reduce this cruel and antiquated practice. 
How are diversity and inclusion initiatives important to women in science?
I think about diversity and inclusion in two ways: It's important in our workforce but it's also extremely important to have diverse populations in scientific studies. Diversity and inclusion in the sciences is vital, with diversity comes diverse ideas, new concepts, fresh perspectives, creative insight, and that is what science is about—the pursuit and application of knowledge and understanding. 
It's truly exciting to see more women pursuing careers in the sciences. However, despite the great advances made women in science are still facing a number of challenges. I think one of the biggest challenges women experience is a sense of belonging. The sciences have historically been, and in some areas still are, a very male dominated field. So, when a woman scientist, especially early in her career, feels like she does not belong, it may be harder to keep her in the field. I think when women see other women in high-profile positions, it helps them feel a stronger sense of belonging. It's important for young scientists to observe women as mentors and leaders in their field.
Danielle Holtz, Clinical Research Associate
I never thought I would work in STEM. Ever. But then I learned how food affects every aspect of the human body—our health makes way for our ability to create the world we want to live in. To be working with individuals so passionate about fueling the body with the nutrients we need and to change minds informed by misinformation campaigns is the most meaningful work I can do. 
Fabiola Del Aguila, Clinical Research Specialist
My passion comes from wanting to make a difference in the lives of animals, people, and the environment.  Being part of the PCRM research team is an opportunity for gathering evidence on what works and what does not work.  The beauty of science is that we let the numbers speak for themselves. 
I am currently working with my team on the Women's Study to Alleviate Vasomotor Symptoms.  I am excited to see how a plant-based diet makes a difference in alleviating hot flashes for these women.  This study will help shed light to how nutrition plays a key role in women's health and prevention. 
What challenges do you see for women in science and how do you overcome them? 
The challenges I have noticed for women in science is the lack of opportunity for senior positions in certain fields.  I believe education, encouraging young girls from an early age that science is just as exciting as many other fields, and training organizations on being mindful of having equal representation among their scientists would be some options to shifting the science culture to be a more balanced one. 
Hana Kahleova, MD, PhD, Director of Clinical Research
Helping people address their underlying health issues, such as excess body weight, metabolic disease, diabetes, and other chronic conditions, in an effective way, through a healthy nutrition, is important for my quest for the truth in looking for scientific answers. It is also rewarding when I see the impact of our work and how lives have been changed for the better.
We are currently conducting a study on whether a vegan diet can help postmenopausal women with hot flashes.  Hot flashes are not only annoying but may also wake some women in the middle of the night and rob them of their sleep. And more importantly, they may be an early symptom of cardiovascular disease. So, it really pays off to understand what role does nutrition play in chronic health problems and how to minimize them or even get rid of them.
What challenges do you see for women in science and how do you overcome them?
It is challenging to reconcile the demanding work in research with a fulfilling personal life. I'm happy to say that my family is understanding and supports me, but I would like to be able to spend more time with them sometimes.
Creating an environment where all employees feel a sense of value and opportunity is crucial for the success of the whole team. The Physicians Committee is a good example of such a great workplace.
What advice would you give to the next generation of scientists?
Pursuing your passion is worth overcoming all the challenges along the way.