Good Science Digest

Jun 29, 2023
Physicians Committee Presents on Nonanimal Test Methods at 'Safer Under the Sun' Congressional Briefing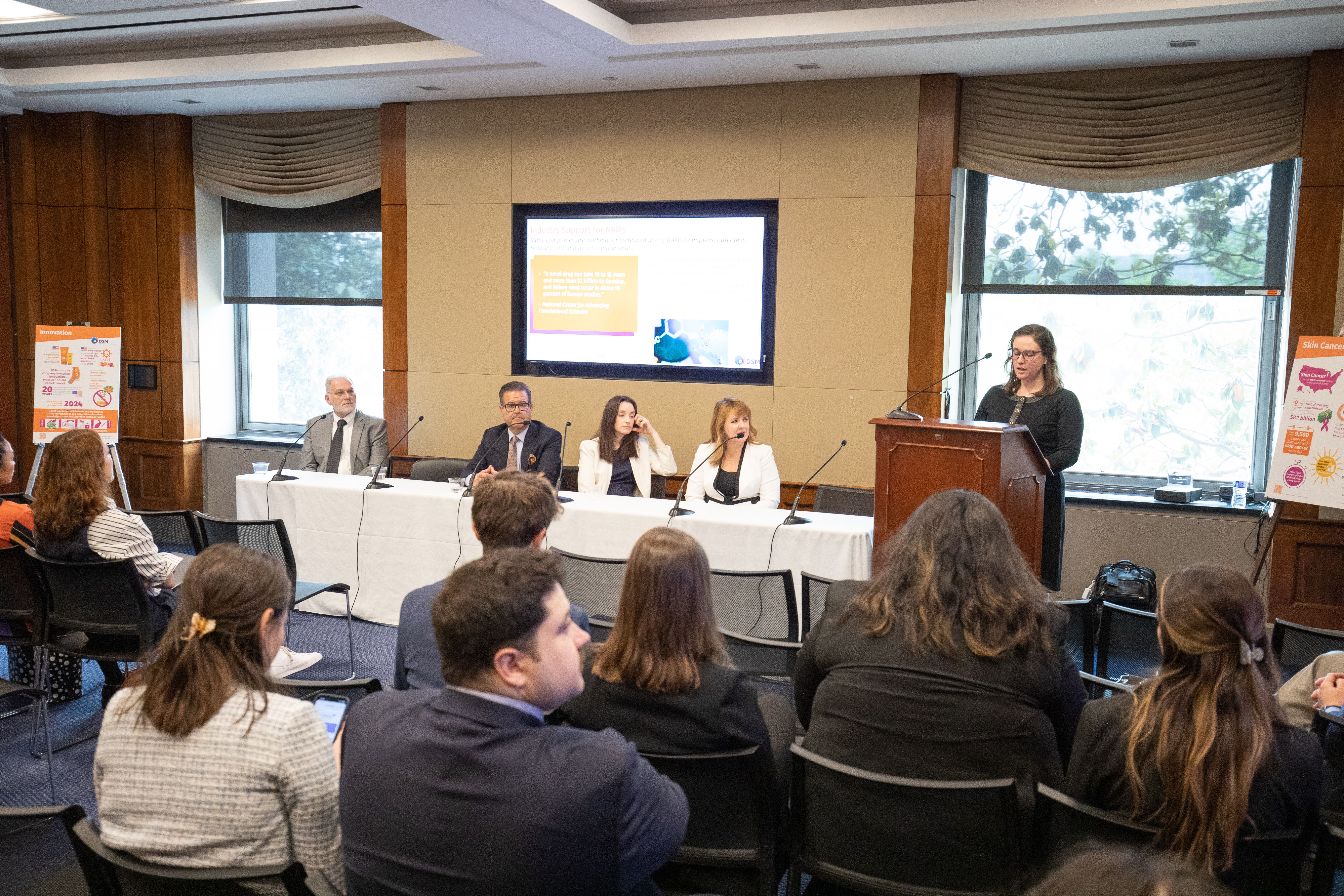 This month, Emily Anderson, MS, policy advocate at the Physicians Committee, presented at DSM Personal Care's Capitol Hill event, "Safer Under the Sun."
This congressional briefing highlighted the need for increased use and acceptance of nonanimal testing methods to improve innovation for sunscreens, urging Congress to provide additional resources for advancing nonanimal methods at the Food and Drug Administration. The classification of sunscreens as over-the-counter drugs in the United States, rather than cosmetics as they are in other countries, subjects sunscreen products to extensive testing requirements, including considerable animal testing, before the product can receive FDA approval.
There is building momentum from all stakeholders for integrating nonanimal in vitro and computational methods, which rely on human cells, tissues, and data, in regulatory testing. Nonanimal approaches offer many advantages over traditional animal testing: They provide information about product safety and efficacy that is more relevant to humans because they incorporate human biology instead of relying on the biology of other animal species, they reduce development time and costs by better guiding decision-making and saving on resource-intensive animal tests, and they help companies and federal agencies meet goals to reduce and replace animal use.
The FDA itself has made great strides toward enhanced implementation of nonanimal methods for regulatory use with its launch of the New Alternative Methods Program, which received $5 million in congressional funding in fiscal year 2023. As described by the FDA, this agency-wide program intends to spur the adoption of new alternative methods for regulatory use that can replace, reduce, and refine animal testing; improve predictivity of nonclinical testing; streamline the development of FDA-regulated products; and bring them to the public more rapidly and efficiently while assuring safety and efficacy.
However, remaining barriers in FDA policies slow progress for nonanimal methods. Companies developing new products look to the FDA's regulations and guidance documents to determine what testing is needed to demonstrate that products are safe and effective, and many of these written policies require or encourage data from animal testing to be submitted for FDA approval. For companies to confidently use predictive, efficient, nonanimal methods for developing new products, the FDA's regulations and guidance must be modernized to clearly open the door for these approaches to be used.
During her presentation, Ms. Anderson urged Congress to provide robust funding for the New Alternative Methods Program, and as a part of that program, require that the FDA update its regulations and guidance to clearly allow for the possibility of using nonanimal methods. These congressional actions would both help add innovative methods to the product development toolbox as nonanimal technologies continue to advance, and ensure clear communication from the FDA on how they can be implemented for regulatory submissions.
Other panelists at the event included representatives from the Skin Cancer Foundation to discuss the importance of skin protection and prevention; the Personal Care Products Council to discuss trends, habits, and practices of sunscreen use for consumers; and DSM Personal Care to discuss the regulatory status of sunscreens.
Brief presentations from each panelist were followed by a lively Q&A discussion. Audience members included staff from various congressional offices, as well as members from industry, government, and nonprofit organizations. The Physicians Committee looks forward to continued collaboration with Congress, industry, and other stakeholders to ensure progress for nonanimal methods in all FDA-regulated products.
More on Good Science Digest