Good Science Digest

Nov 27, 2019
My Early Science Journey: Professional Growth at a Biomedical Research Conference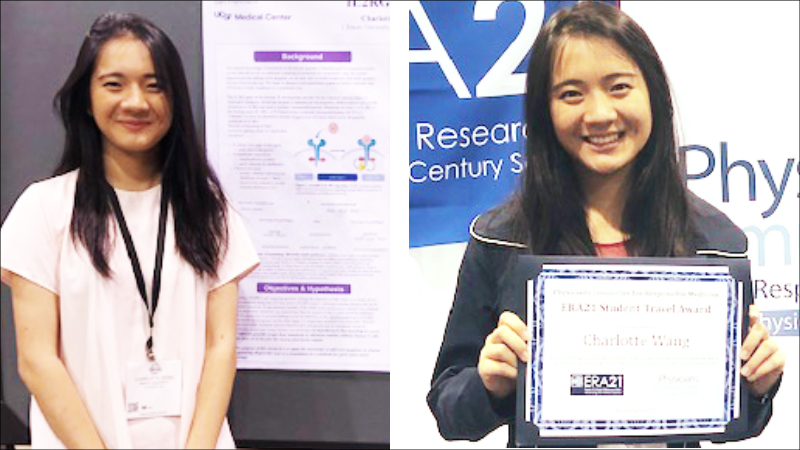 Congratulations to our Early-Career Researchers Advancing 21st Century Science (ERA21) Student Travel Award Winner, Charlotte Wang.
Charlotte is an undergraduate junior at Emory University studying biology. Charlotte presented her poster titled "A CRISPR-Cas9 Knock-in Library Approach to Systematically Investigate all Single-base Mutations on IL2RG Gene Exon 5 in Primary Human T Cells" at the 2019 Annual Biomedical Research Conference for Minority Students (ABRCMS) in Anaheim, California, this November. 
The following is a post-conference reflection by Charlotte. 
It was my greatest honor to have attended the Annual Biomedical Research Conference for Minority Students (ABRCMS) this year. 

I can foresee the continued growth of computer modeling and human-focused research due to current advances in computational biology, computer modeling, systems biology, as well as biomedical engineering. 

I am in favor of eliminating animal research and moving to more human and technology-based research. I look forward to the further development of computer modeling tools, which requires a robust knowledge of basic science and how complex systems may interact and behave in a simulated situation. In immunology, inferences based on disease models and computational approaches are starting to gain a lot of attention, and I would love to learn more about these approaches, specifically in how their applications will reduce animal use in research. I envision a future where these synthetic model systems are widely used in research and therapy development. Overall, I am inspired and hopeful to see the goal of the Physicians Committee for Responsible Medicine come true in the future, as we are constantly working toward finding better replacements and methods to reduce animal use in research.

Attending ABRCMS helped me grow as a scientist in my early science journey. I was exposed to a variety of different research topics at the poster sessions. I benefitted from attending seminar sessions that aimed to help with professional career development. Moreover, I learned a lot about graduate school programs and graduate school in general. During the exhibit hall hours, I went around to many different schools to learn about the programs they offer and their specific programs that may lie with my interest. After a lot of self-reflection, I realized that I want a program that has a lot of faculty with varying areas of expertise—umbrella programs. My current professional goal is to find a research lab that can incorporate my love for life science, specifically immunology, and translational biomedical research with big-data approaches and bioinformatics. I wish to combine my diverse scientific training background with human-relevant biomedical training. And it was exactly those conversations at ABRCMS that helped me consolidate and formally formulate this goal. 

During networking dinners, I had conversations with more professors, Ph.D. students, and undergraduate students about their research, teaching in universities, as well as epigenetics. One thing that I am only recently getting more exposure to in class, as well as at this conference, is the field of epigenetics. During my Cell Biology class, we discussed how epigenetics can explain a lot of the phenotypic variation we see in cells with identical genetic codes, and it is potentially the key to key developmental biology questions. The level of complexity of our genetics and epigenetic factors mesmerize me and inspired me to learn more about this specific field of biology and how it can be applied to other fields such as immunology. 

The interconnectedness of different biological fields is also something that I became more and more aware of during the conference, which is another reason why I want to pursue an interdisciplinary, or umbrella, program—in order to entertain my different interests. 

Lastly, I would like to extend my greatest appreciation to the financial support from the Physicians Committee for Responsible Medicine for the ERA21 Student Travel Award for ABRCMS.