Good Science Digest

Oct 15, 2018
Calling Young Investigators: $150,000 for Human-Relevant Research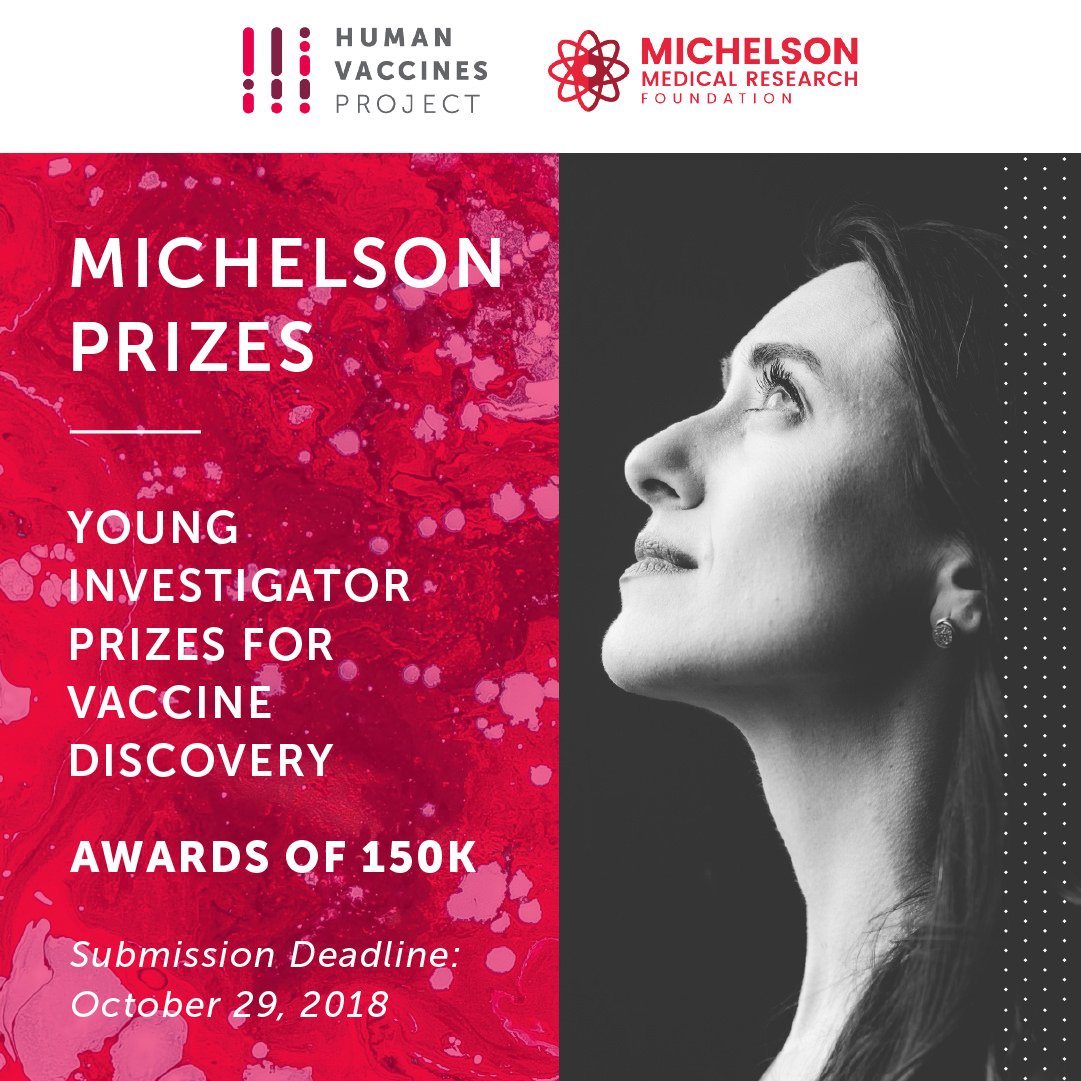 While vaccines have helped eradicate and control a wide range of infectious diseases, many diseases still lack a cure, and emerging diseases are always on the horizon. A new approach is needed to study and complete our knowledge of the human immune system—an approach that can transform human health by preventing and treating diseases and accelerating product development.
To accomplish this aim, the Michelson Medical Research Foundation and the Human Vaccines Project have partnered together to reward and support innovative scientists across the world by establishing The Michelson Prizes for Human Immunology and Vaccine Research. The Michelson Prizes are annual awards of $150,000 granted to young investigators who are applying disruptive research concepts and innovative methods to advance vaccine and immunotherapy research for major global diseases. Applicants under the age of 35 and knowledgeable in various disciplines, including clinical research, protein engineering, biomedicine, computer science, engineering, and nanotechnology are encouraged to apply.
The Michelson Prizes support research that has the potential to transform vaccine and immunotherapy discoveries. Prizes are awarded in three focus areas: Human Immunology, Computational Biology and Protein Engineering, and Neglected Parasitic Diseases.
The Human Immunology focus area is aimed towards addressing challenges in human vaccine development and increasing knowledge of key immune processes that impact vaccine and immunotherapeutics expansion.
The Computational Biology and Protein Engineering focus area utilizes advanced models and computational approaches to interpret protein structures involved in immune recognition, immunogenicity, protein-ligand interactions, or other biological functions related to the human immune response.
The Neglected Parasitic Diseases focus area fosters research on antigen discovery, immune response mechanisms, and the development and testing of vaccines and immunotherapeutic agents for neglected parasitic diseases.
The 2018 Michelson Prizes were awarded to three outstanding researchers conducting revolutionary human-relevant research, and we anticipate the same revolutionary spirit in the 2019 winners.
The 2019 Michelson Prizes are currently accepting applications, but don't wait to apply. The due date for applications is Oct. 29, 2018!