Exam Room Podcast

Aug 14, 2019
Three NEW Reasons Not To Eat Red Meat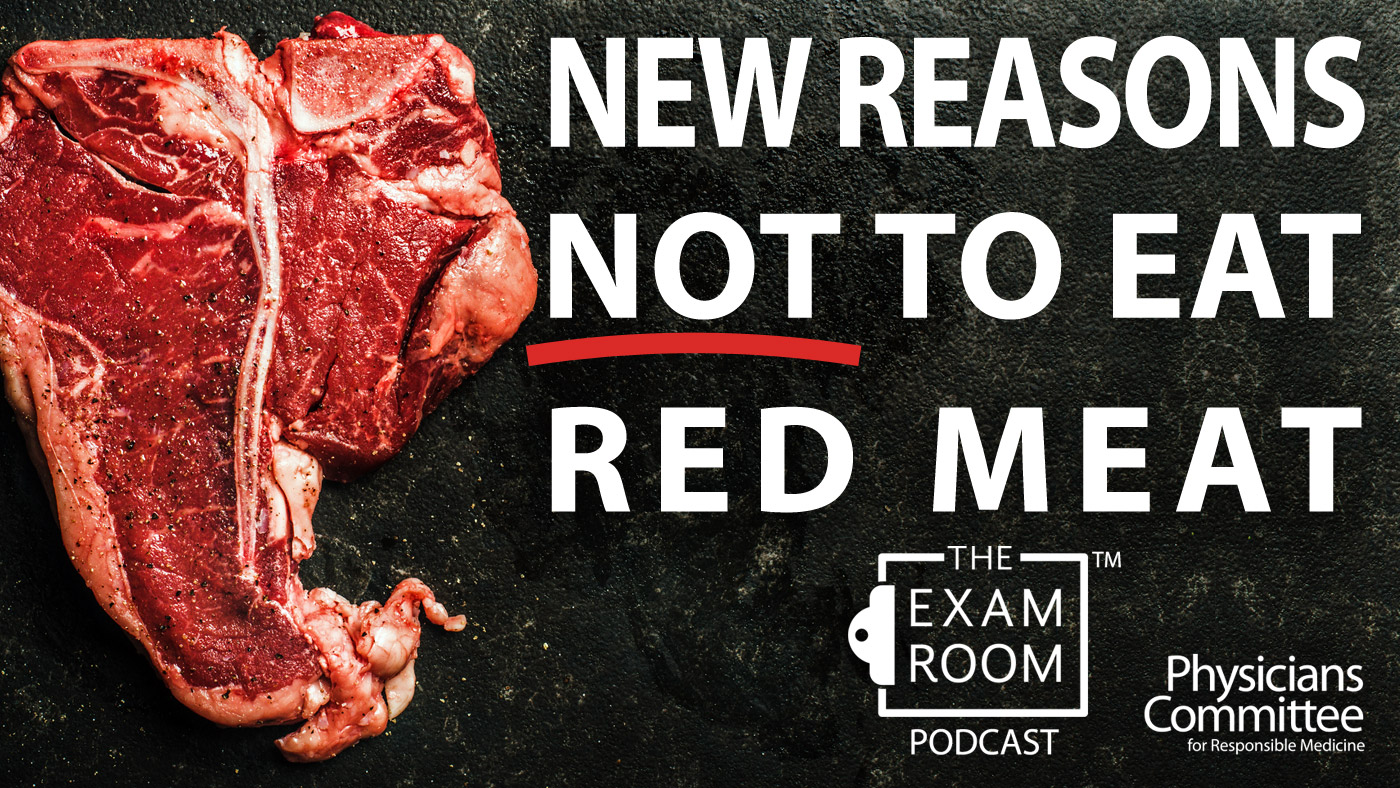 Researchers have known for years that red meat is anything but a health food.
Dozens of studies have shown that eating it increases the risk of multiple forms of cancer and heart disease, among other conditions. Now, Joel Kahn, MD, joins "The Weight Loss Champion" Chuck Carroll on The Exam Room™ to share three NEW reasons not to eat red meat, some of which might surprise you!
Also, on the show, is a McDonald's hamburger more likely to increase diabetes risk than a veggie burger? Hana Kahleova, MD, PhD, had 20 men chow down in the name of science to find out. She joins Chuck to go over some eye-opening results!
Then, we unveil The Exam Room Burger! It's a smoky black bean quinoa burger created exclusively for the show by the ultra-talented vegan chef Lauren Kretzer, and it's one you're not going to want to miss!
Follow Lauren on Instagram @ChefLaurenKretzer.
The Exam Room Burger
(Vegan, Gluten Free, Oil Free)
By Lauren Kretzer
Serves 6
Ingredients:
1 (15.5 oz.) can black beans, drained and rinsed
1/2 cup cooked quinoa
1/2 cup walnuts
1/2 cup roughly chopped fresh cilantro
1/4 cup oat flour
1 clove garlic
2 tbsp. tahini
1 tbsp. tomato paste
1 tbsp. tamari
1/2 tsp. salt
1/4 tsp. chili powder
1/4 tsp. smoked paprika
whole wheat hamburger buns, sliced avocado, and sprouts, for serving (optional)
Instructions:
Preheat oven to 350 F and line a baking sheet with parchment paper or a silicone baking mat (such as Silpat).
In the bowl of a food processor fitted with an "S" blade, add black beans, quinoa, walnuts, cilantro, oat flour, garlic, tahini, tomato paste, tamari, salt, chili powder, and paprika.  Process until ingredients are just combined; mixture should have some texture, but should hold together.
Transfer burger mixture to a cutting board and divide evenly into 6 patties (about 3-3 1/2 inches in diameter). 
Place burger patties on lined baking sheet and cook for 18-20 minutes, turning halfway.
Serve burgers on hamburger buns with avocado and sprouts (and/or any other desired toppings).
Resources
A Plant-Based Meal Stimulates Incretin and Insulin Secretion More Than an Energy- and Macronutrient-Matched Standard Meal in Type 2 Diabetes: A Randomized Crossover Study
More on Exam Room Podcast