Exam Room Podcast

May 9, 2023
The Exam Room LIVE in LA: Fighting Disease 12 Million Times Over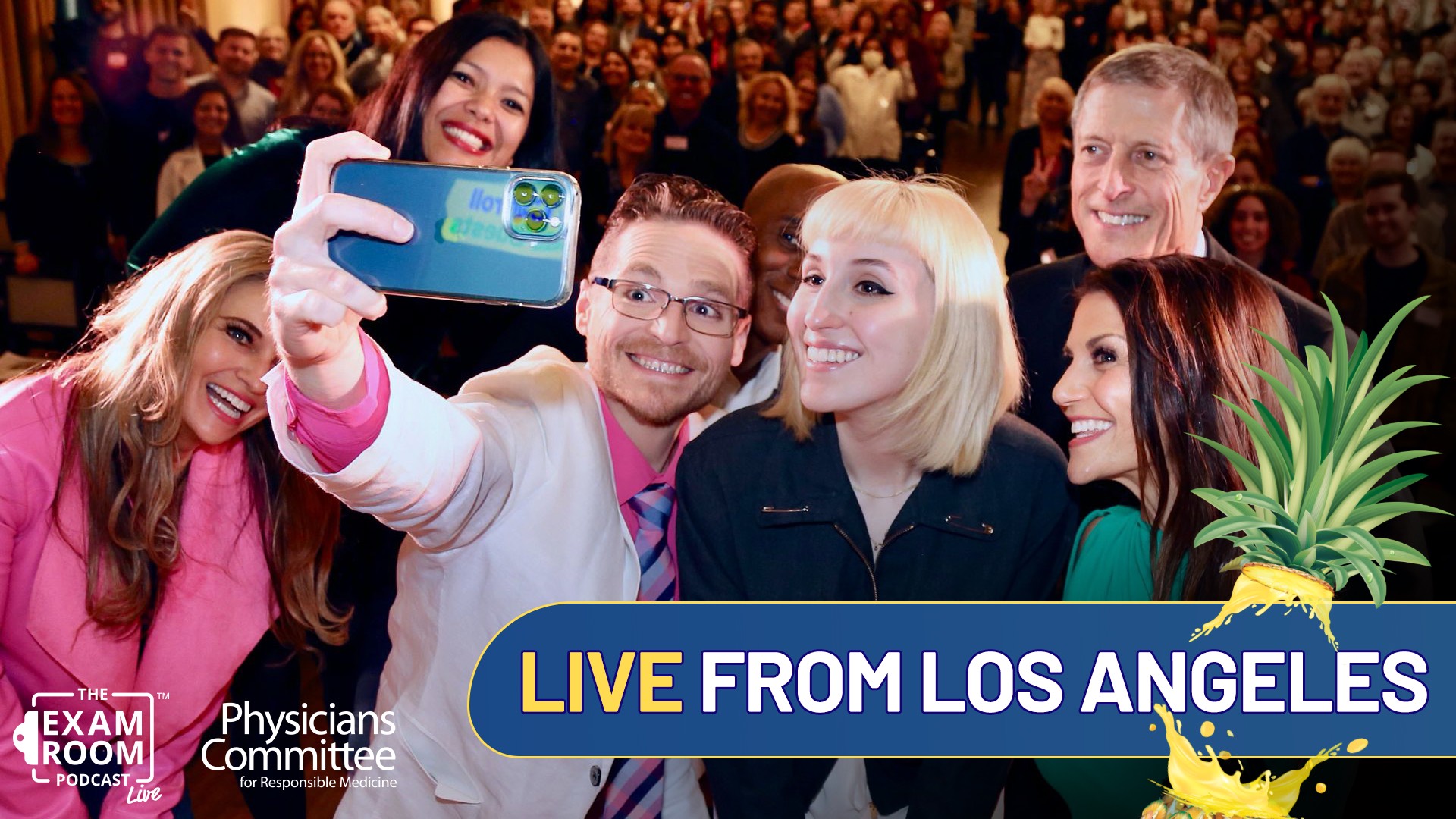 Our biggest episode ever shows how to fight chronic diseases with food while celebrating a major milestone in front of a sold-out crowd in Los Angeles!
The theme of the night is "High 5," where experts give five tips that anyone can use to lower their risk of getting sick and raise their health and compassion IQ.
"The Weight Loss Champion" Chuck Carroll is joined by:
5 best foods for preventing cancer
The amazing cancer and diet connection
Erasing unhealthy habits early in life
Undoing a lifetime of damage
Moby (multiplatinum recording artist and Grammy-nominated musician)
Compassion influencing music
The rescue cat that changed his life
Going from loving burgers and bacon to being one of the faces of veganism
Influencing friends and family to go vegan
5 foods every woman should eat to lower breast cancer risk
Up to 80% of breast cancer cases are preventable
Surprising environmental and lifestyle factors that influence cancer risk
Toni Okamoto (Plant-Based on a Budget)
5 tips to save money on a vegan diet
Meal planning while living paycheck-to-paycheck
Don't fall for grocery store marketing tricks
The success of Plant-Based on a Budget
5 tips for cancer survivors to stay cancer-free
Knowing your body and trusting warning signs
Let ingredient labels be your guide
Keeping cancer in remission
Living your healthiest life
5 foods that fight heart disease
80% of heart disease cases are preventable
Broken heart syndrome
Rethinking cardiology training and health care
The patient that changed the way he practices medicine
Cinnamon, the bunny who changed her life
5 ways to be more compassionate toward animals
Convincing her dad to go vegan after a near-fatal heart attack
The Exam Room LIVE will be in New York for a special night on July 12! Join Chuck, Dr. Barnard, Rip Esselstyn and Dr. Robert Ostfeld to learn how you can cut your risk of heart disease by 80%! Make this the most heart healthy night of your life with some of the most respected nutrition experts on the planet!
Tickets can be purchased at this link.
More on Exam Room Podcast