Blog

Jan 3, 2020
Tackling Hormone Problems With Food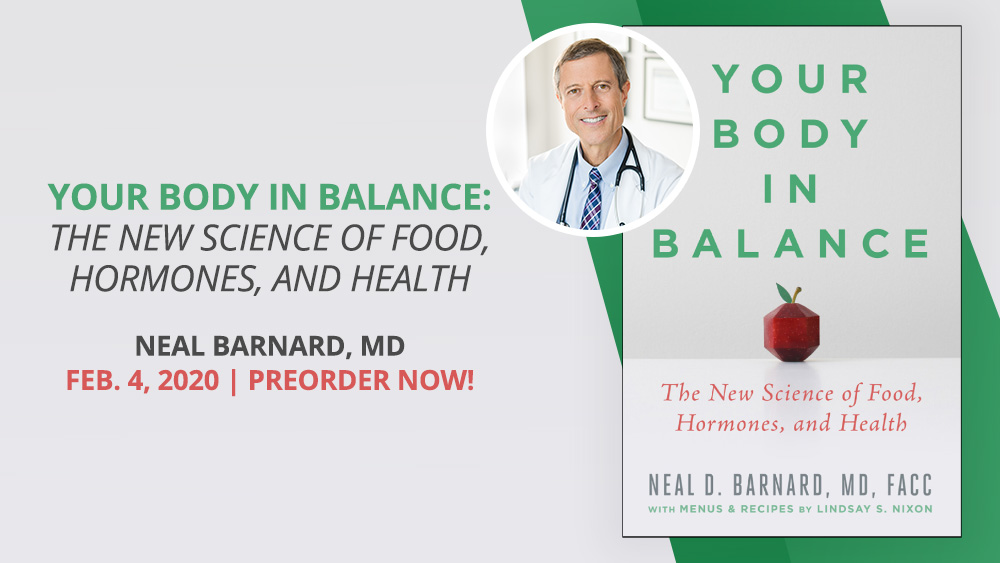 After the Iraq War, veteran Katherine Lawrence left the Air Force. She was eager to start a family, but her body would not cooperate.
She had endometriosis, a condition in which cells that are supposed to line the inside of the uterus implant elsewhere in the abdomen, causing pain and infertility. After her diagnosis, Katherine learned about a safe and easy way to tame this hormone-related condition—using foods.
After eliminating animal products and focusing on healthful vegetables, fruits, whole grains, and legumes, she found that her pain rapidly diminished and her fertility was restored. She now has three healthy children.
Katherine's story is one of many successes described in Your Body in Balance, a new book by Physicians Committee president Neal Barnard, MD. Dr. Barnard shares the science behind how common conditions—like menstrual cramps, infertility, polycystic ovaries, weight gain, menopausal symptoms, breast and prostate cancers, thyroid problems, and acne—are fueled by hormones that are affected by the foods we eat.
"Imagine experiencing years of unexplained infertility until a simple diet change sets things right. Or suffering from thyroid problems, cancer, debilitating menstrual cramps, or even acne without ever realizing that the solution could be as simple as the food on your plate," says Dr. Barnard. "Incredibly, most of the people who will benefit from this book do not even realize that a hormone imbalance may be contributing to or even causing their health problem."
In Your Body in Balance, Dr. Barnard shows how a higher-fiber, lower-fat diet brings hormones to a healthier level, which can bring a reduction in breast cancer risk and help women struggling with other hormone-related issues. Researchers found that under controlled conditions, women who changed the fat and fiber content of their meals trimmed estradiol levels by 10 to 25 percent. Estrone was tamed to about the same degree, and testosterone was reduced, too.
Men also benefit, as Dr. Barnard describes in chapters on erectile dysfunction and prostate cancer. Among the many success stories is Michael Cowan, MD, a neurosurgeon whose five-year bout of hypothyroidism remitted after making a diet change. "Perhaps most exciting are the conditions, such as thyroid disease and depression, where we are just starting to understand the power that foods can have," Dr. Barnard said.
The book provides step-by-step guidance for understanding what is at the root of many health issues as well as practical tips and 65 hormone-balancing recipes by Lindsay S. Nixon. Your Body in Balance debuts Feb. 4. 
Your Body in Balance
Read about the science behind food, hormones, and health in Dr. Barnard's new book!