Blog

May 26, 2021
Recipe of the Week: Red Bean Curry (Rajma)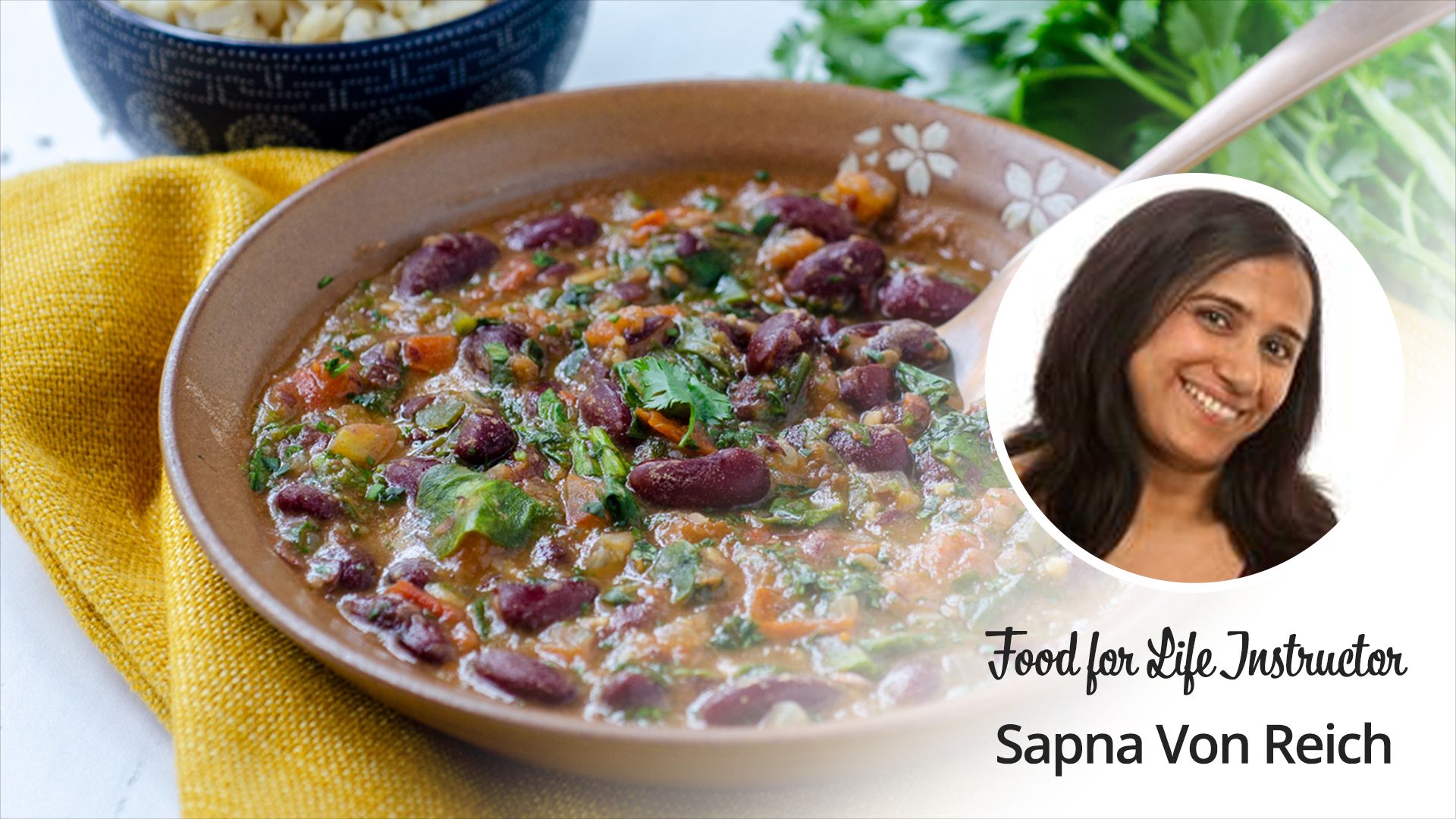 In celebration of Asian American and Pacific Islander Heritage Month, Sapna Von Reich shares a favorite recipe from her childhood days growing up in northern India.
Sapna Von Reich joined the Food for Life team in 2011. She is a lifestyle health coach and a well-known plant-based food educator in northern Colorado. She also holds a certificate in plant-based nutrition from the Center for Nutrition Studies at eCornell. She enjoys teaching nutrition and cooking classes to all ages, including for many employee wellness programs. She offers private one-on-one consultations and cooking classes to individuals who are interested in improving their health. This summer, Sapna is hosting two nutrition and cooking series for kids! Join Sapna at one of her upcoming Food for Life: Kids Health series beginning on June 1 or July 19.
Check out one of Sapna's favorite recipes, Red Bean Curry (Rajma)!
Red Bean Curry (Rajma)
This recipe is a variation of one of Sapna's favorite curries, one that her mother made for her often while she was growing up in northern India. Sapna tweaked the recipe to make it a quicker and more convenient meal, while keeping all of the aromatic spices and flavors. She includes spinach or Swiss chard, which are less traditional ingredients for this recipe, and uses canned beans instead of the typical beans cooked from scratch. Her favorite way to serve this curry is over hearty brown rice. She hopes you enjoy this wholesome and easy curry as much as she did in her childhood!
Makes 3 to 4 servings
Ingredients
1/2 teaspoon whole cumin seeds (see Chef's Note 1)  
3/4 cup finely chopped yellow or red onion  
1 to 2 teaspoons minced garlic  
1 teaspoon minced ginger  
2 cups + 2 tablespoons water, divided  
4 tomatoes, diced very small  
1/4 to 3/4 teaspoon Indian red chili powder (or 1/8 to 1/4 teaspoon cayenne pepper)  
1 teaspoon ground coriander  
1/2 teaspoon ground cumin  
1/4 teaspoon garam masala  
1/8 teaspoon black pepper  
Salt, to taste  
2 15 oz. cans kidney beans, drained (or use 3 cups cooked beans)  
2 to 3 tablespoons finely chopped cilantro, divided  
1 teaspoon amchur powder (see Chef's Note 2)  
2 cups baby spinach (or 2 to 3 Swiss chard leaves), finely chopped  
Directions
In a hot dry pan, add whole cumin seeds and stir to toast without burning, then add onion. Stirring occasionally, cook on medium heat for about 4 minutes. Add garlic and ginger and cook for another minute.
Add 2 tablespoons of water to deglaze the pan.
Add tomatoes and cook, covered, for about 5 minutes (or until they are tender). With the back of a spoon, crush the tomatoes a little bit. Add Indian red chili powder, coriander, cumin, garam masala, black pepper, and salt to taste. Cook another minute.
Rinse the canned beans and add to the sauce. Stir well and cook for about 3 minutes. Add 2 cups of water and 1 tablespoon of cilantro, give it a good stir, and bring to a boil. Mash some of the beans with the back of the spoon. This should help thicken the sauce.
Cook covered on medium to medium-low heat for 10 minutes, stirring occasionally.
Add amchur powder and cook for another minute. Turn the heat off and stir in spinach or Swiss chard. Garnish with 1 to 2 tablespoons of cilantro and serve with brown rice or whole-grain flatbread.
Chef's Notes
1. If you don't have cumin seeds, use 1 teaspoon ground cumin. Add the ground cumin with the other spices once the tomatoes are cooked down.
2. Amchur powder is also known as dry mango powder. If you don't have this on hand or can't find it in the market, substitute it with 1/2 to 1 teaspoon of lime juice. Once the curry is cooked, turn the heat off and add lime juice and leafy greens all at once. Stir well to combine. You can add more lime juice if desired.
Source: Sapna Von Reich, Food for Life Instructor
Per serving: Calories: 190; Fat: 1.7 g; Saturated Fat: 0.3 g; Calories From Fat: 7.4%; Cholesterol: 0 mg; Protein: 11.9 g; Carbohydrate: 33.9 g; Sugar: 7.0 g; Fiber: 8.5 g; Sodium: 61 mg; Calcium: 114 mg; Iron: 3.0 mg; Vitamin C: 11.5 mg; Beta-Carotene: 997 mcg; Vitamin E: 0.5 mg 
Please feel free to tailor Physicians Committee recipes to suit your individual dietary needs.