Blog

Feb 18, 2021
Recipe of the Week: Mixed Greens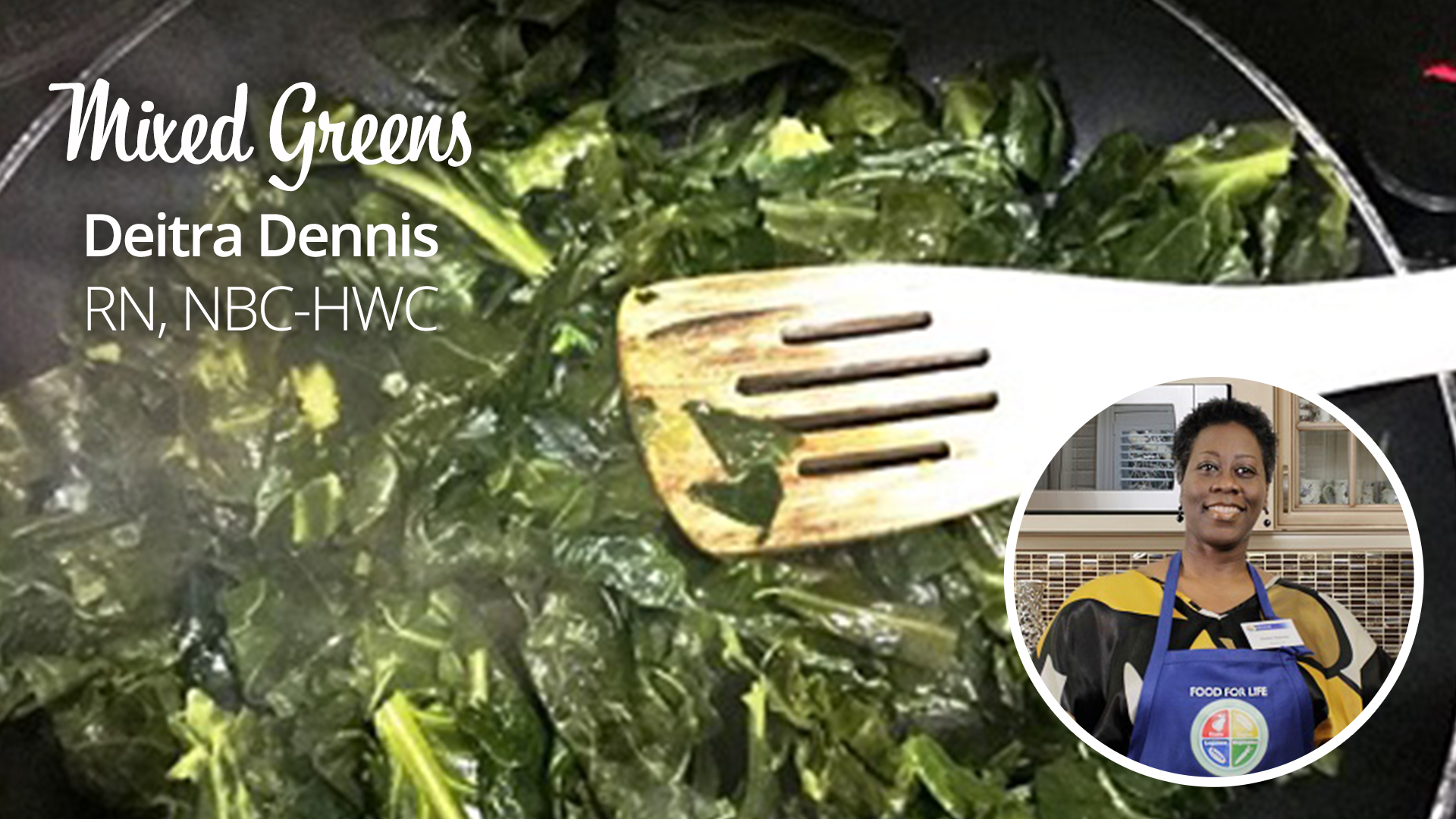 Food for Life instructor Deitra Dennis, RN, NBC-HWC, shares a delicious recipe for Mixed Greens!
This February, the Physicians Committee's Recipe of the Week gets a takeover! Our Food for Life instructors are celebrating Black History Month with recipes that honor African American culinary traditions across the United States. This week, Deitra Dennis, RN, NBC-HWC, of Atlanta, Ga., brings her experience as a nurse to plant-based health coaching for those in Georgia interested in reclaiming their health through diet. 
After the death of a young patient, Deitra Dennis began her path to take her nursing care from the bedside to the frontline as a health coach and to the tableside as a nutrition and cooking instructor. Deitra's new mission is to guide, educate, and empower the community to adopt a healthy lifestyle by offering evidence-based and culturally relevant support. You can view Deitra's upcoming classes at her Food for Life instructor page!
Check out Deitra's recipe for Mixed Greens!
Mixed Greens
This dish proves you can look beyond salad to get your greens! Collard greens and other leafy green vegetables are rooted in West and Central African cuisine and became staples for enslaved Africans in the American South. To tenderize leafy greens, African Americans developed a technique of cooking them in water and spices. This technique not only yields nutritious and delicious greens, but also a vitamin and flavor-rich cooking broth called "potlikker" that is often enjoyed with cornbread for an extra nutritional boost. 
Makes 4 servings
Ingredients
1 large sweet onion, thinly sliced  
2 vegetable bouillon cubes  
4 garlic cloves, minced  
1 tablespoon ginger, grated  
2 tablespoons coconut cream, divided  
2 teaspoons garlic powder, divided  
2 teaspoons onion powder, divided  
2 teaspoons smoked paprika, divided  
2 teaspoons Italian seasoning, divided  
2 teaspoons cumin, divided  
1 bunch collard or kale greens, stems removed and thinly sliced  
1 bunch mustard or turnips greens, stems removed and thinly sliced  
1 bunch Swiss chard, spinach, or beet greens, stems removed and thinly sliced  
2 1/2 cups water  
1 1/2 teaspoon maple or agave syrup  
1 1/2 teaspoon liquid smoke  
1/2 teaspoon liquid aminos, low-sodium soy sauce, or tamari  
2 tablespoons vegan Worcestershire sauce  
3 tablespoons apple cider vinegar  
1/2 teaspoon hot sauce  
Salt and pepper, to taste  
Directions
Add onion to a large pot or skillet on medium-high heat, saute for 2-3 minutes, or until soft. To prevent sticking, add 1 tablespoon of broth at a time.
Add garlic and ginger and saute for 30 seconds to 1 minute.
Add the bouillon cubes and 1 tablespoon coconut cream, mix well, and saute until melted.
Add 1 teaspoon each of the spices.
Add greens and stir well, until the greens are fully covered with spices. Cover for 10 minutes to steam.
After 10 minutes, add the water, maple syrup, liquid smoke, liquid aminos, and Worcestershire sauce.
Bring up to boil (uncovered) and then down to a simmer (covered) for 15 minutes.
After 15 minutes, add the hot sauce, 1 teaspoon each of the spices, the apple cider vinegar, and the remaining tablespoon coconut cream, then cover and simmer for an additional 5-10 minutes.
Add salt and pepper to taste.
Chef's Note: You can substitute coconut milk for coconut cream if it is not available to you. If using coconut cream, place it in the refrigerator overnight. The cream will rise to the top of the can. Once you remove it from the refrigerator, do not shake the can. Open the can and spoon out the 2 tablespoons of cream.
Per serving: Calories: 146; Fat: 3.5 g; Saturated Fat: 1.7 g; Calories from Fat: 20.3%; Cholesterol: 0 mg; Protein: 10.1 g; Carbohydrate: 24.7 g; Sugar: 6.8 g; Fiber: 11.3 g; Sodium: 806 mg; Calcium: 492 mg; Iron: 6.0 mg; Vitamin C: 157.6 mg; Beta-Carotene: 9861 mcg; Vitamin E: 7.3 mg
Please feel free to tailor this recipes to suit your individual dietary needs.