Blog

May 26, 2021
Recipe of the Week: Mexican Kale and Blue Corn Salad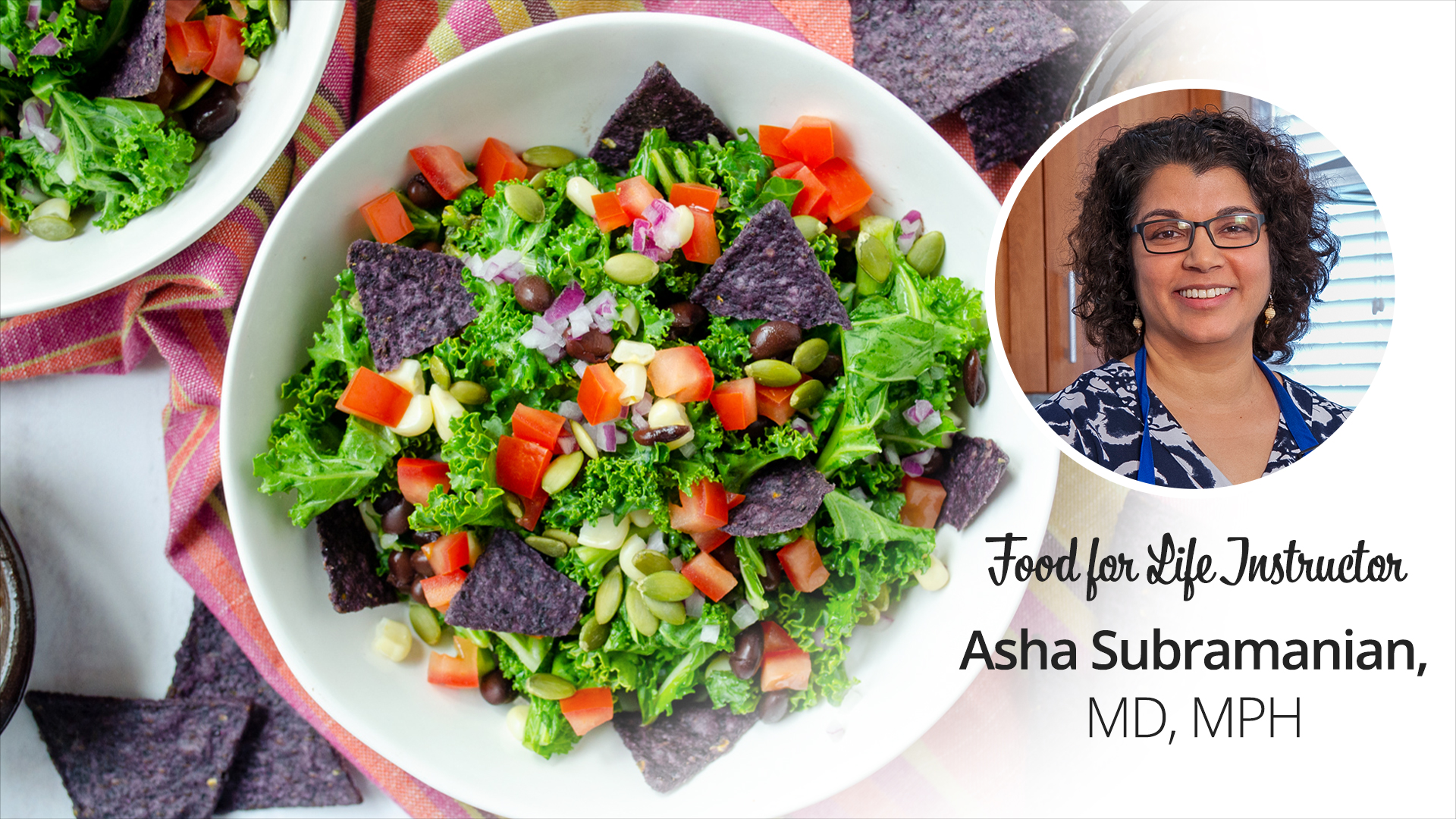 In celebration of Asian American and Pacific Islander Heritage Month, Asha Subramanian, MD, MPH, shares her experience with the benefits of a plant-based diet for addressing the root cause of many chronic diseases.
Dr. Asha Subramanian is a board-certified family and lifestyle medicine physician who has seen the power of a plant-based diet firsthand, both in her own life and in the lives of her patients. When she started her practice, she was discouraged by the minimal improvements in patients with chronic conditions like diabetes and high cholesterol from typical prescription-focused treatments. Lifestyle medicine has allowed her to treat the root causes of these conditions, not just the symptoms, and even to reverse disease. She saw improvements in her endometriosis, acne, athletic performance, weight control, and prediabetes. Dr. Subramanian is passionate about sharing this lifesaving knowledge and welcomes you to join her next virtual Food for Life class, coming up on June 26!
Check out one of Dr. Subramanian's favorite recipes, Mexican Kale and Blue Corn Salad!
Mexican Kale and Blue Corn Salad
The Mexican Kale and Blue Corn Salad is Dr. Subramanian's favorite Food for Life nutrition and cooking class recipe because of its combination of textures and flavors. It also uses one of her favorite foods: kale! It's a great introduction to preparing kale by massaging it with lemon juice and salt to break down the tough texture and cut down on the natural bitterness of kale without cooking it. The red onion, sweet corn, and black beans are earthy and savory, and the pepitas and blue corn tortilla chips add a wonderful crunch! She recommends adding fresh diced tomato or a red pepper for even more color and variety.
Makes 4 servings
Ingredients
1 small bunch of kale  
1/2 teaspoon salt  
Juice of 1 lemon  
1/2 red onion, diced  
1 1/2 cups sweet white corn, frozen or canned (drained or thawed) 
1 16-ounce can black beans, rinsed (no salt added or low-sodium preferred) 
1/2 cup salsa, jarred or homemade  
1 tablespoon pumpkin seeds/pepitas, unsalted  
1/2 cup unsalted blue corn tortilla chips (baked preferred)  
Directions
Wash kale, remove stems, and break up into small bite-sized pieces, then place in a medium bowl.
Add the salt and half of the lemon juice. Massage the kale for 1 to 2 minutes.
Add the red onion, black beans, corn, salsa, and pepitas to the massaged kale and toss together.
Sprinkle with crushed blue corn chips and drizzle with remaining lemon. Serve immediately.
Note: If you are not serving this recipe immediately, reserve the corn chips until ready to serve, otherwise they will get soggy. Also, if you cannot find corn chips, this recipe tastes great with just the crunch of the pepitas.
Source: Food for Life
Per serving: Calories: 295; Fat: 4.7 g; Saturated Fat: 0.6 g; Calories From Fat: 13.5%; Cholesterol: 0 mg; Protein: 15.8 g; Carbohydrate: 53.4 g; Sugar: 5.8 g; Fiber: 19.3 g; Sodium: 597 mg; Calcium: 386 mg; Iron: 5.2 mg; Vitamin C: 115.4 mg; Beta-Carotene: 3379 mcg; Vitamin E: 1.5 mg 
Please feel free to tailor Physicians Committee recipes to suit your individual dietary needs.