Blog

Feb 11, 2021
Recipe of the Week: Hoppin' John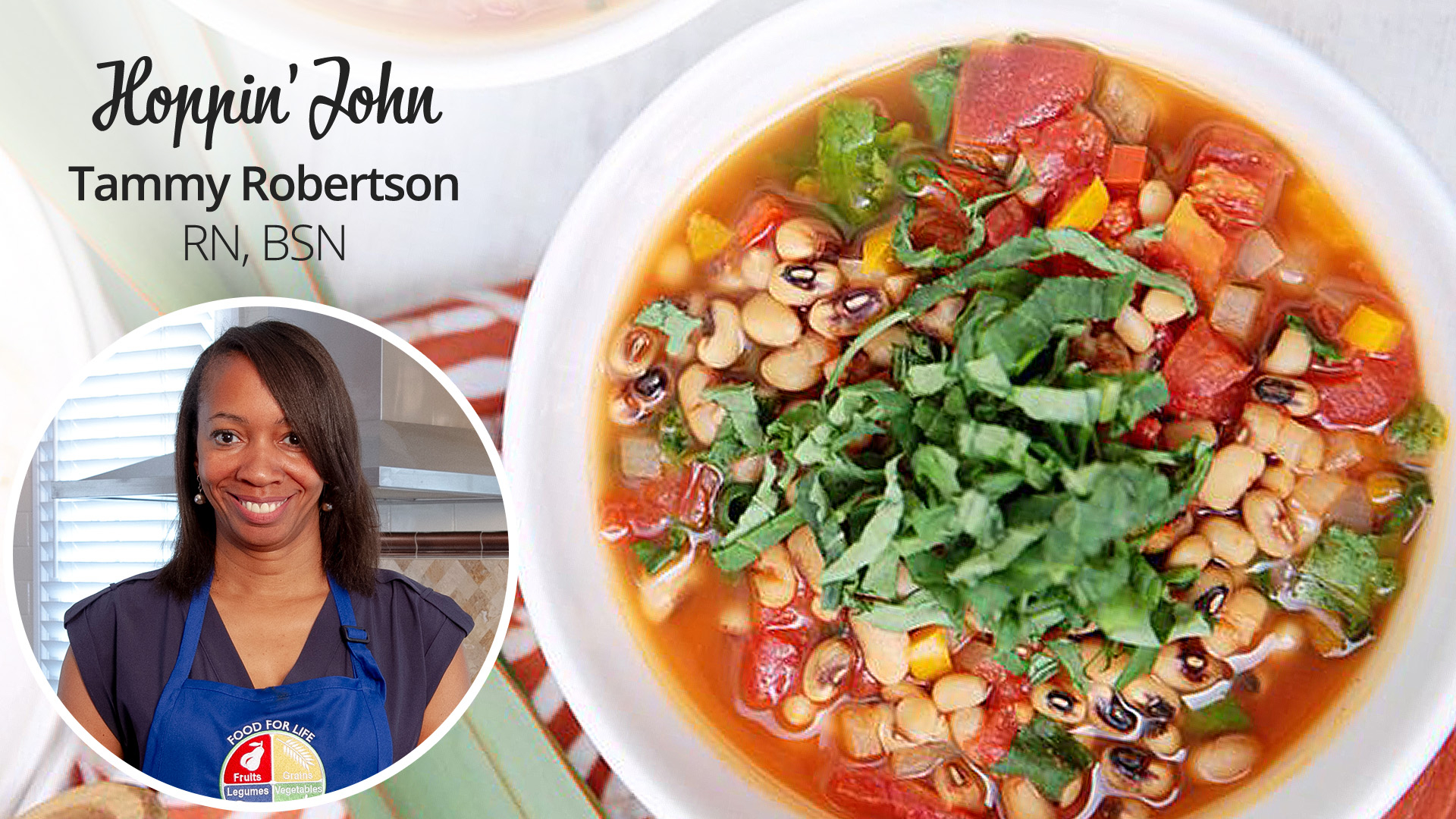 Food for Life instructor Tammy Robertson, RN, BSN, shares a delicious recipe for Hoppin' John!
This February, the Physicians Committee's Recipe of the Week gets a takeover! Our Food for Life instructors are celebrating Black History Month with recipes that honor African American culinary traditions across the United States. This week, Tammy Robertson, RN, BSN, of Scottsdale, Ariz., shares her experience as a hospital nurse and how the power of a vegan lifestyle set her on a path to better help her patients achieve good health.
After several years of working as a hospital orthopedics and trauma nurse, Tammy Robertson became disillusioned with seeing the same patients returning repeatedly for treatment of chronic diseases of lifestyle and diet. She felt unable to get to the root cause of the problem and began to believe that working in the hospital was not the best way for her to help people achieve health. 
While working in an outpatient integrative oncology clinic, she discovered the profound link between diet and chronic disease, especially cancer. To better serve her patients, she immersed herself in lifestyle medicine, specifically disease and dietary choices. In 2014, she and her family, including her beloved chihuahua, went vegan, and her only regret was not doing so sooner. "Let food be thy medicine and medicine be thy food" is her lifestyle motto. 
You can view Tammy's upcoming classes at her Food for Life instructor page! 
Check out Tammy's recipe for Hoppin' John!
Hoppin' John 

Eating this filling and fiber-packed dish on New Year's Day is a tradition thought to be developed by African Americans during slavery. The thought is that eating this dish, which is typically served over rice, on the first day of the year will bring good luck in the year ahead. It is traditionally accompanied by collard greens to symbolize money and cornbread to represent gold. Whether you crank up the heat with hot sauce or make it mild, this smoky and savory meal is sure to please year round.  
Makes 4-6 servings 
Ingredients 
1 medium/large onion, chopped 
1 large red bell pepper, chopped 
1 large green or yellow bell pepper, chopped 
4 cloves fresh garlic, minced 
3 15-ounce cans black-eyed peas 
2 15-ounce cans low- or no-sodium diced tomatoes 
3 cups packed, chopped fresh kale  
6 cups no- or low-sodium vegetable broth 
1/2 cup nutritional yeast 
1/4 cup no- or low-sodium vegetable soup base 
1 tablespoon smoked paprika 
1 teaspoon cumin 
1 teaspoon chili pepper flakes 
Salt and pepper to taste  
Drizzle of sriracha or hot sauce (optional) 
1/2 teaspoon liquid smoke for a smokier flavor (optional) 
Directions 
In a large soup pot over medium-high heat, water saute onion and bell peppers until just soft and translucent. Add the garlic and saute for 1-2 minutes, or until the garlic is fragrant, making sure not to burn garlic, adding 1-2 tablespoons water/broth at a time, if necessary. 
Add the rest of the items to the pot, stir to combine, and bring to a boil. Cover and lower heat to simmer for 30-45 minutes, stirring occasionally. 
Serve over your favorite grain or pasta of your choice. Enjoy! 
Per serving: Calories: 432; Fat: 3.4 g; Saturated Fat: 0.7 g; Calories from Fat: 6.8%; Cholesterol: 0 mg; Protein: 30.9 g; Carbohydrates: 76.7 g; Sugar: 9.0 g; Fiber: 21.2 g; Sodium: 1051 mg; Calcium: 193 mg; Iron: 9.4 mg; Vitamin C: 106.9 mg; Beta-Carotene: 2180 mcg; Vitamin E: 2.9 mg 
Please feel free to tailor this recipe to suit your individual dietary needs.