Blog

Jun 2, 2016
Plant-Powered Novak Djokovic Wins French Open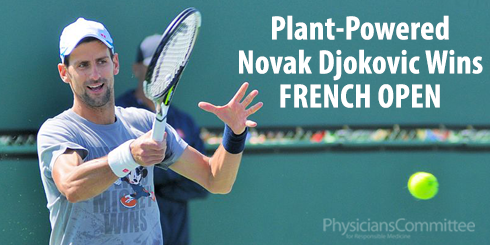 Novak Djokovic, the world's No. 1 male tennis player, just won the French Open with plant-powered diet! Djokovic is so committed to a plant-based diet that he opened a vegan restaurant in Monte Carlo earlier this year.
He's joining a growing number of athletes—including the reigning No. 1 female tennis player Serena Williams and her sister Venus—who are using plant-based diets to fuel victories. Serena Williams has said that she saw a lot of benefits in her game from eating a vegetarian diet. 
Djokovic and the Williams sisters are not alone. This past week, Griff Whalen, who plays for the National Football League's Miami Dolphins, credited his vegan diet for his success.
"After a point, nutrition plays a huge part in how quickly you can recover, how hard you can push yourself the next day, back-to-back days and stuff like that. I feel like it's helped me tremendously and given me a big edge in that regard," he told ESPN. 
He also described typical meals: "Breakfast is like an oatmeal, fruit, and whatever else I want to throw into it," he said. "And then lunch and dinner, a rice-and-bean kind of dish is pretty typical. Lots of veggies. A salad. I make a lot of smoothies because I can just throw greens and fruit and stuff in there. But rice and beans or lentils, stuff like that is pretty common for me."
NFL football player David Carter, who started a vegetarian diet in 2014, recently said that it could help prolong athletes' lives.
Many other athletes have similar stories. They've all found that a vegetarian diet provides all of the fuel they need—from vitamins and minerals to carbohydrates and protein—for both endurance and recovery.
They fuel up on foods like broccoli, carrots, cauliflower, beans, and bananas. A vegetarian diet fueled Ultramarathoner Scott Jurek's speed record for completing the 2,200-mile Appalachian Trail last July. It was a feat of endurance at 46 days, 8 hours, and 7 minutes.
Plentiful protein from vegetables, grains, and beans help in their recovery. Vegetarian bodybuilder Torre Washington recently told GQ magazine: "We live in the age of 'How much protein are you getting?' I've never, ever tracked my protein. We only need about 35 percent of our calories from protein. When we take in more, we're eating it just because we feel like we need it."
Congratulations Djokovic and the growing number of athletes who are demonstrating that fruits, vegetables, grains, and legumes are power foods for athletes.
More on Nutrition for Athletes