Blog

Jun 7, 2021
Plant-Based Cooking and Nutrition Instructor Shares Tips During Men's Health Month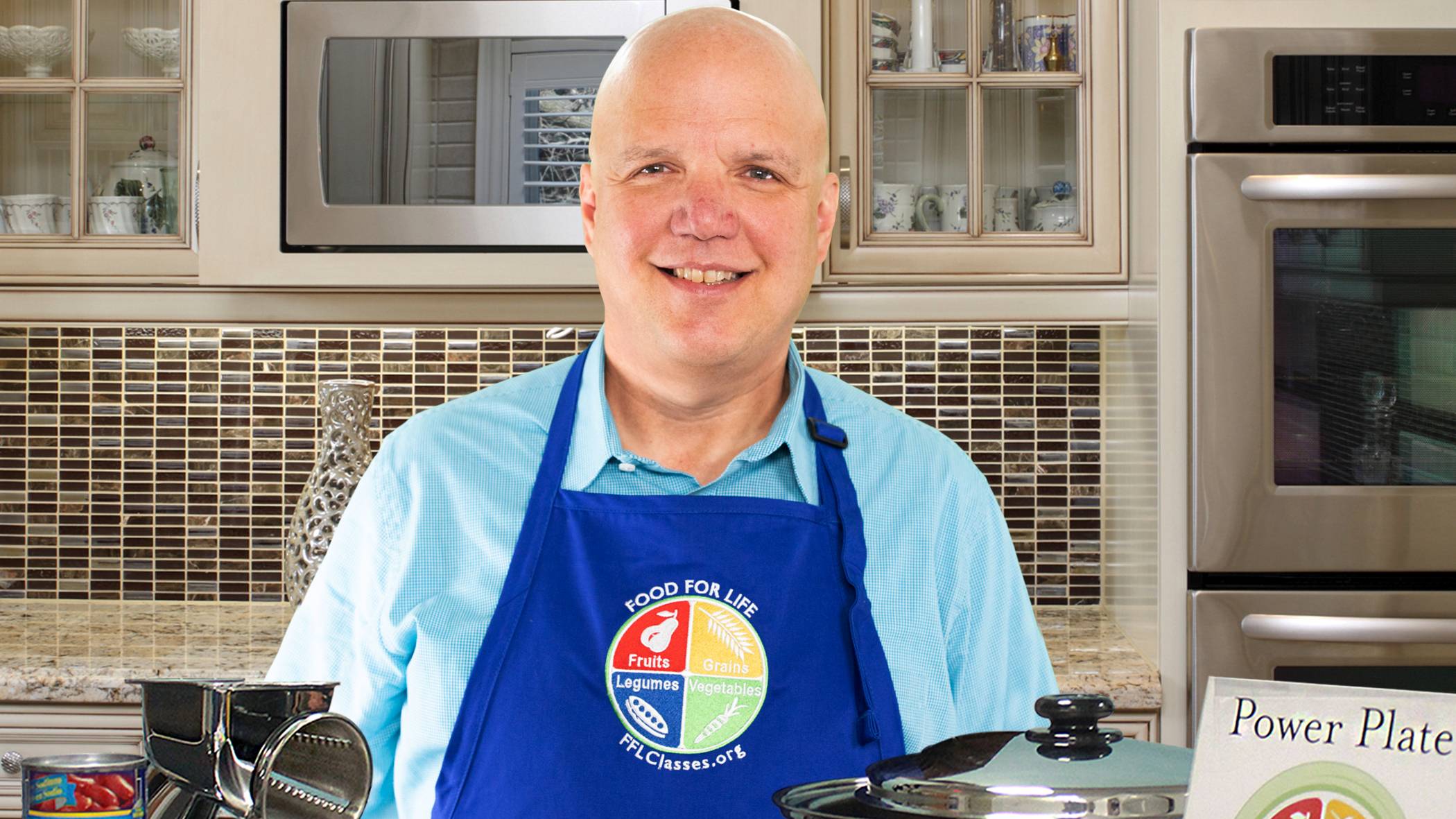 It's Men's Health Month, and Mark Cerkvenik, a Physicians Committee Food for Life instructor, is sharing his favorite plant-based recipes and tips for staying healthy.
Growing up and through most of his early adult life, Mark ate a diet consisting of roast beef, cheeseburgers, fried chicken, french fries, veggies cooked in butter, and salads swimming in dressing. He struggled with his weight throughout his life and tried many approaches to improving his health. He was a vegetarian for more than 25 years, but it wasn't until he adopted a whole food, plant-based diet in 2018 that he saw a tremendous improvement in his health and a path to maintaining a healthy weight.
Learn more about Mark and sign up for one of his classes.
What is your advice for people who are interested in starting a plant-based diet?
Be very clear on why you want to transition to a whole food, plant-based diet. The most common reason is for your health. But be specific. Is it that you want to be healthier and potentially avoid a life of taking prescription medications and endless doctor visits? Perhaps you want to increase the probability that you'll be able to be active as you age. Whatever your motivation is, write it down and revisit it from time to time. Finally, set a date when you will be 100% whole food, plant-based, and take steps to move forward to achieve your goal. It may take you several weeks to fully transition, but having a date is important because it sets a target for you to hit. 
For people who say they are having trouble giving up meat, what transition recipe or foods would you recommend?
I talk about this a lot in my classes. One of my mantras is that we need to make foods that approximate the flavors and textures of the foods we ate before we were vegan. Most of the flavor in recipes comes from the spices, marinades, and sauces. Give your palate time to get adjusted to new flavors and plan to prepare meatless meals that use spices from meat-based meals. For example, grill veggie burgers to get the smoky taste and aroma from the barbecue. I also like recipes that use extra-firm tofu; one of my favorites is Nashville Hot Tofu. Seitan, which is made from wheat gluten, also has a meat-like texture. One of my favorite recipes comes from the Chicago Diner Cookbook; I adjusted it and leave out the oil. After marinating the seitan, it tastes very similar to roast beef. Being from the Chicago area, a good Chicago-style "roast beef" sandwich is a real treat. 
Research shows that foods rich in lycopene, like tomatoes, are beneficial for the prostate. What is your favorite tomato-based recipe?
I love marinara and pasta. It is a vegan "fast food" that is easily whipped up in under 30 minutes. One of my favorite recipes is by Lidia Bastianich, the famous Italian chef you can find on PBS. Here's a link to a YouTube video of me making it.
Dairy products increase prostate cancer risk. What are your tips for replacing dairy? Do you have a favorite recipe that typically uses dairy but replaces it (e.g., macaroni and cheese)?
Fortunately, there are now so many alternatives to dairy milk, like almond milk and soy milk. Oat milk is one of my favorites and it has a creamy texture. One of my favorite recipes is Pub Nachos, which use a vegan "cheese" sauce, baked nachos, and all the pub nacho "fixings." 
For people who enjoy grilling, do you have recommendations for any foods or recipes?
Try grilling portobello mushrooms and corn on the cob. Portobellos have a meaty texture and can be eaten on a whole-wheat bun with lettuce and tomatoes. I recently made ribs from seitan along with grilled potatoes and onions.  
What are your favorite go-to meals?
I love salads for lunch. I load up a bowl with lettuce or kale, cucumbers, tomatoes, and beans and sprinkle it with liquid aminos and nutritional yeast. I have a slice of whole-grain bread on the side and a piece of fruit for dessert. This meal is quick and light, and I can take it with me to eat on the go. Another go-to meal is pizza! Fridays have always been pizza night in my house. I make my own whole-wheat crust. My favorite toppings are spinach and mushrooms sprinkled with nutritional yeast! 
What are your favorite snacks?
Raisins and dates. They are sweet and make for a filling quick snack! I also like hummus and veggies. It's my go-to comfort food snack.