Blog

Dec 30, 2020
35 Years of Progress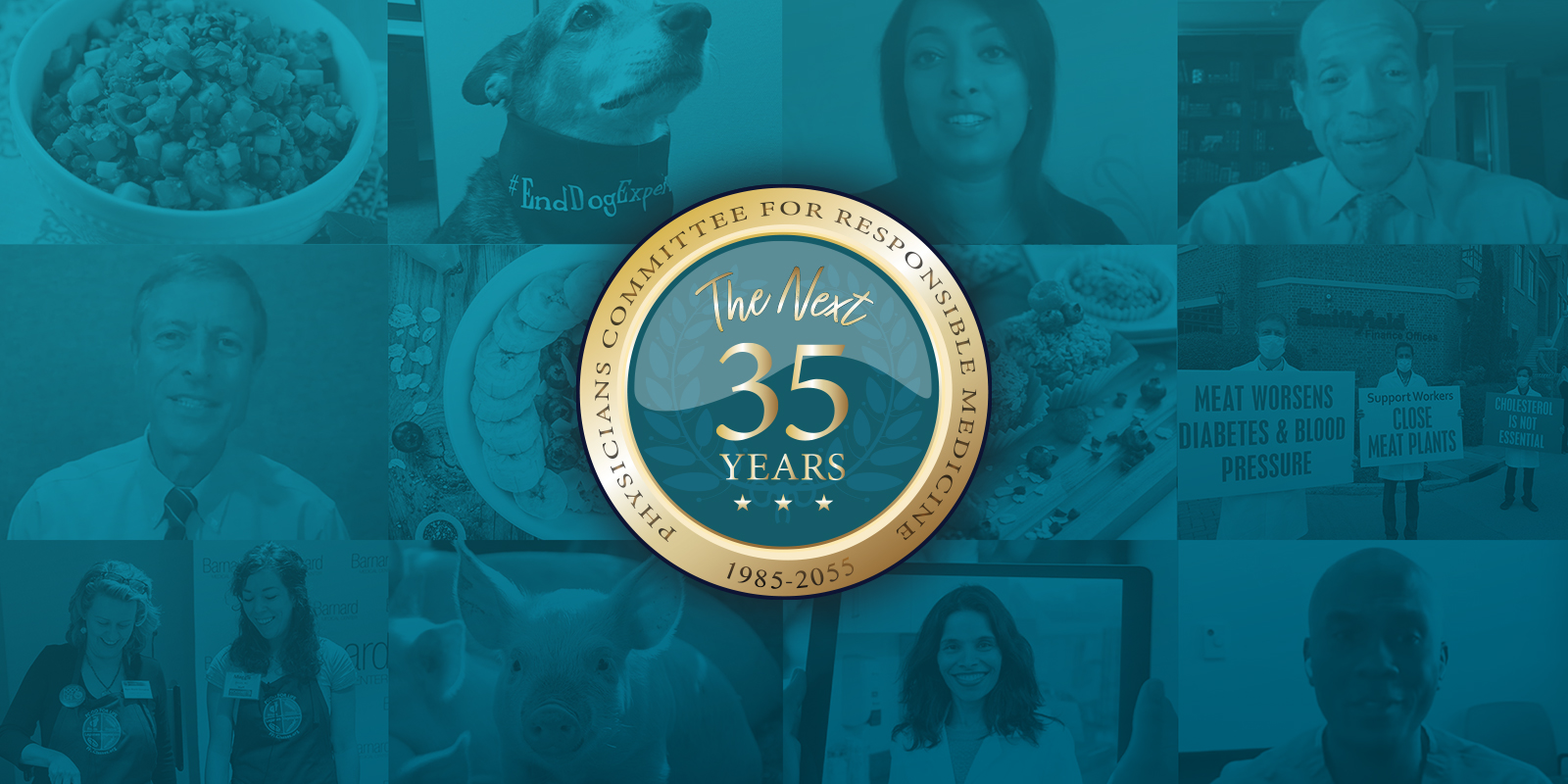 Since 1985, when Neal Barnard, MD, founded the Physicians Committee for Responsible Medicine, we have been working to change the way doctors treat chronic diseases, such as diabetes, heart disease, obesity, and cancer. Over those 35 years, we have also pushed for human-relevant alternatives to the use of animals in medical education and research and chemical testing.
Our staff of physicians, dietitians, and scientists work with policymakers, industry leaders, the medical community, media, and the public to create a better future for people and animals.
Here is a glimpse at the progress that has been made since 1985 and a look at our continued work to create a healthier world through plant-based nutrition and ethical, nonanimal, scientific research.
Ethical Research
In 1985, most medical schools used dogs and other animals to teach medical students surgical skills and other procedures. At the end of the trainings the animals were killed. In 2016, after more than three decades of perseverance by the Physicians Committee, animal use was replaced with simulators and other human-relevant methods at all surveyed U.S. and Canadian medical schools. Two years later, all U.S. and Canadian pediatrics residencies ended animal use. We have also successfully urged the federal government to end chimpanzee experiments, encouraged Congress to pass legislation to reduce and replace animal tests at the Environmental Protection Agency, and influenced other federal agencies to create plans to do the same. The Physicians Committee is dedicated to modernizing medical training and ending the use of animals in research. We continue to work with scientists for an international move away from animal testing and experiments and are educating the next generation of scientists on human-biology-based, nonanimal test methods.  
35 Years of Ethical Science
Nutrition First
When we began, the body of research on vegan diets was modest. Today, it is robust. Thanks to decades of work by the Physicians Committee and our colleagues elsewhere, type 2 diabetes is now known to be potentially reversible for many patients, and vegan diets are proven effective for cutting cholesterol, lowering blood pressure, losing weight, and many other applications. Meanwhile, vegan meals in hospitals are now the law in California and New York and are an official part of American Medical Association policy. When the Physicians Committee launched its Vegetarian Starter Kit, 21-Day Vegan Kickstart program, and International Conference on Nutrition in Medicine, these educational models were quickly adapted by countless other organizations. Through our global partnerships, we are working to share the power of a plant-based diet and make a healthier world. Our partnerships with celebrities, social media influencers, medical professionals, Olympic athletes, lawmakers, and our very own Food for Life instructors help us get this lifesaving information in the hands of millions of people.
Physician Committee's Global Reach
Our Medical Team and Members
The Physicians Committee has more than 175,000 members, including over 12,000 physicians who are bringing evidence-based medicine to the world. 
We conduct clinical studies which provide a foundation for changing scientific approaches and show the medical community how a plant-based diet is a powerful tool to fight disease. 
Through our medical center, we are revolutionizing how patients are treated. Our dietitians and physicians at the Barnard Medical Center are transforming medical care to put nutrition first to help prevent, treat, and even reverse some chronic diseases. 
Our Members Are Taking Action
The Work Continues
Over the last 35 years, our work has been made possible by the generosity of our supporters.  Because of you, we have been able to continue our lifesaving work and reach millions of people, and we hope in the next 35 years, we will be able to reach millions more.  
If you support our mission and donate today, your gift will be matched dollar for dollar, up to $150,000, to help advance our critical work for people, animals, and the planet in 2021.