Blog

Feb 1, 2017
Do Your Chicken Wings Taste Like Crap? Guess What's in Them!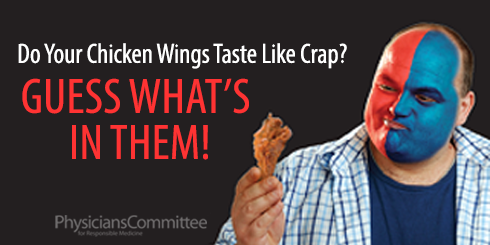 Chicken feces will be an ingredient in many of the 1.33 billion chicken wings that some Atlanta Falcons and New England Patriots fans will chew on this Super Bowl weekend.
A Physicians Committee study found that nearly half of the chicken products marketed by 22 national brands and sold in 15 grocery store chains in 10 major U.S. cities contained chicken feces, as proven by laboratory testing.
Poultry Slaughter Procedures, a USDA training video obtained by the Physicians Committee through the Freedom of Information Act, reveals that the chicken slaughtering process ends with carcasses soaking in feces-filled water—"fecal soup"—for up to one hour before being packaged for consumers. Cooking does not remove feces from meat.
More on Foodborne Illness