Blog

Feb 24, 2022
Charles Smith's Hope and Optimism Inspire People to Get Healthy on a Plant-Based Diet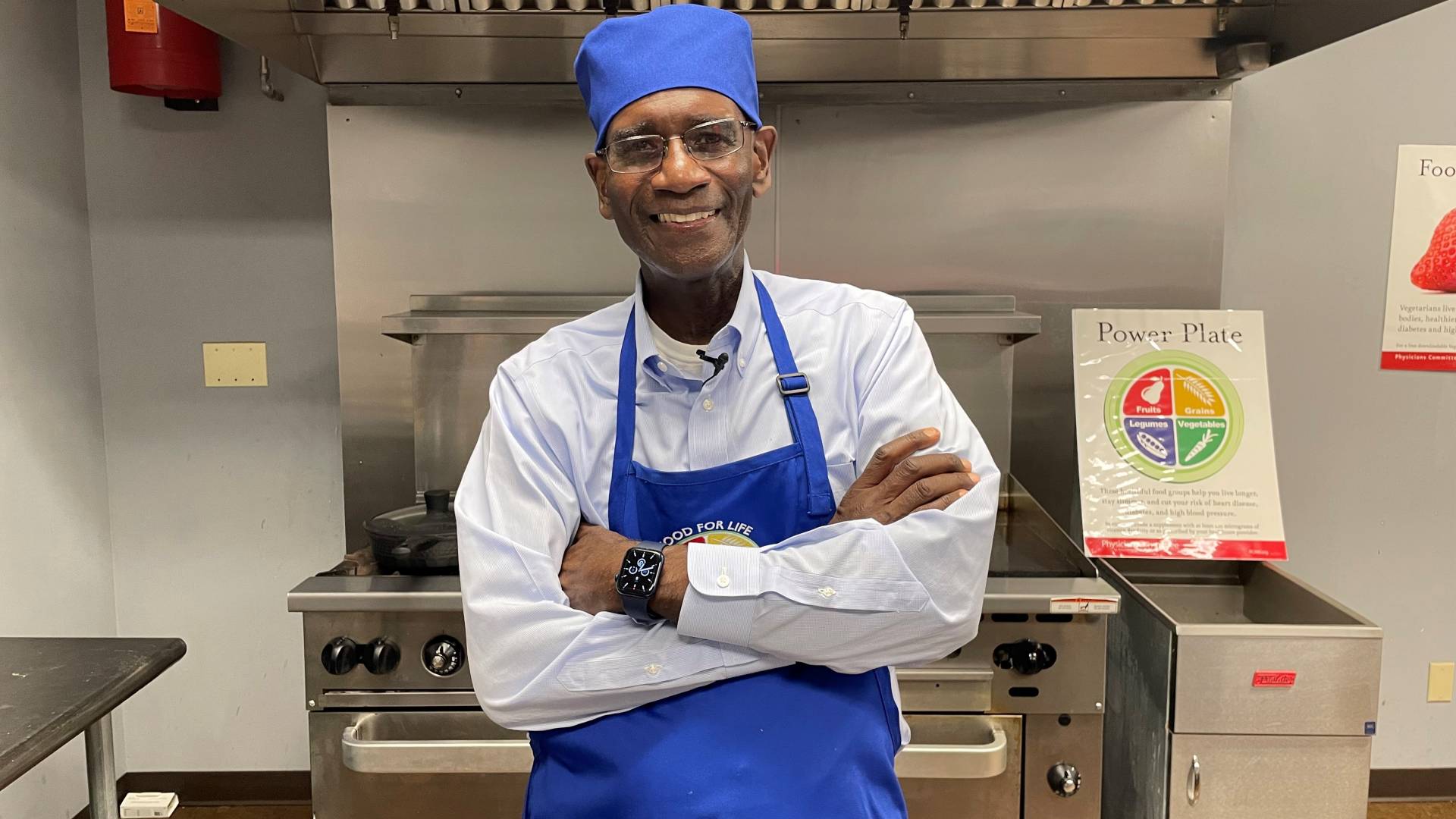 It would be an understatement to say that Charles Smith of Madison, Miss., has experienced tragedy in his life. In 1985, Charles's mother died at the relatively young age of 58 because of underlying conditions of poor health and obesity. In the years that followed, two of his sisters died at ages 54 and 52, of kidney disease and cancer. Charles watched each of these women struggle with poor diet and obesity, and saw their lives cut short as a result. Just a few weeks ago, Charles's brother died of COVID-19.
The expected response to such loss would be anger and sadness, and while Charles admits that there have been bouts of grief and anger, he generally approaches life with a sense of hope and optimism. In fact, he is very active helping his family and community adopt healthier eating habits so that they can improve their health and live longer, fuller lives.
Charles's effort to improve his diet began 20 years ago at his church, New Horizon Church International, where he and his wife Gail serve as children's pastors. After a one-month no-meat fast, Charles experienced a new level of energy and never returned to eating meat.
In the years that followed, he removed more animal products from his diet, going from a pescatarian, consuming fish and dairy products, to vegetarian, and finally, vegan. "If you know me, you know that when I'm done, I'm done," Charles says. "Now, my family and people around me see my pattern of eating and see me work out, and my eating routine is drawing them closer." By "drawing them closer," Charles explains that his family watches him cook and enjoys trying new dishes. His wife, who had sworn off tofu, recently tried tofu scramble and it is now one of her favorite dishes.
In recent months, Charles has expanded from teaching cooking at his church to reaching even more people. He became a certified instructor with Food for Life, a nutrition education and cooking class program sponsored by the Physicians Committee, in December 2021. Why? "I love having energy and good-tasting food," Charles says. "Cooking helps me attract people rather than them feeling like I am pushing something. Rather than me telling you, let me show you."  
Charles has been doing both online virtual classes as well as small group in-person classes, which he prefers. "I want them to be able to taste the food," he says. "My wife converted just like that and that is a real testimony to me. I'm excited about the possibilities."
In part because of his concern about his family's and community's eating habits, Charles is participating in The Food for Life: African American Culinary Heritage series, plant-based nutrition and cooking classes that began in January 2022. The six-week course is designed to honor and explore the history of African American culinary traditions. The course also helps participants seeking to prevent or overcome high blood pressure, heart disease, type 2 diabetes, and other health conditions that disproportionately affect African Americans.
"In the beginning, our culture created meals based on what they had," he explains. "Though they did a good job finding something to fill them, to avoid hunger, what it was doing was creating generational disease and the biggest one was obesity."
Charles is exactly right though that there is reason for hope in his community and beyond. According to a recent Pew Research Center survey, the number of African Americans who identify as vegan or vegetarian is more than double the overall number of Americans who identify as vegan or vegetarian.
Research shows the health benefits of adopting a plant-based diet for high blood pressure, heart disease, type 2 diabetes, and breast, colorectal, and prostate cancers, all chronic diseases that, due to multiple socioeconomic factors, disproportionately affect African Americans.
Charles reflects on his mother-in-law's stay with him and his wife a few years ago while she was ill with type 2 diabetes. The couple helped her with daily medication, including injections, and aided her recovery when she ultimately had to have a leg amputated.
"My wife's family has similar eating habits to my family," Charles says. "It gives me hope because there was a time that I thought that I was eating right. Food For Life allows me to show them that there is a better way."