Blog

Apr 7, 2021
Breast Cancer Survivor Donna Green-Goodman Shares Her Plant-Based Journey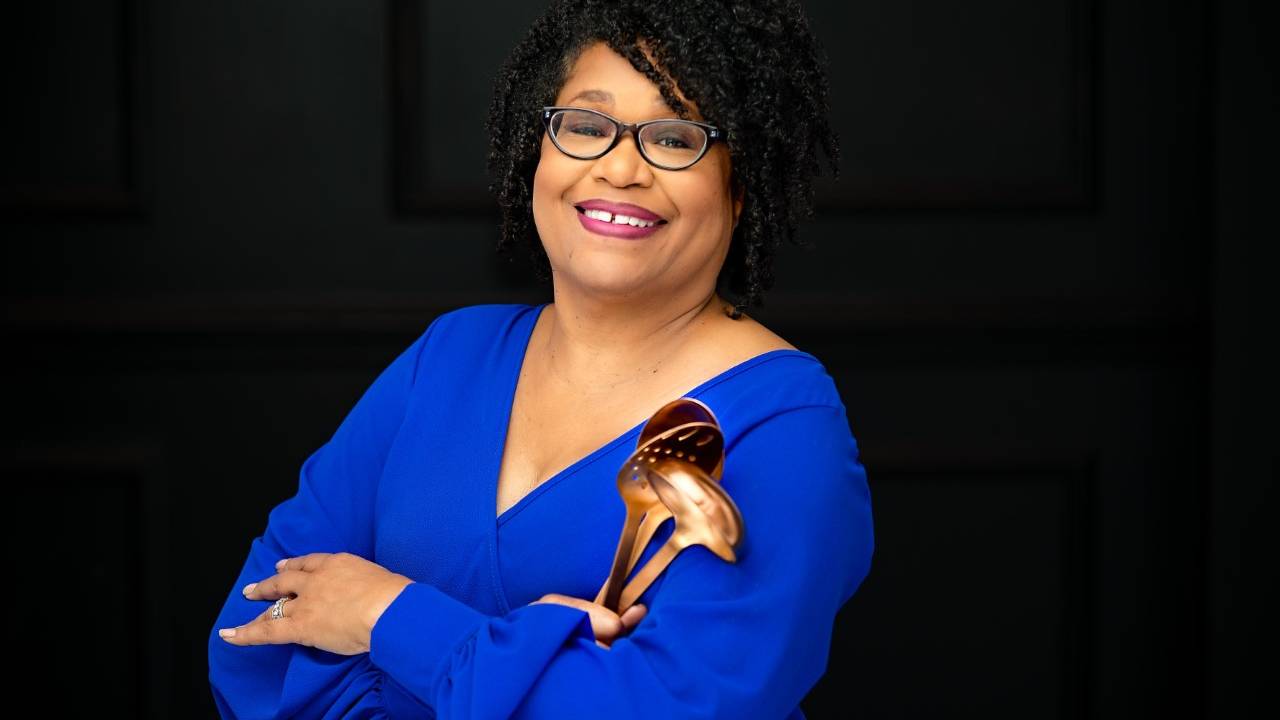 A 1996 diagnosis of breast cancer was a surprise to Donna Green-Goodman, MPH. Cancer would catch anyone off guard but Green-Goodman, if she considered it at all, thought she was at low-risk for cancer. A Seventh-day Adventist, she was a lifelong vegetarian and, she thought, ate healthfully.
Coincidentally, Green-Goodman had studied home economics and nutrition at Oakwood University, the only vegetarian HBCU in Alabama, and completed her master's in public health at Loma Linda University in California with professors involved in the seminal Adventist Health Study, research over several years involving tens of thousands of Adventists, many of whom are vegetarian or vegan. Through this diagnosis, she was discovering along with these researchers the potential negative health consequences of including dairy and other animal products in her diet. 
After her diagnosis, she decided to go with a completely plant-based diet. And while the health journey has not always been a smooth one, she remains cancer-free and vegan. A woman of faith, the second thing that Green-Goodman did when she received her diagnosis was commit to God that, "if He helps me survive this, I will dedicate my life to teaching others how to be healthy," she explains. As an African American, Green-Goodman also feels compelled to help those she says are disparately impacted by chronic diseases.
As a health educator, wellness coach, and plant-based cooking instructor, Green-Goodman continues to deliver on her promise to help others nearly a quarter-century later. She's written three cookbooks—Somethin' To Shout About! Celebrating Health and Healing Through Diet and Lifestyle, Cookin' Up Good Health Recipe Collection, and Still Cookin' Up Good Health—and is the executive producer and host of the "Cookin' Up Good Health" show for the international Hope Channel as well as Huntsville, Alabama-area TV stations. 
Today, she and her husband, physical therapist Edward T. Goodman, III, operate an outpatient physical therapy and wellness center, Lifestyle Therapeutix, in Huntsville. Her husband provides therapy for all conditions but has a special interest in conditions related to chronic lifestyle diseases like diabetes, hypertension, cancer, and overweight/obesity. 
Edward evaluates patients for physical therapy, writes their plan, and treats them. If appropriate, he refers patients for a no-cost lifestyle evaluation with Donna, who meets with them about their eating, sleeping and exercise habits. 
"If a patient comes in after a stroke, chances are his lifestyle is not healthy," Green-Goodman explains. "I might say to him that Mr. Goodman is going to bring you some relief, but I would like to share information about how to make long-term health improvements." 
You might think that after many years, her enthusiasm for educating others about plant-based eating would wane—but you would be wrong. Green-Goodman exudes passion for her work, stories of those she's helped flow.  
One patient who came to the center recently, reluctantly, had high cholesterol, erectile dysfunction, overweight, pain, and hypertension, among other health problems. He and his wife, also a patient, started making changes and incorporating plant-based eating. The patient's weight dropped, and his cholesterol numbers improved. 
"When these changes began, it started to make sense to him," Green-Goodman says, "The health of one of his eyes improved [significantly]," and his doctors started to notice the health improvements." The Goodmans see this all the time and the joy this brings to patients is a motivation. 
"The good majority of patients know they aren't making the best health choices but there is almost always something underlying, and contributing, whether they are grieving about something and up through the night eating, or under financial stress," she says. "When we tap into that, you can see the freedom and relaxation in their faces. Now we can do some things perhaps to help, and that's the gift I have in health education." 
Green-Goodman makes sure there is tasty food and recipes available at the wellness center so patients have something healthy to try. "I adjust to meet the needs of the people," she says. "If I can help them to make better health choices, I've accomplished what I set out to do and I've given them the tools they need to improve their health.
"I want people to see the connection between the choices they make and their health outcomes and feel empowered with skills to make better choices, and we are committed to that as long as we have breath." 
Find Donna Green-Goodman at  www.lifestyletherapeutix.com 
@stillshoutin on Twitter and Instagram 
Lifestyle Therapeutix YouTube Channel