Recipe
White Beans and Greens
4 servings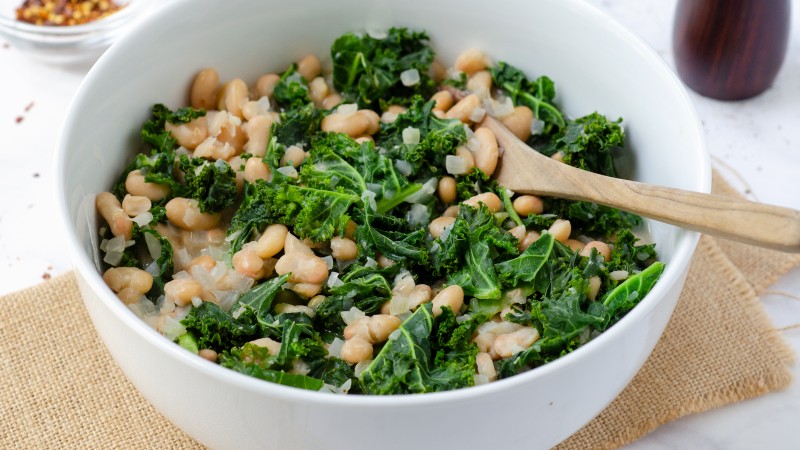 When I was just a wee tyke, my grandfather, Vincenzo Agresta from Calabria, Italy, prepared sauteed beans and greens regularly, much to my delight. This is my version of beans and greens, dedicated to Grandpa Agresta.
Ingredients
Makes 4 Servings
1 onion

2 cloves garlic

3 cups (555 grams) cannellini beans

1 bunch kale

Iodized salt

Ground black pepper
Directions
Heat the 2 tablespoons (30 mL) water in a large skillet over medium heat. Add the diced onion and minced garlic and cook and stir for 5 minutes, or until the onion is translucent and soft. Add another small splash of water if needed to prevent the onion from sticking to the pan.





Add the beans (cooked or canned) and cook and stir for 5 minutes. Add the kale, about 5 cups (105 g) chopped, and another splash of water, if needed, to keep the beans from sticking to the skillet. Season with sea salt and pepper to taste. Cover and cook for 5 to 10 minutes, or until the kale has wilted and is tender to your liking. Serve hot or at room temperature.




Nutrition Facts
Per serving:
Calories: 207
Fat: 0.9 g     
     Saturated Fat: 0.2 g     
     Calories From Fat: 3.5%
Cholesterol: 0 mg
Protein: 14 g
Carbohydrate: 37 g
Sugar: 2 g
Fiber: 10 g
Sodium: 23 mg
Calcium: 192 mg
Iron: 5.4 mg
Vitamin C: 26 mg
Beta-Carotene: 722 mcg
Vitamin E: 1.4 mg