Recipe
Thai Crunch Salad With Peanut Dressing 
6 servings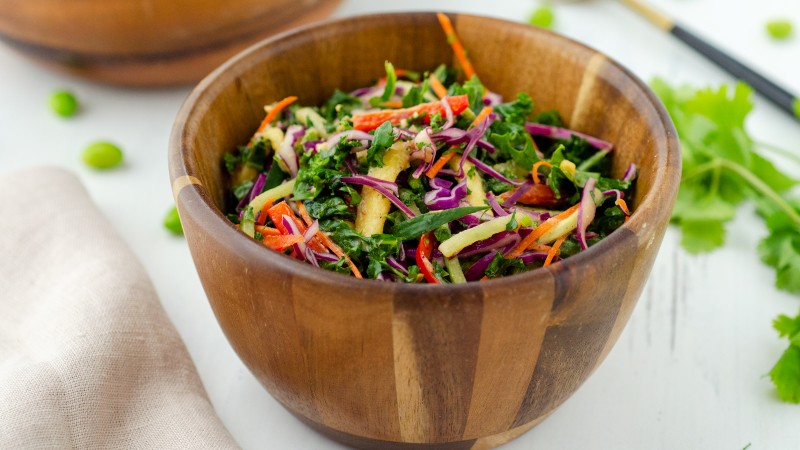 About the Recipe
Calories · Protein · Fiber
Gluten-free
Ingredients
Makes 6 Servings
1/2 bunch kale

1/2 head cabbage

1/2 red bell pepper

1 carrot

2 green onions

1/4 bunch cilantro (optional) 

1/2 cup (80 grams) shelled edamame

1/4 cup (47 grams) peanut butter

1/3 cup (80 milliliters) water

1/4 cup (60 milliliters) sweet red chili sauce

2 1/2 tablespoons (37.5 milliliters) low-sodium soy sauce

4 teaspoons (60 milliliters) rice vinegar

1/4 teaspoon (1.2 milliliters) garlic powder

1/4 teaspoon (1.2 milliliters) ground ginger

Sriracha
Directions
Shred a mixture of kale and cabbage. Thinly slice the pepper and onion and shred the carrot. In a large bowl, toss together all ingredients except dressing.





To make the dressing, in a small bowl, whisk together peanut butter, preferably unsweetened, and heated water. Stir in remaining ingredients. Add more garlic powder, ground ginger, or Sriracha to taste.





Add dressing and toss again. 

Note: Add fresh mango and cucumber (diced or thinly sliced) for a variation. You can also substitute fresh mint (5 to 10 leaves, thinly sliced) for the cilantro. Used shelled edamame for a nut-free option.