Recipe
Oatmeal Raisin Cookies
18 servings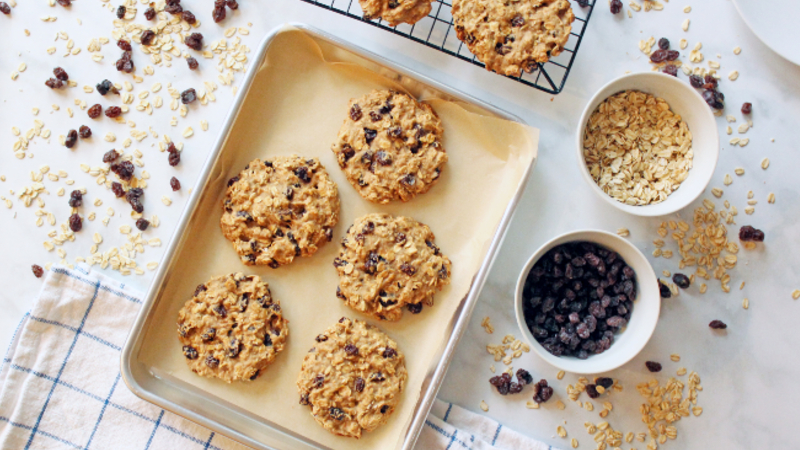 A healthy twist on a classic dessert!
Ingredients
Makes 18 Servings
unbleached white flour (1/2 cup)

whole-wheat or spelt flour (1/2 cup)

quick-cooking oats (1 cup)

baking powder (1/2 tsp.)

cinnamon (1/2 tsp.)

nutmeg (pinch)

sea salt (1/4 tsp.)

mashed bananas (2 bananas or 3/4 cup)

maple syrup (1/3 cup)

vanilla extract (1 tsp.)

raisins (1/3 cup)
Directions
Preheat the oven to 350 F.





In a large bowl, whisk together the flours, oats, baking powder, cinnamon, nutmeg, and sea salt. In a small bowl, combine the bananas, maple syrup, and vanilla.





Add the wet ingredients to the dry ingredients. Mix well, but don't over-mix. Stir in the raisins.





Place tablespoon-size cookies on a baking sheet lined with parchment paper. Using wet hands, press the cookies flat into cookie shapes. Bake for 12 minutes.




Nutrition Facts
Per cookie (1/18 of recipe)
Calories: 74
Protein: 2 g
Carbohydrate: 16 g
Sugar: 6 g
Fat: 0.5 g
     Calories from Fat: 5%
Fiber: 1 g
Sodium: 48 mg