Recipe
Low-Fat Creamy Carrot Soup
4 servings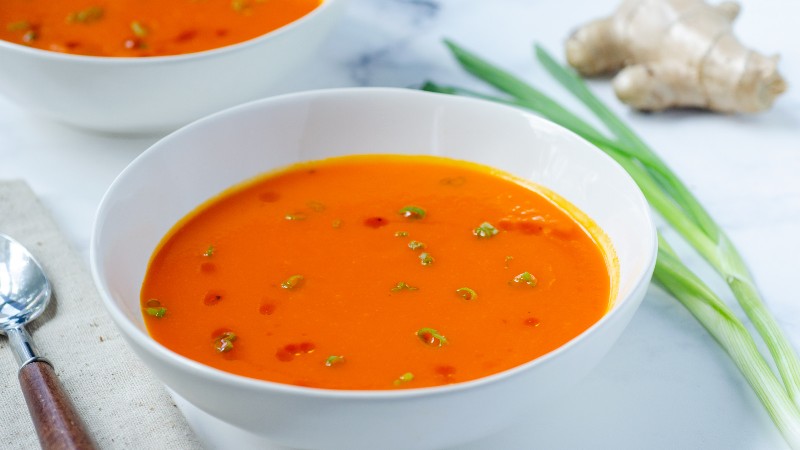 Nothing is quite as warming as a bowl of soup with ginger and carrots. Ginger boosts circulation and aids digestion, too.
Ingredients
Makes 4 Servings
4 vegetable broth

6 carrots

1 onion

1/2 teaspoon (2.5 milliliters) iodized salt

6 inches (15.5 centimeters) ginger

1 scallion
Directions
Put the broth, chopped carrots (about 3 cups or 384 g), 1 cup (160 g) diced onion, and a pinch of the salt in a medium soup pot. Cover and bring to a boil over medium-high heat. Decrease the heat to low and simmer for 25 minutes, or until the squash is soft.





Using an immersion blender, puree the soup in the pot until smooth. Alternatively, you can use a ladle to transfer the soup to a blender or food processor and process until smooth. Return the blended soup to the pot. Finely grate the ginger into about 1/3 cup (32 g), squeeze and reserve the juice, and discard the pulp. Add the remaining salt, ginger juice, and a little water, if needed, to achieve the desired consistency. Simmer for 5 minutes longer. Serve hot, garnished with the scallions.




Nutrition Facts
Per serving:  
Calories: 88 
Fat: 0.7 g 
     Saturated Fat: 0.1 g 
     Calories From Fat: 6% 
Cholesterol: 0 mg 
Protein:  2.4 g 
Carbohydrate:  20 g 
Sugar:  7.4 g 
Fiber: 3.7 g 
Sodium: 499 mg 
Calcium: 51 mg 
Iron: 0.7 mg 
Vitamin C: 10 mg 
Beta-Carotene: 9,510 mcg 
Vitamin E: 0.9 mg