Tiah Tomlin-Harris, MS
Food for Life Instructor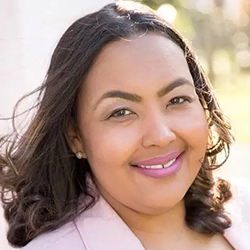 Tiah Tomlin-Harris, an overcomer of Triple Negative Breast Can't-cer, as she calls it, has dedicated herself to being a community change agent and advocate, with a focus on health disparities, Black women's health, and healthy lifestyle education. As a result of her advocacy work, she has received recognition and awards, including President Bush's Points of Light Award.
After her diagnosis with breast cancer, Tiah believed that no one should walk this cancer journey alone and founded the My Breast Years Ahead sisterhood and co-founded My Style Matters, a 501c grassroots nonprofit organization dedicated to educating and supporting underserved families impacted by cancer.
Tiah is a cancer coach, a breast health educator, and a project lead graduate with the National Breast Cancer Coalition. She has advocated for survivors on Capitol Hill; served as a board member and advisory board member for several organizations and pharmaceutical companies; published a research paper on clinical trials in metastatic breast cancer; and spoken on numerous panels to include American Society for Clinical Oncology, American Association for Cancer Research, and the Congressional Briefing with Breast Cancer Prevention Partners. Through her life's work, Tiah is moving people from awareness to action.
Serving cities and surrounding areas of The Greater Atlanta area
Upcoming Classes
---
Contact Tiah Tomlin-Harris Visit Tiah Tomlin-Harris's Website