Sandi Rechenmacher
Food for Life Instructor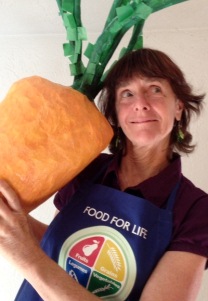 Nutritional consultant, whole foods plant based chef, and a 10-year Food for Life instructor, Sandi Rechenmacher, has been following nutrition science for the past 40+ years. Former owner of a natural foods store in the 70's, Sandi's passion to deliver quality foods to her customers presents itself currently through her dedication of exposing marketing hype and faulty science to her clients/students who all deserve to know how to attain optimal health and wellness as designed by Mother Nature.
With degrees in education, nutrition science, holistic health, herbs, and diabetes education, Sandi has taught nutrition in Santa Cruz schools from kindergarten through college level. She has delivered whole food plant based presentations to the Santa Cruz School Board, Corporations in Silicon Valley and Santa Cruz County, including a variety of wellness fairs. Her writings include Garden & Kitchen Notes for the California Grey Bears of Santa Cruz and chapters in numerous books. Since 2008 she has conducted PCRM Food for Life classes in Santa Clara and Santa Cruz counties and on St. John (VI). In 2018 she prepared and enjoyed a whole foods plant based luncheon with President Jimmy and Rosalynn Carter in their home in Georgia.
What drives Sandi, is her enthusiasm and passion for sharing with others how to incorporate a deliciously healthy, plant-based diet into their lifestyle, making it EASY, convenient, and tasty. She knows that the progress of each person she consults causes shifts as well in the evolution towards healthier communities and a more peaceful world.
If Sandi isn't consulting, teaching nutrition, or demonstrating culinary techniques, you most likely will find her in her organic garden tending to plants, worms, birds, bees, and bugs...or eating her way through a berry or pea patch with her grandchildren!
Serving cities and surrounding areas of Monterey, Santa Clara, and Santa Cruz county areas
Upcoming Classes
---