Maria Anderson, M.D.
Food for Life Instructor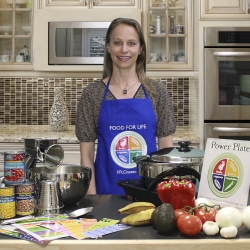 Dr. Maria Anderson is a cardiologist passionate about using nutrition to reverse illness. While in high school, Maria's father had his first of several heart attacks at the age of 40. He later developed Alzheimer's disease at 60. Although he took his medications and lost weight, he remained ill. Maria learned little about nutrition in medical school, but after seeing thousands of patients with diet- and obesity-related illness, she educated herself. The nutrition literature encouraged her to try a whole-food, plant-based diet for a month. When her cholesterol and blood pressure dropped much more than they would have with medications, she and her family stuck with this diet, and she is thrilled now to teach it to others.
Serving cities and surrounding areas of Grand Junction and the Denver area
Upcoming Classes
---