Karen Duncanson, M.A., C.C.N.
Food for Life Instructor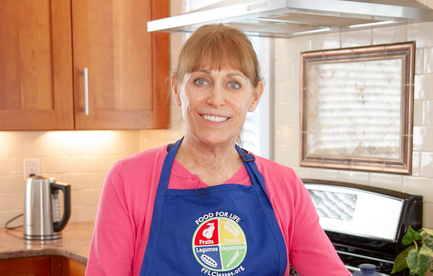 Karen Duncanson is a Food for Life Instructor who works with clients interested in achieving their best health through dietary lifestyle changes. As a Food for Life Instructor she has knowledge about food preparation methods and food selection criteria that support successful lifestyle changes.
Karen has worked with the Cooking Matters Program while earning her Master's Degree in Nutrition. Witnessing the reality of so many individuals lacking basic knowledge about nutrition was, for her, an eye-opening experience. Cooking Matters is only open to some individuals, and inspired her to offer important nutritional information to a broad base. The Food for Life Program is an opportunity to help many more clients find their way to improved health through solid nutritional practices. With so much confusing information pushed at the public, it is Karen's goal that everyone has the correct tools and knowledge, to be successful, in reaching his or her health goals.
Karen is a Certified Clinical Nutritionist who holds both a bachelor and master's degree in Nutrition from Wayne State University in Detroit Michigan.
Karen is currently available to clients in and around: Antrim, Charlevoix, Oakland and Macomb counties in Michigan.
www.linkedin.com/in/karen-duncanson-m-a-c-c-n-8573a071
Serving cities and surrounding areas of Antrim, Charlevoix, Oakland and Macomb counties in Michigan.
Upcoming Classes
---